What Do Afghanistan's 'Generation America' Think of Their Country's Future?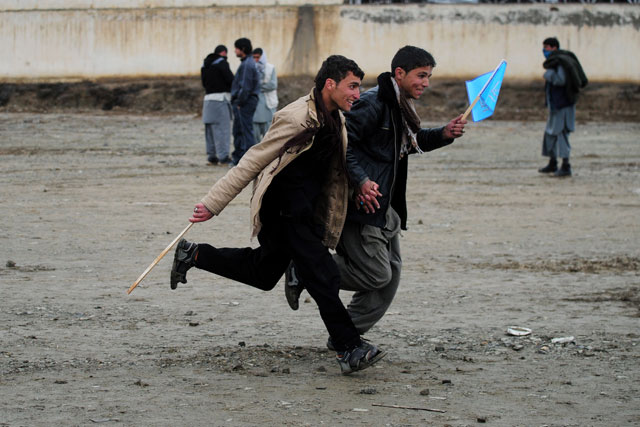 Supporters run to get a spot near the stage at an election rally for presidential candidate Abudullah Abdullah on the outskirts of Kabul on April 2, 2014, the last day of campaigning by Afghanistan's presidential candidates. (Roberto Schmidt/AFP/Getty Images)

Asia Society's coverage of Afghanistan continues this Monday, April 7, when U.S. General John Allen joins Martha Raddatz of ABC News at Asia Society New York for a discussion on Afghanistan's security after the American troop withdrawal. Click here for complete details about the program and its accompanying live webcast.
They are known as Afghanistan's "Generation America" — young people who've grown up with American forces in their midst — or at least in their country. And now they represent a vital force for their nation's future, as Afghanistan chooses a successor to President Hamid Karzai. Nearly two in three Afghans are under 25; The Wall Street Journal looks at this group today in a piece entitled "Youth Hold Key To Saturday's Vote."
The WSJ quotes a stellar alumnus of our Asia 21 Young Leaders network, Lotfullah Najafizada, the 27-year-old in charge of the Tolo TV News Network. Lotfullah and his team have led spirited coverage of the presidential campaign, including the country's first televised presidential debates, which had a distinctly American look and flair.
"For the new generation it's about survival," Lotfullah said of the election and the future generally. "It has the most to lose if the country reverses."
I first met Lotfullah and dozens of the other Asia 21 young leaders at a December 2012 summit in Dhaka; he was optimistic then, and for all the violence that the Taliban and others have wrought recently, he and so many other young people in Afghanistan remain steadfast in their belief that a brighter future four their country is possible.
"In the wake of the much-heralded election, we Afghans should take advantage of the unique opportunity to change the course of our history," Aarya Nijat, another Asia 21 young leader from Afghanistan, wrote on this blog yesterday. "It is time that we put the future of Afghanistan ahead of our individual ethnic and tribal allegiances."
The conversation about Afghanistan's future is front and center for the Asia Society at the moment. On April 7 in New York, we host General John Allen, who commanded all international forces in Afghanistan until last year, and ABC News' Chief Foreign Affairs Correspondent Martha Raddatz, who has traveled and reported from Afghanistan more than 20 times since the international forces overthrew the Taliban, in October 2001. And on April 16 we will have three Asia 21 alumni on our New York stage: Saad Mohseni, chairman and chief executive of MOBY Group; the aforementioned Aarya Nijat, vice president and co-founder of Beikraan Inc., and Faiysal AliKhan, a Carnegie Fellow in the National Security Studies Program at the New America Foundation. The trio will be in discussion with Asia Society trustee Tom Freston. It's an invite-only event, but you can watch the live webcast for free at AsiaSociety.org/Live.
These will be two very different events about two of the most critical strategic and political stories of the moment — the election and the troop drawdown, and what they portend for Afghanistan. This much is clear: while foreign soldiers head home, and several international organizations flee the violence, there is no shortage of hope and optimism among Afghanistan's "Generation America."