Weekly Rewind: Welcome to Astana, Pakistan's New Official Language, and the Islands of Kagoshima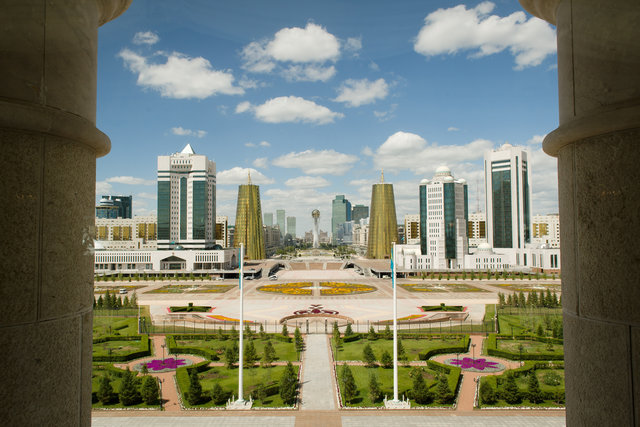 The view from the Presidential Palace in Astana, Kazakhstan. (Leon Neal/AFP/Getty Images)
Welcome to Asia Society's Weekly Rewind, featuring some of the best Asia-related content you may have missed. This week:
Stories
Welcome to Astana, Kazakhstan
Giles Fraser and Marina Kim | The Guardian
Guardian Cities traces the growth of Astana, which has been the capital of Kazakhstan since 1997, and investigates the political undercurrents behind the city's rapid rise.
Why Pakistan Is Replacing English With Urdu
Aditya Agrawal | TIME
Pakistan is dropping English as its official language and switching to Urdu. Ahsan Iqbal, Pakistani Minister of Planning, National Reforms, and Development, discusses the rationale behind the change, noting it will "help provide greater participation to people who don't know English, hence making the government more inclusive."
N.B.A. Pick From India Makes Entire Village Feel 7 Feet Tall
Nida Najar | New York Times
Last month, 19-year-old Satnam Singh Bhamara became the first Indian-born basketball player to be drafted into the National Basketball Association. Nida Najar looks at how this historic achievement has impacted Singh's home village of Ballo Ke in Punjab, India. 
In 7 Years, India Will Surpass China in Population: UN
Times of India
The United Nations announced on Thursday that India is expected to surpass China as the world's most populous nation by 2022, six years earlier than previous projections.  
Multimedia
Japan Is a Sunkissed Paradise In This 4K Drone Footage
Brian Lufkin | Gizmodo
Watch a beautiful drone movie filmed in the islands of Japan's Kagoshima prefecture.
Video: Drone Footage of Amazing Islands in Kagoshima, Japan 4K (Ultra HD) - 鹿児島
Special Olympics World Games: Davaa Magvansuren
ESPN
See how Davaa Magvansuren, a Special Olympics runner from Mongolia, got the chance to attend school after her parents moved to new province.
Nepal, Three Months After the Earthquake
Alan Taylor | The Atlantic
See images of Nepal's slow journey toward recovery, three months after massive twin earthquakes devastated the country.
Helping China's Mentally Ill and Their Families
James Estrin | New York Times
See 23-year-old Chinese photographer Yuyang Liu's intimate portraits of the families of the mentally ill in Guangdong Province. 
Overheard This Week
"The DPRK [Democratic People's Republic of Korea] will not become the next Malibu but it receives enough swells to sustain a vast surf community."
- International Surfing Association representative Nik Zanella, an Italian who coaches Chinese surfers and is planning a surfing expedition and training camp in North Korea this September [The Guardian]
By the Numbers
86.83 – The average life expectancy for women in Japan, #1 in the latest world rankings [The Japan Times]
81.17 – The average life expectancy for men in Hong Kong, #1 in the latest world rankings [The Japan Times]
8 – The percentage drop in the Shanghai Composite index on Monday, China's biggest one-day fall since 2007 [Reuters]
37 – The age in years of Hong Kong's Jia Jia, who became this week the oldest-ever panda to live in captivity [Shanghaiist]
---
Each week, Asia Blog will feature highlights from Asia-focused feature writing, photography, and multimedia. Do you have recommendations? Please email a link and any related details to blog@asiasociety.org (we regret that we won't be able to respond directly to each inquiry).
Opinions expressed on highlighted articles are solely those of the author(s), not of the Asia Society.