Weekly Rewind: Scenes From Nepal's Countryside, Pro Wrestling in North Korea, and Obama's Haiku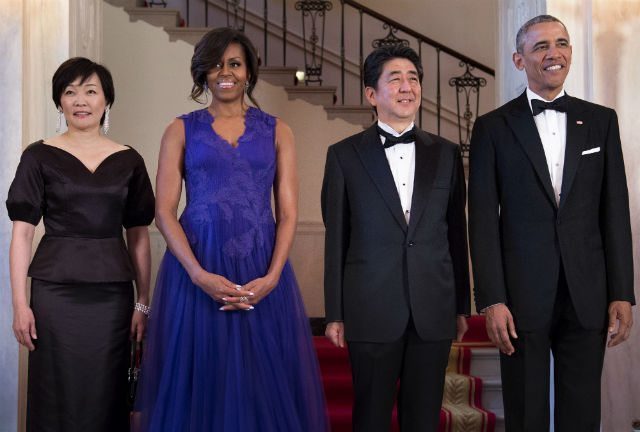 Japan's Prime Minister Shinzo Abe and his wife Akie Abe pose with U.S. President Barack Obama and U.S. First Lady Michelle Obama before a state dinner at the White House April 28, 2015, in Washington, D.C. (Brendan Smialowski/AFP/Getty Images)
Welcome to Asia Society's Weekly Rewind, featuring some of the best Asia-related content you may have missed. This week:
Stories
Across Nepal's Countryside, Desperate Journeys to Ruined Homes After Quake
Thomas Fuller | New York Times
With thousands still unaccounted for, the death toll has passed 6,000 in Nepal after a 7.8-magnitude earthquake struck on Saturday, devastating villages across the country. This article highlights the myriad concerns of the tens of thousands of people who are making long journeys back to their home villages.
Oral History of Pro Wrestling's 1995 Historic Excursion into North Korea
Dan Greene | Sports Illustrated
Twenty years ago this week, a troupe of American professional wrestlers including the legendary Ric Flair traveled to North Korea as guests of the government, along with Muhammad Ali and a pair of wrestling officials. The trip culminated in two nights of wrestling at Pyongyang's May Day Stadium, which featured performers from North America and Japan and drew crowds of 150,000 and 190,000. In this Sports Illustrated feature, correspondents who reported from the event, including Asia Society's Orville Schell, look back on their experiences.
The flowing diplomacy of the first lady's dress at the Japan State Dinner
Robin Givhan | Washington Post
According to the Washington Post's Robin Givhan, first lady Michelle Obama provided a "beautiful example of fashion diplomacy" at Tuesday's White House state dinner in honor of Japan Prime Minister Shinzo Abe. "Like the inaugural gown, a state dinner dress is a symbol," she writes.
The Era of Japan's All-Powerful Videogame Designers Is Over
Chris Kohler | Wired
World-famous video game designer Hideo Kojima is parting ways with the struggling company Komani. Game|Life editor Chris Kohler considers Kojima's legacy, the implications of his departure, and the broader creative landscape of the industry in Japan.
Philippines gets a fever from Pac-mania
The Manila Times
This upcoming weekend's match between Floyd Mayweather Jr. and Manny Pacquiao has been dubbed as boxing's "fight of the century." The anticipation is immense in the Philippines, where Pacquiao is a national icon, as well as a member of parliament, an actor, a basketball professional, and a retired pop singer.
Multimedia
Tiny Dinosaur with Bat-Like Wings Discovered in China
Kiona Smith-Strickland | Discover
Nicknamed "Yi qi" (Mandarin for "strange wing"), Chinese paleontologists claim to have identified the fossils of one of the earliest flying dinosaurs.
Video: A new dinosaur: Flying without feathers (Nature Video)
Nepal, Before The Earthquake Struck: A Photographer's Portfolio
Rena Silverman | NPR
See Nepal through the lens of photographer Kevin Bubriski, who has been traveling to the country for over 40 years.
Overheard This Week
"Spring green in friendship
United States and Japan
Nagoyaka ni (which means harmonious feeling)"
— U.S. President Barack Obama recites a haiku at a state dinner honoring Japan's Prime Minister Shinzo Abe [Washington Post]
By the Numbers
$74 million – Ticket revenue expected for Saturday's Mayweather-Pacquiao fight from the 15,000-seat MGM Grand Garden Arena [ABC]
$324 million – Cumulative earnings so far for Furious 7 in China, a new box-office record in the country [New York Times]

2025 – Japan's target date for a manned mission to the moon [Washington Post]
 
---
Each week, Asia Blog will feature highlights from Asia-focused feature writing, photography, and multimedia. Do you have recommendations? Please email a link and any related details to blog@asiasociety.org (we regret that we won't be able to respond directly to each inquiry).
Opinions expressed on highlighted articles are solely those of the author(s), not of the Asia Society.