Weekly Rewind: Scandal in Malaysia, Japan's Nationalistic Music Scene, and Taylor Swift Takes on China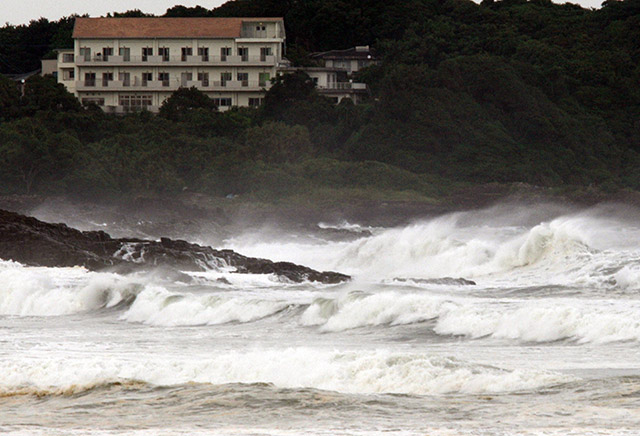 High waves crash into the coast at Hyuga in Miyazaki prefecture, Japan's southern island of Kyushu on July 16, 2015. (Jiji Press/AFP/Getty Images)
Welcome to Asia Society's Weekly Rewind, featuring some of the best Asia-related content you may have missed. This week:
Stories
Why Taylor Swift's 1989 Merchandise Is Not Going to Get Her Banned in China
Bethany Allen-Ebrahimian | Foreign Policy
Chinese e-commerce website JD.com announced earlier this week it would become the first authorized retailer for merchandise by American singer Taylor Swift. The announcement was met with caution by Western media, due to the fact that some of Swift's merchandise is ornamented with "T.S. 1989" – Swift's initials and birth year, but also the year and initials of the June 4 Tiananmen Square massacre.
A Bangladeshi Town in Human Trafficking's Grip
Ellen Barry and Sergey Ponomarev | New York Times
Read the story of Rohingya migrants as seen from Bangladesh, where the town of Shah Porir Dwip grapples with the consequences of a multimillion-dollar human trafficking business.
Two Women to Decide Future of Taiwan's Relationship with China
Debra Mao | The Sydney Morning Herald
In a rare occurrence (and a first for Taiwan), two women will be competing for the presidency in the upcoming national elections in January 2016. Get to know the candidates Tsai Ing-wen and Hung Hsiu-chu, and find out how their potential presidencies could impact China-Taiwan relations.
The Scandal That Ate Malaysia
Yoolim Lee and Elffie Chew | Bloomberg
A massive financial scandal is unfolding in Malaysia involving state-owned company 1MDB, which is closely tied to Malaysian Prime Minister Najib Razak. Read the dramatic backstory that features a missing $1 billion and a strange connection to the film The Wolf of Wall Street.
Japan's Nationalistic Music Scene: Pop Goes the Rising Sun
Jonathan Dehart | MarketWatch
Politics and pop culture have a complicated relationship in Japan, where a government-sanctioned "Cool Japan" project is under way. "Following the 2011 earthquake and tsunami, Japanese music definitely took a turn for the more patriotic, and arguably nationalistic," says Tokyo-based journalist Patrick St. Michel. 
Multimedia
Made In Myanmar: 18 Stunning Images From Major Award-Winning Burmese Photographer A.P. Soe
BoredPanda
See 18 images shot in Myanmar by acclaimed photographer and National Geographic contributor A.P. So.
Overheard This Week
"All the ethereal things about baseball — no clock, the sacrifice, the journey around the bases that starts and finishes at home — it all resonates in Chinese culture. I'm convinced that if baseball was around during Confucius' time, he would have been a huge fan."
—Major League Baseball vice president Jim Small. Earlier this week, 19-year-old Xu Guiyuan became the first baseball player from the MLB Development Centers in China to sign with a Major League club. He will play for the Baltimore Orioles. [Major League Baseball]
By the Numbers
$11.4 billion — The total market value for ice cream sales in China, which has surpassed the United States as the world's largest ice cream market [Food Business News]
$1.3 billion — The price tag on Japanese financial newspaper Nikkei's purchase of the Financial Times from U.K. publishing group Pearson PLC [MarketWatch]
55 — The number of solar or green cities currently under development in India [NDTV]
---
Each week, Asia Blog will feature highlights from Asia-focused feature writing, photography, and multimedia. Do you have recommendations? Please email a link and any related details to blog@asiasociety.org (we regret that we won't be able to respond directly to each inquiry).
Opinions expressed on highlighted articles are solely those of the author(s), not of the Asia Society.