Weekly Rewind: Poetry in Iran, Internet Rebellion in Uzbekistan, and Japan's New 'Girl Band'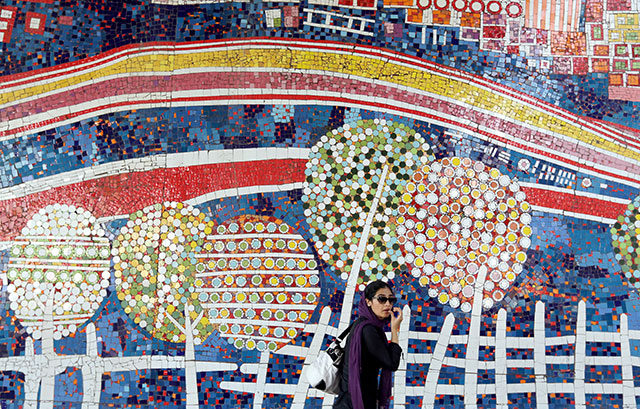 An Iranian woman walks past graffiti on a street northwest of the capital Tehran, on July 16, 2015. (Atta Kenare/AFP/Getty Images)
Welcome to Asia Society's Weekly Rewind, featuring some of the best Asia-related content you may have missed. This week:
Stories
Poetry and Politics in Iran
Neima Jahromi | The New Yorker
In Iran, poetry has long played a prominent role in "fusing and articulating" the nation's politics. "For centuries, many Persian poets sought or depended on the patronage of the court, and many kings, princes, and viziers thought of these poets as moral advisers and extensions of their authority," writes Neima Jahromi, who explores the phenomenon in the context of Iran's recent nuclear negotiations.
'We Are Not Afraid'
Sarah Kendzior | Foreign Policy
Uzbekistan's current government, which has been in power since its independence from the Soviet Union, is considered by human rights groups as one of the most brutal in the world, and the country also has some of the world's harshest Internet restrictions. Learn about "Qorqmaymiz" ("We are not afraid"), one of the most popular Facebook pages in Uzbekistan, and how its subversive message is critiquing the government.
The Secret History Of Black Baseball Players In Japan
Dexter Thomas | NPR Code Switch
Read the story of how James Bonner, a 24-year old black baseball player from rural Louisiana, ended up as a baseball star in Japan in 1936, how this shaped the future of Japanese baseball, and the sociopolitical backdrop of Japan, United States, and race relations.
The Battle for Bihar
Priyanka Dubey | The Caravan
Read an in-depth account of caste-based discrimination in India's Bihar province and an analysis of the main recent political players, particularly recently annulled Bihar chief minister Jitam Ram Manjhi.  
Multimedia
Iran's Nuclear Program After the Deal: A Visual Guide
Javier Zarracina | Vox
See four visualizations explaining the historic Iran nuclear agreement announced earlier this week, then watch an explanatory three-minute video. 
Video: How the Iran nuclear deal works, explained in 3 minutes (Vox)
Japan's New 'Girl Band', Average Age 84
The Guardian
Japanese pop outfit KBG84 recently completed a sellout tour for their debut album. What makes their success even more impressive is the average age of the 33-member group: 84 years old. 
Video:「KBG84」というアイドルグループを紹介します。(FNNnewsCH)
Overheard This Week
"The deal is a legal, technical and political victory for Iran. It's an achievement that Iran won't be called a world threat any more." — Iranian President Hassan Rouhani
"Every pathway to a nuclear weapon is cut off … [The deal] offers an opportunity to move in a new direction. We should seize it." — United States President Barack Obama
"The world is a much more dangerous place today than it was yesterday." — Israeli Prime Minister Benjamin Netanyahu [Al Jazeera] 
By the Numbers
2.3 million — The number of barrels of oil per day Iran hopes to export by doubling oil production [Wired]
6 million — The number of barrels per day Iran produced prior to the 1979 revolution [Wired]
$6.1 billion — The net worth of 34-year-old Yang Huiyan, ranked as Asia's richest millennial [CNBC]
3,831 — The number of Palawan forest turtles rescued recently by conservationists in the Philippines [The Guardian] 
---
Each week, Asia Blog will feature highlights from Asia-focused feature writing, photography, and multimedia. Do you have recommendations? Please email a link and any related details to blog@asiasociety.org (we regret that we won't be able to respond directly to each inquiry).
Opinions expressed on highlighted articles are solely those of the author(s), not of the Asia Society.