Weekly Rewind: Online Matchmaking in India, 30,000 Selfies in Shenyang, and the Story of Cambodian Rock 'N' Roll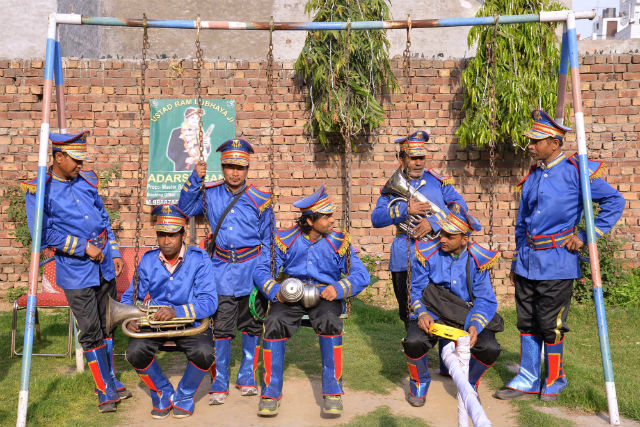 Members of an Indian wedding band gather on swings as they wait for a religious procession at a garden in Amritsar on April 12, 2015. (Narinder Nanu/AFP/Getty Images)
Welcome to Asia Society's Weekly Rewind, featuring some of the best Asia-related content you may have missed. This week:
Stories
Online Matchmaking Adds a Twist to Arranged Marriages in India
Gardiner Harris | New York Times
How is the Internet transforming India's concept of marriage? Marriage websites have led to the rise of 'semi-arranged' marriages, in which technology has "played matchmaker, helping whittle away at an ancient tradition, but with a particularly Indian twist."
Shenyang taxi driver amasses amazing collection of 30,000 selfies with his passengers
Shanghaiist
Taxi driver Teng Jiazhi has taken 30,000 selfies with passengers over the last four years and has gained more than 100,000 Weibo followers in the process. Known by fans as Brother Smile, Teng says, "I try my best to help my passengers with their troubles. All it takes is just a little chat, song or joke to make them happy again."
The Nearly Lost Story Of Cambodian Rock 'N' Roll
NPR
Before the Khmer Rouge regime, pop music experienced an explosion in Cambodia for 20 years, incorporating musical influences from around the world. "There were dance halls in Phnom Penh, and big band music and crooners were very popular in the '50s," says filmmaker John Pirozzi in an NPR interview.
Making Perfume From the Rain
Cynthia Barnett | The Atlantic
Long known for their mastery of ancient perfumery, the villagers of Kannauj in Uttar Pradesh, India, have also found a way to bottle the fragrance of monsoons. Environmental journalist Cynthia Barnett recounts her trip to Kannauj on the eve of the monsoons to witness the perfume-making process.
Japan's maglev train breaks world speed record with 600km/h test run
Justin McCurry | The Guardian
At just over 600km/h (373mph), Japan's maglev train has again broken the world speed record just days after breaking a previous 12-year-old record. Read about the feat, then scroll dowm for an infographic on how the maglev train works.
 
Multimedia
Brother Orange Meets Sister Ellen
The Ellen Show
With a reunion in the United States, another chapter was added to the unexpected "bromance" between Buzzfeed writer Matt Stopera and "Brother Orange" from Meizhou in Guangdong, China, complete with an appearance on The Ellen Show.
Video: Brother Orange Meets Sister Ellen (The Ellen Show)
Photoshoot shows Kim Jong-un reportedly climbing North Korea's highest peak
Andrew Freedman | Mashable
North Korean leader Kim Jong Un reportedly completed a climb to the peak of Mt. Paektu last weekend. Check out a collection of photos from the excursion, which included a group of elite North Korean Air Force fighter pilots.
A Skier's Paradise in Afghanistan
Deutsche Welle
Watch a video documenting an emerging ski scene in Afghanistan's Bamyan province.
 
Overheard This Week
"Climbing Mt. Paektu provides precious mental pabulum more powerful than any kind of nuclear weapon, and it is the way for carrying forward the revolutionary traditions of Paektu and giving steady continuity to the glorious Korean revolution." — Kim Jong Un, in a quote from the North Korean state media [Mashable]
By the Numbers
$214.7 billion – The growth in South Korean defense spending planned between 2016 and 2020 [The Diplomat]
$46 billion – The amount of Chinese investments on infrastructure and energy projects in Pakistan, according to a plan announced on Monday [Reuters]
2.4 million tons – The amount of beef exported last year from India, the world's largest exporter [TIME]
 
---
Each week, Asia Blog will feature highlights from Asia-focused feature writing, photography, and multimedia. Do you have recommendations? Please email a link and any related details to blog@asiasociety.org (we regret that we won't be able to respond directly to each inquiry).
Opinions expressed on highlighted articles are solely those of the author(s), not of the Asia Society.