Weekly Rewind: Mobile Games for Conservation, A Look at Yemen, and Taiwan's 'Rainbow Grandpa'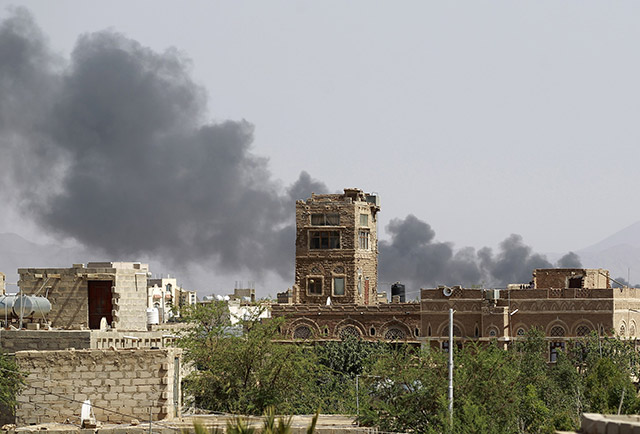 Smoke billows following air-strikes by the Saudi-led coalition on a weapons depot at a military airport, currently controlled by Yemeni Shiite Huthi rebels, in the capital Sanaa on August 20, 2015. (Mohammed Huwais/AFP/Getty Images)
Welcome to Asia Society's Weekly Rewind, featuring some of the best Asia-related content you may have missed. This week:
Stories
In Indonesia, Tackling Poaching with Mobile Games
Resty Woro Yuniar | Wall Street Journal
Read about how Indonesia's burgeoning smartphone industry — and particularly, its mobile gaming market — is creating opportunities to save the country's diverse wildlife.
China's Workers Abandon the City as Beijing faces an Economic Storm
Tom Phillips | The Guardian
Amidst Beijing's recent economic woes, Chinese migrant workers are abandoning the city for the country. The trend could speak to long-term trajectory of China's economy. Tom Phillips reports from Nanqijia, a "recycling village" in Beijing.
The 'Rainbow Grandpa' Saving a Taiwan Village with his Art
South China Morning Post
93-year old Huang Yung-fu from Taichung County in central Taiwan is known locally as "Rainbow Grandpa." Read about his efforts to save his military dependents' village by painting vibrant murals.  
Multimedia
The Unthinkable: An Ancient City Plunges Into Darkness as a War on Civilians Rages
Alex Potter | NPR
In a photo essay, Alex Potter takes an inside look at Sanaa, Yemen, which has become a battleground marked by destruction and humanitarian crisis.
The Many Lives Along the Yangtze River
Peter Hessler | The New Yorker
In 2012, photographer Mustafah Abdulazi undertook a project to document water focusing on conservation and health issues, with the goal of visiting 32 countries. He visited China's Yangtze River in the spring of 2015.
Humans of North Korea: An Ordinary American Tourist's Photos from Inside the Hermit Kingdom
Jennifer Chang | Quartz
American Taylor Pemberton documents his summer vacation to North Korea.  
Overheard This Week
"I would not be throwing him a dinner. I would get him a McDonald's hamburger and say we've got to get down to work because you can't continue to devalue."
—U.S. presidential candidate Donald Trump when interviewed about the White House's planned state dinner for Chinese President Xi Jinping in Washington next month [South China Morning Post]
By the Numbers
5.3% — The amount the Shanghai composite index rose on Wednesday following several days of declines, marking the "biggest one-day gain in eight weeks" [USA TODAY]
19 — The number of deaths from the Mers coronavirus in Saudi Arabia this past week [The Straits Times] 
---
Each week, Asia Blog will feature highlights from Asia-focused feature writing, photography, and multimedia. Do you have recommendations? Please email a link and any related details to blog@asiasociety.org (we regret that we won't be able to respond directly to each inquiry).
Opinions expressed on highlighted articles are solely those of the author(s), not of the Asia Society.