Weekly Rewind: A Marathon in Pyongyang, A Gem-Encrusted Wedding in Brunei, and the World's Biggest Water Fight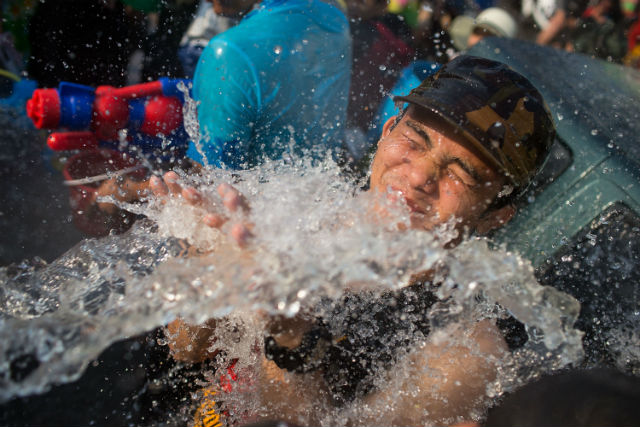 Thai locals and foreigners take part in a city-wide water fight on April 15, 2015, in Chiang Mai, Thailand. (Photo by Taylor Weidman/Getty Images)
Welcome to Asia Society's Weekly Rewind, featuring some of the best Asia-related content you may have missed. This week:
Stories
How Iran's Khuzestan went from wetland to wasteland
The Guardian
The province of Khuzestan lies in the Fertile Crescent in southwest Iran and was a front line in the Iran-Iraq War in the 1980s. Recently, dust storms have overtaken the region, drying up Khuzestan's rivers and wetlands. This feature from The Guardian examines the environmental, political, and economic forces at play, and how they have influenced daily life in the region. 
At Marathon in North Korea, Curiosity Goes a Long Way
Jeré Longman | New York Times
Last Sunday marked the Pyongyang Marathon, part of the birthday celebration of former North Korean leader Kim Il-Sung. Jeré Longman from the New York Times, who participated in the race as a runner, recounts his unique experience.
Sultans of bling: Gem-encrusted wedding for Brunei prince
Colin Freeman | Telegraph
If planning a royal wedding, why not include an 11-day ceremony, gold outfits encrusted with jewels, and a bouquet made entirely of gems? Those were all part of the recent wedding of Brunei's Prince Abdul Malik, 31, and IT expert Dayangku Raabi'atul 'Adawiyyah Pengiran Haji Bolkiah, 22, who threw perhaps the most opulent celebration of the year so far.
Documenting India's Villages Before They Vanish
Jason Overdorf | The Atlantic
"My generation has lost its connection to rural India," says Palagummi Sainat. The journalist has created the People's Archive of Rural India (PARI), an expansive project with over 1,000 volunteers that aims to "digitize the faces, songs, arts, occupations, and struggles of India's rapidly changing farms and villages."
What Might a Hillary Clinton Presidency Mean for Asia?
Catherine Putz | The Diplomat
Hillary Clinton has finally made her presidential candidacy official, entering the 2016 race with a video announcement on social media on Sunday. The Diplomat's Catherine Putz hunts for clues to see what U.S. policy toward Asia might look under Clinton's leadership.
Multimedia
Young Tibetan couple's modern and traditional wedding photos go viral
Lucy Liu | Shanghaiist
In China, wedding photos featuring a couple of Tibetan origin in both traditional costumes and western-style outfits has gone viral. First published on WeChat, the photos received over 100,000 viewers in just four hours.
Thailand celebrates New Year with world's biggest water fight
CNN
Thailand celebrated the Thai New Year this week with the Songkran festival, often referred to as the world's biggest water fight.
Spotting Hope in Pakistan
Kim Barker | New York Times
"Resilience, Pakistan" is a project by Spanish photographer Diego Ibarra Sánchez, who spent five years documenting daily life in Pakistan, searching for moments of hope. 
'I So Stunned Like Vegetable' Could Become a Thing After This Video
Helen Regan | TIME
"Please be the metal cable to my cable car," sings Singapore's sitcom star Chen Tianwen in the song "Unbelievable."  It's hard to decide which part of the accompanying music video is the most, ahem, unbelievable.
Video: Unbelievable - I so stunned like vegetable (Spouse For House 2 MV)(MediaCorp Channel 5)
Overheard This Week
"I'm not the type who goes looking for a place to live in Jeddah, Paris or Europe. My country is my birthplace. The person who can say to Ali Abdullah Saleh 'leave your country' has not been and will not be born." 
– Former Yemeni president Ali Abdullah Saleh, who remains the country's most influential leader, wrote on Facebook to scoff at rumors that he would seek to escape the country [Reuters]
By the Numbers
150,000 – The number of people in Yemen displaced by three weeks of air strikes and ground fighting [Reuters]
$273.7 million – The amount requested by the United Nations to aid 7.5 million people in Yemen in the upcoming 3 months [United Nations]
650 – The number of participants in Sunday's Pyongyang Marathon [New York Times]
30 – The number of countries represented in the Pyongyang Marathon [New York Times]
 
---
Each week, Asia Blog will feature highlights from Asia-focused feature writing, photography, and multimedia. Do you have recommendations? Please email a link and any related details to blog@asiasociety.org (we regret that we won't be able to respond directly to each inquiry).
Opinions expressed on highlighted articles are solely those of the author(s), not of the Asia Society.