Weekly Rewind: Iran's 'Generation Normal,' Nepal's Child Goddess, and a Trip to the North Korea-China Border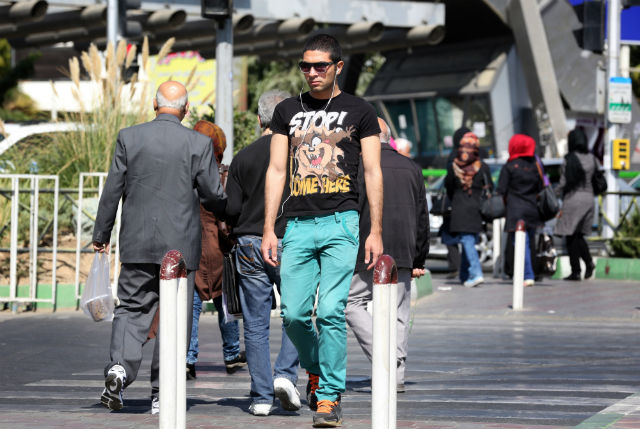 An Iranian youth listens to music as he walks through central Tehran. (Atta Kenare/AFP/Getty Images)
Welcome to Asia Society's Weekly Rewind, featuring some of the best Asia-related content you may have missed. This week:
Stories
Iran's 'Generation Normal'
Roula Khalaf | FT Magazine
"Curious, wired, and desperate for normality, Iran's youth … have been taking the country in a direction that horrifies its rulers," writes FT foreign editor Roula Khalaf. The in-depth feature explores the country's social shifts through the lens of women's education, Tehran's underground culture, and student activism.
The Very Strange Life Of Nepal's Child Goddess
Julie McCarthy | NPR
"Young, beautiful and decorous, even a glimpse of her is believed to bring good fortune." Read about Kumari Devi, living goddess and the child deity of Nepal's Kathmandu Valley. During last month's devastating earthquake, the Kumari's home sustained only minor damage, while many other buildings in Kathmandu's Durbar Square were destroyed.
Heat wave in India: Everything you need to know
Vishnu Varma | The Indian Express
In India, the death toll from a weeks-long heat wave has climbed past 1,800 as of Friday. With temperatures topping 110 degrees Fahrenheit in recent weeks throughout the country, daily wage laborers have been most heavily affected due to working outside in the extreme heat.
Former NBA star Marbury gets new job in China
China.org.cn
In anticipation of Beijing's bid for the 2022 Winter Olympic Games, the city government has appointed former NBA start Stephon Marbury, now a player in the Chinese Basketball Association, as Beijing Environment Protection Ambassador. The appointment is part of a larger effort to improve air quality in the city. The 2022 Olympic host city will be announced on July 31.
A month after quake, Nepal struggles to return to normal
Donatella Lorch | USA TODAY
Over a month has passed since a devastating 7.8-magnitute earthquake hit Nepal, but it may take years for the country to recover. In a special feature, USA TODAY's Donatella Lorch provides an overview of the country's journey in the weeks ahead and the key concerns at hand.
 
Multimedia
Mongolia's Warmer Climate Uproots Societal Traditions
Discover Magazine
This photo album examines the effect of climate change on society in Mongolia, where the temperature has increased by more than 2 degrees Celsius in the past 75 years, more than twice the global average.
A trip to the North Korea-China border, in photos
NK News
Take a photo tour of the China-North Korea border along the Yalu River, courtesy of an anonymous photojournalist.
Watch Japan's Mount Shindake erupt without warning
Lily Kuo | Quartz
Mount Shindake on Kuchinoerabujima island in southern Japan erupted on Friday morning. Residents have been evacuated and no casualties have been reported.  
Overheard This Week
"Even today, I am usually seen not as a Japanese but as a foreigner. At restaurants, people give me an English menu and praise me for being able to eat with chopsticks … I want to challenge the definition of being Japanese."
– Miss Universe Japan Ariana Myamoto, the first half-black woman to win a major beauty pageant in Japan. She hopes to raise awareness of the issues faced by mixed-race citizens in the country. [New York Times]
 
By the Numbers
7.5% - India's year-over-year economic growth in the last quarter [Reuters]
7% - China's growth over the same period [Reuters]
35% - The annual growth of China's film market [The Diplomat]
 
---
Each week, Asia Blog will feature highlights from Asia-focused feature writing, photography, and multimedia. Do you have recommendations? Please email a link and any related details to blog@asiasociety.org (we regret that we won't be able to respond directly to each inquiry).
Opinions expressed on highlighted articles are solely those of the author(s), not of the Asia Society.