Weekly Rewind: Inside China's Stock Market Crash, a Rohingya Mother's Journey, Modi's 'Super' Tweet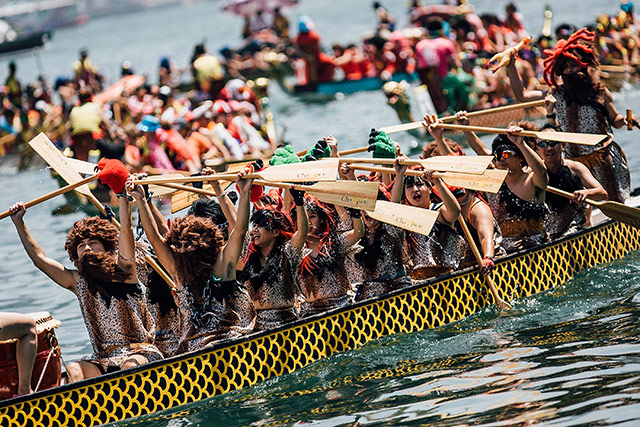 Competitors dressing in costumes paddle their boats during the Hong Kong Airlines Fancy Dress Race at the Hong Kong Dragon Boat Carnival Race on July 5, 2015 in Hong Kong. (Anthony Kwan/Getty Images for Hong Kong Images)
Welcome to Asia Society's Weekly Rewind, featuring some of the best Asia-related content you may have missed. This week:
Stories
How the Collapse of China's Volatile Stock Market Looked From the Inside
Hudson Lockett | China Economic Review
China's stock markets are experiencing their worst crash since the global financial crisis, with the Shanghai Composite index dropping by nearly 30% in the past month. In this insider's look from Shanghai, Hudson Lockett recounts the recent stock market plunge from the perspective of local investors.
A Migrant Mother's Anguished Choice
Chris Buckley and Thomas Fuller | New York Times
Tens of thousands of Myanmar's Royingya minority group have fled persecution from the country since 2012. This escalated into a regional crisis in May when smugglers left thousands of Rohingya adrift at sea, with no country willing to take them in. Tracing the journey of 33-year-old Hasinah Izhar, this New York Times feature highlights the personal narratives at the heart of the crisis.
Upon This Rock
Nayanjot Lahiri | The Caravan
History professor Nayanjot Lahiri shows what the stone edicts of Ashoka, which can be found in the village of Erragudi in Andhra Pradesh, can tell us about India's great emperor in her essay for the new issue of The Caravan, India's only narrative journalism magazine.
The Monk in the Middle
Jyoti Malhotra | India Today
In a recent interview, the Dalai Lama expressed his interest in returning to Tibet, as well as in meeting President Xi Jinping — whose father Xi Zhongxun had befriended the Dalai Lama in the mid-1950s. Jyoti Malhotra analyzes the Dalai Lama's statement within the broader context of Tibet's relations with China and India.
Multimedia
In pictures: Worst drought in living memory wiping out Thailand's rice belt
The Straits Times
See photos from one of Thailand's worst droughts in recent history, which is crippling the country's rice belt and the economy at large.
The Manhole Covers in Japan Are Absolutely Beautiful
Bryan Lufkin | Gizmodo
Photographer S. Morita has documented over a thousand manhole covers from Japan, where they come in a colorful variety of creative designs.
Challenge accepted: America's giant robot will battle Japan's giant robot
Lance Ulanoff | Mashable
Japanese robotics company Suidobashi Heavy Industries has accepted a challenge from the United States' MegaBots for a live giant robot battle.  
Video: USA CHALLENGES JAPAN TO GIANT ROBOT DUEL! (MegaBots Inc)
Video: RESPONSE TO ROBOT DUEL CHALLENGE. (水道橋重工)
Overheard This Week
"Super computer will do super computing and will be the reason for super commitment."
— Indian Prime Minister Narendra Modi tweeted after inaugurating the India-Kazakhstan Centre of Excellence in Information and Computer Technology. [Twitter]
By the Numbers
$3.9 trillion — The amount lost by Chinese companies in the recent market crash. [Bloomberg]
7.49 million — The record-setting number of Chinese college students graduating this year. [China Daily]
112 — The age of Sakari Momoi, who passed away on Sunday. Mr. Momoi was named the world's oldest man by the Guinness World Records last August. [BBC] 
---
Each week, Asia Blog will feature highlights from Asia-focused feature writing, photography, and multimedia. Do you have recommendations? Please email a link and any related details to blog@asiasociety.org (we regret that we won't be able to respond directly to each inquiry).
Opinions expressed on highlighted articles are solely those of the author(s), not of the Asia Society.