Weekly Rewind: India's First 'Lesbian Ad,' China's Green Revolution, and Understanding the South China Sea Conflict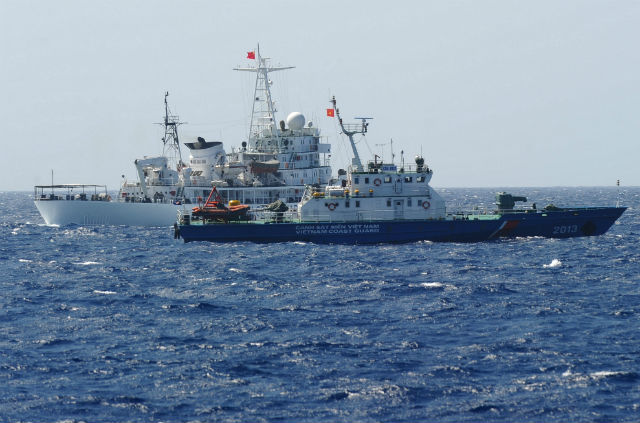 A China Coast Guard ship (L) chases a Vietnam Coast Guard vessel near the site of a Chinese drilling oil rig being installed at the disputed water in the South China Sea off Vietnam's central coast. (Hoang Dinh Nam/AFP/Getty Images)
Welcome to Asia Society's Weekly Rewind, featuring some of the best Asia-related content you may have missed. This week:
Stories
China's Green Revolution
Keith Johnson | Foreign Policy
Could the peak in Chinese greenhouse gas emissions happen sooner than expected? A new study released this week by the London School of Economics seems to indicate so. While China is the world's largest source of greenhouse gas emissions, the LSE study acknowledges the progress that the country has made in tackling environmental challenges.
Everything you need to know about the South China Sea conflict – in under five minutes
William Johnson | Reuters
What is the background history of the territorial disputes over the South China Sea? What interests are at play for China and the United States, and what can we expect to happen next? William Johnson provides a helpful overview of the complex geopolitical conflict.
Tourists strip, a sacred mountain shakes and Malaysia gets very angry
Michael E. Miller | Washington Post
Last month, 10 foreign tourists stripped naked and posed for photos while climbing Malaysia's sacred Mount Kinabulu on the island of Borneo. A few weeks later, a powerful earthquake struck the area, resulting in at least 16 deaths and causing damage to the mountain's rock formations. In the aftermath, the tourists have received public backlash, including from Sabah state's deputy chief minister Joseph Pairin Kitingan, who has accused them for causing the earthquake.
South Korean Hamlet, Under MERS Quarantine, Symbolizes Weaknesses in System
Choe Sang-hun | New York Times
South Korea continues to cope with an outbreak of MERS (Middle East Respiratory Syndrome) one month after a South Korean businessman returning from a trip to the Middle East brought the virus into the country. Choe Sang-hun reports on the outbreak from the small village of Jangdeok, whose strict quarantine measures provide an interesting case study on the difficulty the South Korean government has faced in containing the virus. 
 
Multimedia
India's First Lesbian Ad Goes Viral
Rohit Inani | TIME
Watch "The Visit," a new advertisement from the clothing brand Anouk Ethnic apparel, the first Indian advertisement to feature a lesbian couple, which has received 3 million views in 10 days.
Video: Bold is Beautiful - The Visit (Anouk)
S. Ghost Towns
Chua Chin Hon | Exposure
Chua Chin Hon's photo essay sheds light on Singapore's "ghost towns," an increasingly common phenomenon in the city-state.
Photos: Inside China's capsized cruise ship
Lily Kuo | Quartz
Chinese state media have released photos from inside the cruise ship that capsized on the Yangtze River earlier last week, killing at least 434 people.  
 
Overheard This Week
"I'm not calling on everybody to grow underarm hair. I'm just saying if some people don't want to shave, the rest of us should not think their underarm hair is disgusting, unhygienic, uncivil or not feminine enough."
– Chinese women's right's advocate Xiao Meili, who began a "women's underarm hair [photo] contest" on Weibo [New York Times] 
 
By the Numbers
75% – The percent drop in China's maternal mortality rate since 1990. [China.org.cn]
126 – The total number of reported MERS (Middle East Respiratory Syndrome) cases in South Korea [USA TODAY]
11 – The number of confirmed deaths connected to the MERS outbreak [USA TODAY]
---
Each week, Asia Blog will feature highlights from Asia-focused feature writing, photography, and multimedia. Do you have recommendations? Please email a link and any related details to blog@asiasociety.org (we regret that we won't be able to respond directly to each inquiry).
Opinions expressed on highlighted articles are solely those of the author(s), not of the Asia Society.