Weekly Rewind: China's Funeral Revolutionaries, North Korea's Art Scene, and the First Asian-American Hulk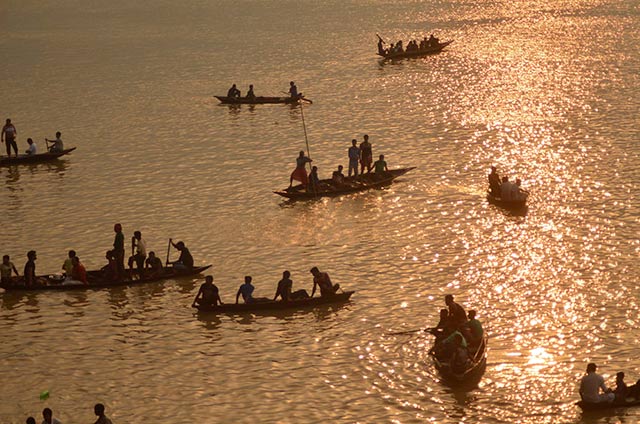 Oarsmen row boats during the traditional annual boat race festival at a Rudra Sagar lake in Melaghar, India on September 6, 2015. (Arindam Dey/AFP/Getty Images)
Welcome to Asia Society's Weekly Rewind, featuring some of the best Asia-related content you may have missed. This week:
Stories
China's Funeral Revolutionaries
Jonathan Kaiman | The Guardian
Entrepreneurs Wang Dan and Xu Yi are on a mission to revolutionize the funeral industry in China, a country where the elderly population is projected to grow by 100 million in the next 15 years.
Everything You Need to Know About Marvel's First-Ever Asian-American Hulk, Amadeus Cho
Claire Landsbaum | Slate
Marvel Comics has revealed that the character Amadeus Cho, a Korean-American boy genius, will assume the title role in Totally Awesome Hulk, a new comic series that will be released in December.
Cartopolitics and Sri Lanka: Rereading and Repainting Twenty-First Century Asia
Daniel Alphonsus | The Caravan
Is Sri Lanka a South Asian state or an Indian Ocean one? Daniel Alphonsus explores the politics of regional identity and boundary-making from the perspective of modern "cartopolitics," using Sri Lanka as a case study on 21st-century global trade.
 
Multimedia
How Myanmar's Partisan Astrologers Could Swing an Election
Stateless Media, Peter Savodnik, Kannan Arunasalam, Charlie Phillips, and Juliet Riddell | The Guardian
A new mini-documentary profiles Myanmar's astrologers, who are advising politicians leading up to the country's elections in November.
Video: How Myanmar's Partisan Astrologers Could Swing an Election (The Guardian)
North Korea's Art Scene Is Just As Mysterious As The Nation Itself
Sara Boboltz | The Huffington Post
A glimpse of the artwork coming out of the Mansudae Art Studio, the "heart of North Korea's fine art scene"
Photo Zines That Explore Singapore's Identity
Rena Silverman | New York Times
Photographers in Singapore are producing a series of photo "zines" that offer an inside view of the country. 
Overheard This Week
"Justice has been done for the people of Mumbai. I will ask for the strictest punishment when I argue for their sentences."
— Public prosecutor Raja Thakre spoke to reporters after a Mumbai court found 12 men guilty for their roles in a 2006 commuter train bombing. [BBC] 
By the Numbers
61,568 — The number of people aged 100 or older in Japan, which has hit a record high for the 45th straight year. [Japan Times]
66,000 — The estimated number of South Koreans on the waiting list for reunions with family members in North Korea. [USA TODAY]
129,700 — The number of total applicants in South Korea for reunions of families separated by the Korean War; about half of the applicants have since died. [USA TODAY]
---
Each week, Asia Blog will feature highlights from Asia-focused feature writing, photography, and multimedia. Do you have recommendations? Please email a link and any related details to blog@asiasociety.org (we regret that we won't be able to respond directly to each inquiry).
Opinions expressed on highlighted articles are solely those of the author(s), not of the Asia Society.