Weekly Rewind: 60 Channels From a Yurt, 'Humans of New York' in Pakistan, and the World's First Solar-Powered Airport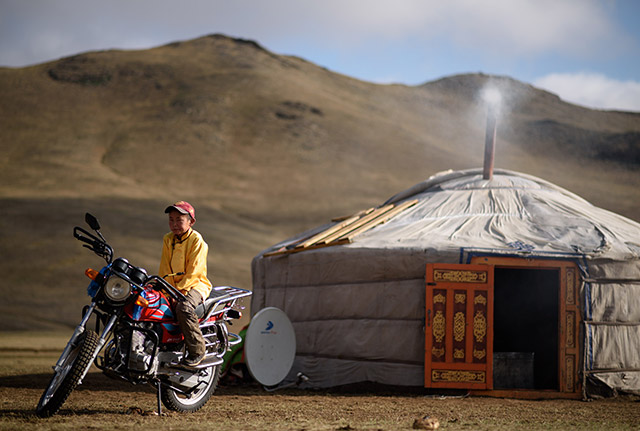 This picture taken on July 8, 2015 shows 13-year-old jockey Purevsurengiin Togtokhsuren sitting on a motorbike next to his 'yurt' (R) after taking care of the horses in Khui Doloon Khudag, some 50 kms west of Ulan Bator. (Johannes Eisele/AFP/Getty Images)
Welcome to Asia Society's Weekly Rewind, featuring some of the best Asia-related content you may have missed. This week:
Stories
Mongolia is Awash in Media Choices, With Even a Remote Yurt Hooked Up to 60 Channels
Julie Makinen | Los Angeles Times
Mongolia may not be the first country that comes to mind when you hear the word "media hub." Yet, "despite having just 3 million inhabitants scattered over an expanse about four times the size of California, Mongolia has 138 homegrown television stations — 80% of them founded in the last 10 years," writes Julie Makinen, who explores the country's journalism sector in her LA Times piece.
Using Technology to Counter Gender-Based Violence in Cambodia
Joanna Mayhew | Deutsche Welle
Cambodia has historically struggled with violence against women, but the country's increasing use of technology and social media are playing a role in countering against the violence.
An Outbreak of Mistrust in China
Jiayang Fan | The New Yorker
Last Wednesday, deadly explosions from a chemical warehouse shook the city of Tianjin, killing at least 114 people and damaging 17,000 homes. "It has become increasingly apparent that officials were aware of the risks," writes Jiaying Fan, who considers the broader implications of the tragedy and how it highlights the lack of government transparency.
Mega Copper Deal in Afghanistan Fuels Rush to Save Ancient Treasures
Hannah Bloch | National Geographic
In Afghanistan, archaeologists are undertaking the most ambitious excavation in the country's history, working under the threat of Taliban attack to uncover an extensive Buddhist monastery complex under the threat of Taliban attack before it is wiped out by copper mining projects.
A North Korean Defector's Regret
Choe Sang-Hun | New York Times
"Since the late 1990s, some 28,000 North Koreans have fled to South Korea. Only one, as far as anyone knows, has ever asked to go back." Read the story of 45-year old dressmaker Kim Ryen-hi, who has been trying unsuccessfully to return to her family in North Korea. 
Kerala, India Has the World's First Solar-Powered Airport
Manu Balachandran | Quartz
The city of Kochi in Kerala, India is now the home of the world's solar-powered airport. "Over the next 25 years, this green power project will avoid carbon dioxide emissions from coal fired power plants by more than 3 lakh metric tons, which is equivalent to planting 3 million trees or not driving 750 miles," airport staff announced in a statement. India plans to increase the country's solar power capacity by 25-fold by 2022.
Multimedia
The Photos that Raised $2 Million to Free Bonded Brick Workers
Hilary Whiteman | CNN
Read about how Syeda Ghulam Fatima, founder of the Bonded Labour Liberation Front, and how she recruited Humans of New York photographer Brandon Stanton for the fight against bonded labor in Pakistan.
In China, Single Women Live by Their Own Rules
Whitney Richardson | New York Times
This photo slideshow tells the story of the "shengnu," or "leftover women," of China.
Overheard This Week
"It sounded like the start of a war. I thought maybe Japan was bombing our port."
—Guo Jianfu, who was asleep in a workers' dormitory at the time of last week's warehouse explosions in Tianjin, China [The Economist] 
By the Numbers
29,357 — The number of people who became centenarians in Japan in the last fiscal year. The government has announced it will cease distributing the commemorative silver sazakzuki cup it has presented to new centenarians since 1963. [The Japan Times]
4 — India's current solar power capacity, in gigawatts (GW) [Quartz]
100 — India's planned solar capacity by 2022, in gigawatts (GW) [Quartz]
 
---
Each week, Asia Blog will feature highlights from Asia-focused feature writing, photography, and multimedia. Do you have recommendations? Please email a link and any related details to blog@asiasociety.org (we regret that we won't be able to respond directly to each inquiry).
Opinions expressed on highlighted articles are solely those of the author(s), not of the Asia Society.