Weekly Rewind: A 400-Year-Old Royal Curse, Pyongyang Bling, Godzilla in Tokyo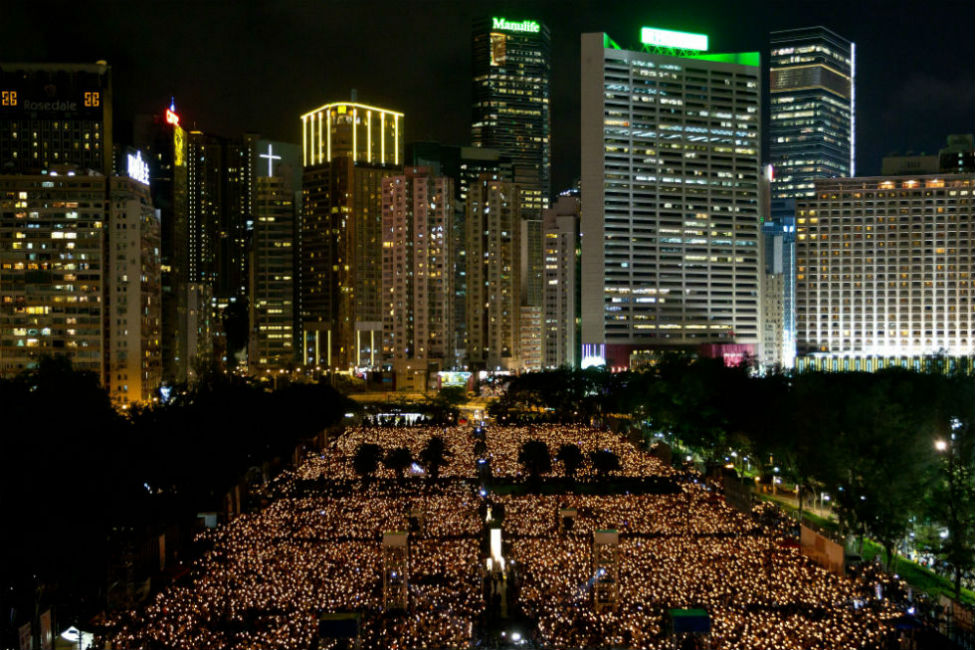 People take part in a candlelight vigil in Hong Kong on June 4, 2015, to mark the crackdown on the pro-democracy movement in Beijing's Tiananmen Square in 1989. (Dale de la Rey/AFP/Getty Images)
Welcome to Asia Society's Weekly Rewind, featuring some of the best Asia-related content you may have missed. This week:
Stories
How a 400-year-old curse continues to haunt one of India's richest royal families
Manu Balachandran, Itika Sharma Punit | Quartz India
Read about how the Wadiyar dynasty, rulers of the former kingdom of Mysore in the southern Indian state of Karnataka, has been trying to unsuccessfully ward off a 400-year-old curse.
How Nepali women climbers are rebuilding their country after quakes
Alyssa Roenigk, photos by Rob Frost | espnW
"Together, we can rebuild Nepal," says 35-year-old Maya Gurung. Read Alyssa Roenigk's in-depth feature on a group of Nepali women, known for summiting Mount Everest and the tallest mountain on every other continent, and how they are working to rebuild their country after its devastating recent earthquakes.
Sorcery and Sexism in Papua New Guinea
Helen Clark | The Diplomat
Witchcraft killings, involving the murders of women accused of sorcery, are a troubling trend in Papua New Guinea. "This is a complex problem that involves violence against women, land reclamations, and a rapidly developing nation," writes Helen Clark, who investigates the historical context behind the developments.
Godzilla gets official Tokyo residency papers, copies being given out free to fans
Casey Baseel | Rocket News 24
Godzilla has become the newest resident of the Shinjuku Ward in Tokyo, complete with an official special residency document listing the character's name, date of birth, address, and other details.
After the World's First Female Premier, Sri Lanka Struggles For Equality in Politics
Uditha Jayasinghe | Wall Street Journal
Sri Lanka elected the world's first female prime minister Sirimavo Bandaranaike in 1960, after becoming the first country in Asia to give women the vote in 1931. Decades later, however, the country has struggled to achieve equal representation for women in politics and consequently to bridge the gender gap.
'Censorship Breeds Prejudice in the Long Run'
Isaac Stone Fish, David Wertime | Foreign Policy
Two Chinese writers and a publisher sit down with Foreign Policy to discuss Chinese state censorship system and its impact on modern Chinese literature and society.
Multimedia
Scenes from the Tiananmen Memorial Events in Hong Kong
Austin Ramzy | New York Times
See images from a candlelight vigil at Victoria Park in Hong Kong on Thursday, which marked the 26th anniversary of the deadly crackdown on protesters in Beijing.
'Pyongyang bling' casts new light on North Korea
Reuters TV
See how North Koreans are setting up cafes, massage parlors, and other new enterprises.
Overheard This Week
"Let us not fool ourselves that there is no connection between the unusual number of deaths from the ongoing heat wave and the certainty of another failed monsoon. It's not just an unusually hot summer, it is climate change." – India's Earth Sciences Minister Harsh Vardhan on the country's recent heatwave, which has killed over 2,500 people. [Reuters]
By the Numbers
450 – The number of people aboard the ship Eastern Star when it capsized on the Yangtze River earlier this week. There were only 14 survivors. [USA Today]
5.8% – The percentage of women in Sri Lanka's current parliament. The percentage has never risen above 6.5% since the country's independence in 1948. [Wall Street Journal]
239 – The number of tons of saffron, the world's most expensive spice, produced in Iran in 2013/2014. 250 tons were produced globally. [CNN]
 
---
Each week, Asia Blog will feature highlights from Asia-focused feature writing, photography, and multimedia. Do you have recommendations? Please email a link and any related details to blog@asiasociety.org (we regret that we won't be able to respond directly to each inquiry).
Opinions expressed on highlighted articles are solely those of the author(s), not of the Asia Society.