Watch: 'Deeply, Deeply' Patriotic Song Featuring China's President Debuts During New Year Gala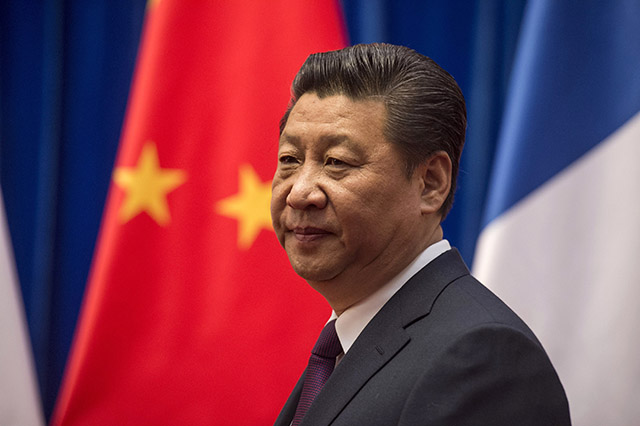 Chinese President Xi Jinping at the Great Hall of the People on January 30, 2015 in Beijing, China. (Fred Dufour/Getty Images)

On February 17, Kevin Rudd, former Australian prime minister and incoming president of the Asia Society Policy Institute, sat down with Charlie Rose to share his thoughts on China and impressions of Chinese President Xi Jinping. Learn more
Since coming to power in late 2012, Chinese President Xi Jinping has been the subject of fawning cartoons, books, oil paintings, action figures, commemorative plates and even a musical homage to the love he has for his wife. This obvious break from the mold of his post-Mao Zedong predecessors has drawn suspicions that "a growing cult of personality" is being built around the man known by some as Big Daddy Xi. After a performance at this year's CCTV New Year's gala, those suspicions will likely persist.
The annual event, which organizers claim reaches 90 percent of Chinese families and more than 700 million viewers, is a collection of performances and skits that are tightly choreographed and vetted by the Communist Party. Toward the end of this year's broadcast on February 18, singers Mo Hualun and Lv Wei joined a university choir to sing a new song entitled "Give My Heart to You" in an effusively patriotic tone that's long been typical of the gala. Less typical, however, is what happened a minute into the performance when a waving Chinese flag in the background video gave way to triumphant imagery of the president.
The remainder of the performance is devoted exclusively to video of Xi that includes him meeting ecstatic youth, glad-handing with rural residents, and eating with soldiers in a frigidly cold outpost. While similar flattering imagery of top leaders has long been a mainstay of CCTV news broadcasts, it's rare that this imagery is brought together in such a musical montage at a high-profile event like the New Year's gala. The song itself appears directed at the Chinese "motherland" as a whole, though the way Xi is presented center stage leaves it ambiguous who exactly the source of love is and who it is directed at.
Watch the performance yourself in the video embedded below (we've translated the lyrics beneath it) and let us know what you think in the comments.
《把心交给你》
"Give My Heart to You"

我深深 深深地爱着你
I deeply deeply love you
对你的承诺从未忘记
I'll never forget the promise to you
多少风雨生死相依
We depend on one another in life and death through the wind and the rain
你的冷暖时刻挂心里
Your well-being is linked to my heart
我深深 深深地爱着你
I deeply deeply love you
我的根在你的土地
My root is in your earth
光荣梦想因你而美丽
Glory and dreams are beautiful because of you
一路走来你给我勇气
Along the way you gave me courage
把心交给你 将未来轻轻捧起
I give my heart to you and gently hold up the future
我的祖国 我的姐妹兄弟把心交给你
My motherland, my sisters and brothers, I give my heart to you
交给你
I give it to you
交给你
I give it to you