Watch: Is China's Aggression Taking Advantage of U.S. Policy?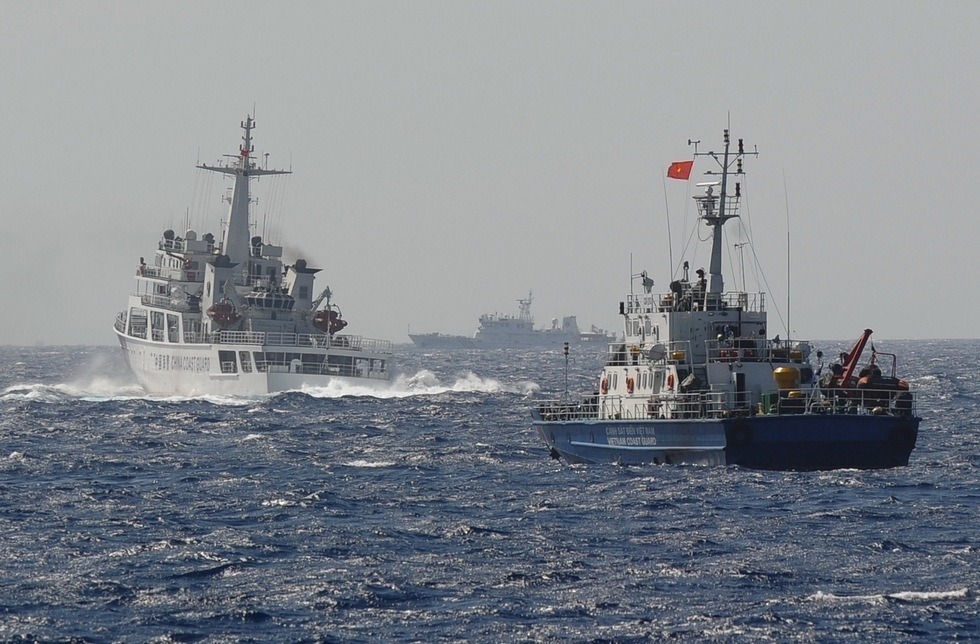 This picture taken on May 14, 2014 shows a Chinese coast guard vessel (L) followed by a Vietnamese coast guard ship (R) near the area of China's oil drilling rig in disputed waters in the South China Sea. (Hoang Dinh Nam/AFP/Getty Images)
The opinions summarized in this article and the accompanying video clip are solely those of Jamie Metzl and do not necessarily reflect the views of Asia Society.
In the wake of President Obama's major foreign policy address at West Point, Asia Society Senior Fellow Jamie Metzl discussed U.S. foreign policy and China's "big shift" towards greater aggression in the Asia Pacific on Bloomberg TV yesterday morning. Metzl argued that Chinese aggression in the region was a result of China's perception that the U.S. is "not going to be able to rally [its] resources" to counter China's rapidly growing military as it asserts its rights in the South and East China Seas.
Metzl interpreted the recent clash between China and Vietnam over a Chinese deepwater oil rig stationed on disputed waters as part of a larger Chinese strategy to undermine and supplant U.S. influence in the region. "They are not only trying to assert their rights in those areas, but they are really trying to push the United States in many ways out of the Western Pacific—to challenge [the U.S.] to say what are you going to do to support your friends and allies in the region. They are very strategically picking these points of contention where they know that we are not going to rush in militarily," Metzl said.
In his speech, President Obama said, "U.S. military action cannot be the only—or even primary—component of our leadership in every instance." According to Metzl, the U.S. shift away from relying on military power comes at a time when China is "building a military very rapidly" and "moving aggressively" knowing that the U.S. is "not going to ramp up [its] response to [China] militarily." Metzl said.
"What China is betting on is that, despite all of our talk of our pivot to Asia, we're not going to be able to go all in in Asia," said Metzl. "But as we're learning in the South China Sea and the East China Sea, as we are in Europe, hard power is really important."
Metzl commented that Chinese regional policy is only partly influenced by the United States' own stance and that China's aim is not to unseat the United States as global power, at least in the medium term. However, he argued that China's recent actions against Vietnam and the Philippines are alarming signals. China is "letting Vietnam and everyone else know, including the Philippines, that the United States isn't going to do much to help you," Metzl said.
Metzl contended that the primary reason behind this is that the United States' slate of "global responsibilities" has made it difficult for it to focus adequately on Asia.
Watch Jamie Metzl's conversation with the "Bloomberg Surveillance" team using the video player below.