Watch: Celebrated Myanmar Troupe and 'Outstanding Performance of the Year' Nominee Shwe Man Thabin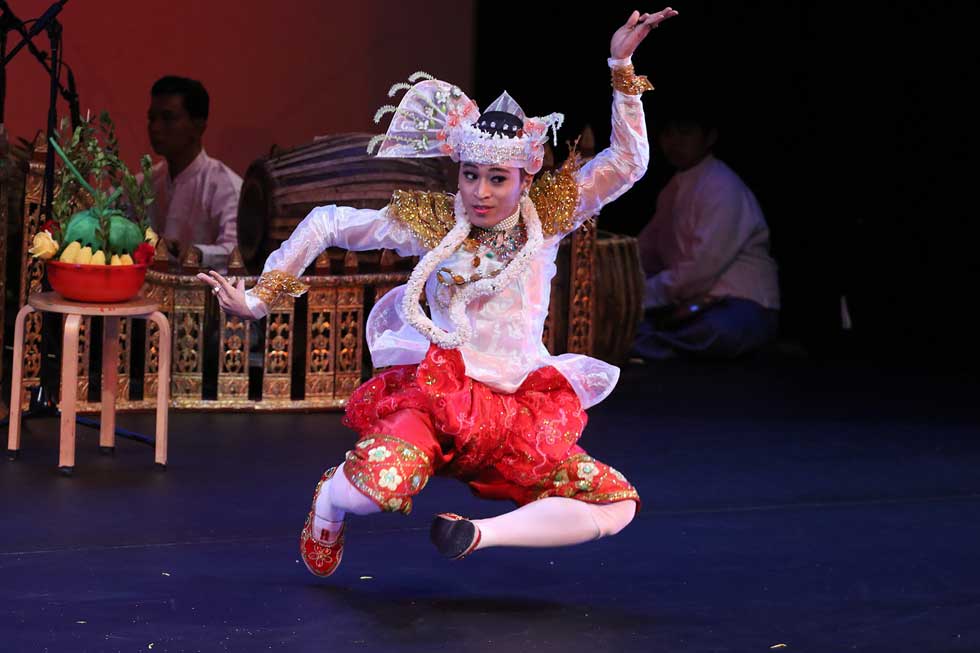 Members of Myanmar's Shwe Man Thabin company perform at Asia Society New York on April 11, 2015. (Ellen Wallop/Asia Society)
Asia Society's April production of "Music and Dance from Myanmar," featuring the Shwe Man Thabin troupe, has been nominated for Outstanding Performance of the Year by The New York Dance and Performance Awards (The Bessies) — New York's premier dance awards — according to an announcement last week.
Shwe Man Thabin, one of Myanmar's most beloved traditional performance troupes, made its United States debut at Asia Society New York on April 10-11. Eighteen musicians and dancers from the 75-member company traveled from Myanmar to New York for two sold-out performances.
The program, which garnered praise from the New York Times and the Financial Times, featured the performance form of zat pwe, a popular all-night outdoor theater performance in Myanmar that originated in the late 1800s. The zat pwe blends cultural and historical elements gathered from a variety of sources: dance in the old royal courts, marionette theater traditions, Buddhist teachings of the jataka tales, and contemporary dramatic plays addressing social issues.
This year's 12 Bessie Award nominees for Outstanding Performance, which were selected by an independent committee of 39 dance industry professionals, also included productions from Brooklyn Academy of Music, MoMA PS1 and Crossing the Line, New York City Ballet and Lincoln Center, and The Guggenheim's Works & Process. The 31st Annual Bessie Awards will take place on Monday, October 19, 2015 at the Apollo Theater.
Video: Shwe Man Thabin at Asia Society New York (1 hr., 31 min.)