Was Bill Richardson Right About Dennis Rodman, Kim Jong Un and Kenneth Bae?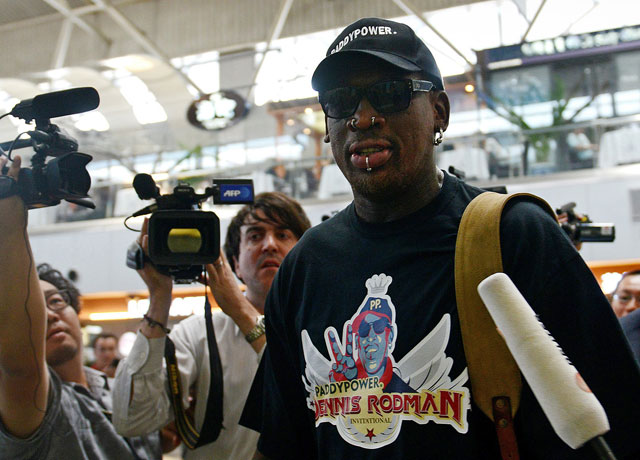 Former NBA basketball player Dennis Rodman is surrounded by members of the media as he makes his way through Beijing's international airport on September 3, 2013. Rodman said he was heading back to Pyongyang to see his "friend," North Korean leader Kim Jong Un, but refused to say if he would come back with an imprisoned US citizen. (Wang Zhao/AFP/Getty Images)
Former NBA star Dennis Rodman landed in Pyongyang, North Korea, earlier today. The 52-year-old who first visited the country in February, was coy about the reasons behind his trip.
"I just want to meet my friend Kim, the marshal, and start a basketball league over there or something like that," Rodman told reporters before boarding his flight in Beijing.
The "Kim" Rodman refers to is North Korean leader Kim Jong Un, an avid basketball fan, who Rodman called "awesome" after their initial chummy meeting.
Rodman said his current trip will include more "basketball diplomacy," as he calls it, but that he was "not going to North Korea to discuss freeing Kenneth Bae." Bae is an American citizen who on April 30, 2013, was sentenced by North Korea's Supreme Court to 15 years hard labor. Last week, North Korea abruptly canceled a visit by a U.S. envoy tasked with securing Bae's release.
In May, Rodman took to Twitter to call on Kim to do him "a solid" and release Bae. The missive was retweeted nearly 3,000 times, but apparently fell on deaf ears in Pyongyang.
I'm calling on the Supreme Leader of North Korea or as I call him "Kim", to do me a solid and cut Kenneth Bae loose.

— Dennis Rodman (@dennisrodman) May 7, 2013
Speaking at Asia Society back in July, former Governor of New Mexico Bill Richardson spoke of the need for "out-of-the-box diplomacy" when in comes to North Korea. And he surprised many in the audience when he said the following: "You know who I think is the only person that can get (Bae) out? Dennis Rodman." (You can watch highlights from that program in the video embedded below.)
We might see if Richardson was right very soon.