Wall Street Journal Praises Philippine Gold's Collection of 'Bright Stars'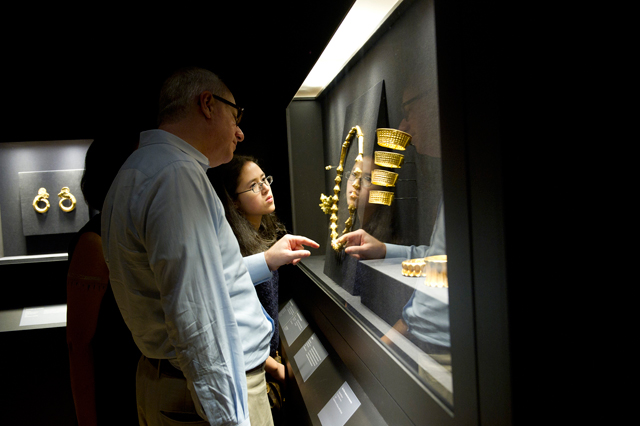 Visitors to Asia Society in New York inspect artifacts from the Philippine Gold: Treasures of Forgotten Kingdom exhibition. (Elena Olivo/Asia Society)

Asia Society Museum's exhibition Philippine Gold: Treasures of Forgotten Kingdoms, which runs from September 11, 2015, to January 3, 2016, in New York, features recently discovered gold artifacts from little known Philippine cultures that flourished between the 10th and 13th centuries. Learn more
The Wall Street Journal has published a thorough review of Philippine Gold: Treasures of Forgotten Kingdoms, Asia Society's Fall 2015 exhibition. According to Lee Lawrence, who writes about Asian and Islamic art for the publication, "there is enough diversity among the 120 or so pieces [in the exhibit] to enthrall the eye and engage the mind." Lawrence adds:
Of the show's many bright stars, some have the gravitational pull of suns. Notable for its impressive presence is a handsome 5-foot-long, square-shaped cord that weighs almost 9 pounds. At its core is a thick, loop-in-loop chain, a technique used in the Mediterranean as early as the seventh century B.C. Here, artisans have encased it using slimmer chains and elongated beads that create a strong, rhythmic pattern. This piece may be a sash, but scholars believe it might be a ceremonial rendering of the sacred thread worn by men of the high-ranking Hindu Brahmin caste.
Since its opening on September 11, Philippine Gold has received sterling reviews from several publications, including The New York Times and The New Yorker. The exhibition — which received a visit from Filipino boxing great Manny Pacquiao on Monday — will remain open through January 3.