In Viet Nam and Rest of 'Rising South,' Inequality Just One of Many New Challenges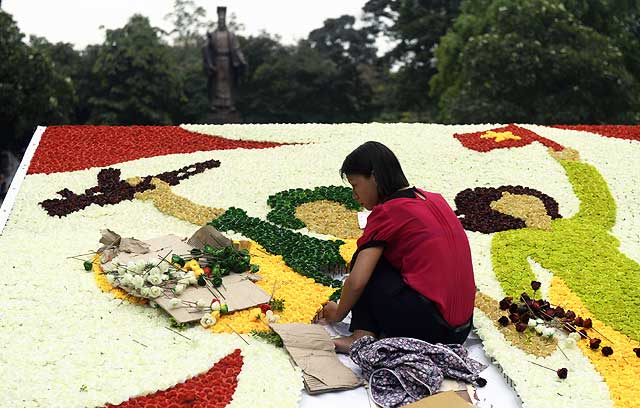 A worker uses plastic flowers to build a display marking the 38th anniversary of the end of the Vietnam War at a public park in the centre of Hanoi on April 24, 2013, just ahead of Reunification Day on April 30. (Hoang Dinh Nam/AFP/Getty Images)
April 30 marks the 38th anniversary of Viet Nam's reunification — 38 years after the conclusion of the Viet Nam-American war. As is often reported, this country has rapidly changed since then, having achieved the World Bank's lower middle income country status, along with BRIICS countries like Indonesia and India.
But is this Asian cub's progress slowing before it really is able to roar like some of its tiger neighbors, including Malaysia, South Korea, and Singapore?
It's my first time back in the country after four years away and my overall impression is that Ho Chi Minh City, where I was based previously, has the appearance of newness and modernity. There are a few new high-rises and seemingly interminable public infrastructure projects have concluded — not least of which was the cleanup of an open sewer whose odor permeated a significant portion of the drive in from the airport. The parks have new benches, the traffic seems to flow with a new efficiency, and a Bentley — the favorite ride of the country's nouveau riche — is parked opposite me.
The cab driver on my way in from the airport tells me that overall Viet Nam's development is good. But he acknowledges that things in his home province of Khanh Hoa — 800 kilometers north of Ho Chi Minh City — are much different.
After spending a couple of days in the central province of Quang Ngai before arriving in Ho Chi Minh City, I can attest to the differences being readily apparent. For example, the 130 km drive down national Highway 1 from an airport in the central region's economic center Da Nang took a full three hours and involved the usual heart-racing maneuvers as we jutted into head-on traffic vying for space with trucks, coaches, motorbikes, children on bicycles, and the occasional tractor.
The often discussed plague of Asian and global equality — a scourge both within and between countries — was in full view.
While the United Nations Development Program's Human Development Report this year is optimistically titled "The Rise of the South: Human Progress in a Diverse World," it also acknowledges that challenges like those facing Viet Nam remain around the globe.
On the one hand, the world is pinning its hopes and dreams for recovery on the opportunities presented by the developing states. On the other, the domestic realities of these countries, and the lopsided nature of their trade relations with countries of the "West," make cooperation much more challenging.
For example, if nobody is buying Viet Nam's exports and the tourists stop coming, the country will face much harder times. Indeed, since achieving a peak of 8.5% growth in 2005, Viet Nam growth slowed to just 5.9% in 2011.
At the same time, countries like the U.S., while acknowledging a changing economic relationship, they cannot quite fathom the prospect of America as number two. This point was made by Singaporean scholar and thought leader Kishore Mahbubani, who, in discussing his new book The Great Convergence, likened the global community to being on a single ship with 192 cabins. The only problem, says Mahbubani, is that we are missing a captain at the helm.
While leaders seldom acknowledge the change in economic prowess, the north benefits tremendously from a rising "south": there now exists a more qualified labor force, fewer wars than at any other point in history, and new ways of thinking and doing things, proven outdated by recent economic trends. If nothing else, living standards are also increasing in the south, and millions have been lifted from poverty. In theory, that should be cause for celebration.
But the reunification day fireworks launched in Viet Nam last night may not shine quite as brightly. As UNDP Administrator Helen Clark states in the foreword to her agency's 2013 Report, equity, environment, demographic changes, and participation are all challenges that are left to be faced, particularly in a world increasingly "transboundary in nature."
In that respect, it is worth recalling November of last year when 171 of Singapore's bus drivers from mainland China went on strike, demanding improved wages. Some were deported, others received jail time after demanding equal compensation to drivers from Malaysia for completing the identical job.
This is not the first time workers have demanded equality, whether immigrants in Singapore, or factory workers in China. This is chiefly because countries aren't adjusting as rapidly as they should to workforce challenges, whether north, south, east, and west.
While Singapore needs migrants to fill the void left across a range of sectors, whether domestic work, construction, or university professors, the pieces of the puzzle do not always fit so neatly together. On the one hand, immigrants sometimes complain about low wages. On the other, Singapore's politicians worry about taking jobs from their own qualified citizenry.
Mahbubani's book may be titled The Great Convergence, but what we are witnessing may be more of a great collision. This is why, as UNDP suggests, new institutions are needed "to facilitate regional integration and South-South cooperation."
All of this is to say that a shift is upon us, but the global community is not yet managing it too well. U.S. and European politicians in particular need to present a depoliticized, united front on issues concerning global economic and political relations. Doing so will not only aid the north to deal with the current economic crisis effectively — but also countries like Viet Nam, which need to exit from an export driven paradigm to one that is more based on skills, innovation, and creativity.
Join Asia Society New York on May 8, when leading thinkers on global economic challenges from UNDP, Acumen Fund, and the Indonesian and Pakistan governments will come together to discuss this year's Human Development Report.