Video: Pakistan's Military Shift From India to Insurgents 'Genuine'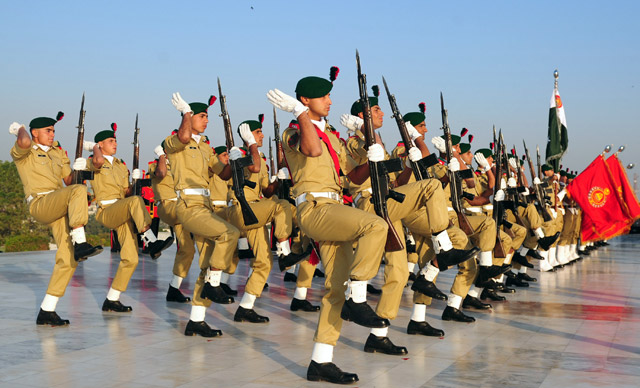 Pakistani cadets march during a ceremony on the 136th birth anniversary of Pakistan's founder Mohammad Ali Jinnah at his mausoleum in Karachi on December 25, 2012. (Rizwan Tabassum/AFP/Getty Images)
The Pakistan military's declaration that it now sees homegrown militants as a bigger threat to national security than neighbor India seems to be a "geniune" attempt to shift focus to groups such as the Taliban, Asia Society Senior Advisor Hassan Abbas said in a recent panel discussion at the New America Foundation.
The announcement by the military about the shift was followed by a limited clash between India and Pakistan in the disputed Kashmir area, causing some skepticism about the extent of change. The recent cricket series between the two states in India, however, was a positive step in bilateral relations.
Abbas, who writes about security issues in Pakistan and Afghanistan and teaches at the National Defense University in D.C., believes the military has shifted its thinking, albeit later than would have been ideal.
"This whole effort seems to me to be genuine," Abbas said. "Pakistan strategic thinking has come to this conclusion: That the Taliban and the Pakistani version of it and all those independent militant groups indeed are a threat."
Even so, Abbas said a shift in military strategy can only do so much to deal with the Taliban both in Pakistan and Afghanistan due to the limited success of their actions in the past.
"Military action and drone policy, to be frank, has not delivered the dividends," he said. "Only continuation of democracy, only progressive religious discourse and more education can do that, so even if the Pakistani military has changed its doctrine it can only have a limited impact — I would argue I would like to see a much broader effort to deal with these issues."
Abbas was speaking at an event introducing a new book he contributed to called Talibanistan: Negotiating the Borders Between Terror, Politics, and Religion, edited by journalist and author Peter Bergen.
The discussion is available in full below, and will be broadcast by C-Span's BookTV on Saturday.