Video: Hong Kong Protest Movement a 'Rearguard Action' to Protect City's Unique Identity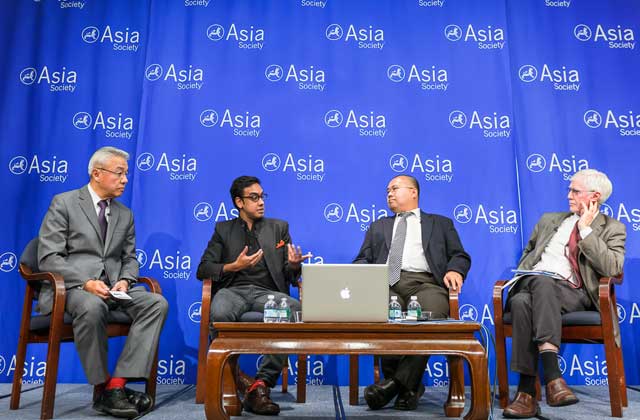 L to R: Fred Teng, Ishaan Tharoor, Ho-Fung Hung, and Orville Schell at Asia Society New York on Oct. 28, 2014. (C. Bay Milin)
The world has been watching intently as pro-democracy demonstrators in Hong Kong continue to occupy key parts of the city, calling for universal suffrage by 2017. The movement is notable in its scale — reaching over 100,000 people at one point — as well as its duration, having lasted over a month to date.
In a discussion moderated by Orville Schell, Arthur Ross Director of the Center on U.S.-China Relations at Asia Society, participants debated the root causes of the demonstrations and their potential impacts on the future of Hong Kong.
Speakers included Johns Hopkins University Associate Professor Ho-Fung Hung; Asia Society Hong Kong Executive Director S. Alice Mong, who offered an on-the-ground perspective from Hong Kong via Skype; NewsChina magazine CEO Fred Teng; and Ishaan Tharoor of the Washington Post.
The panelists ruled out the possibility of the use of force to quell the protests, with Teng pointing out that the lack of force would mean that the demonstrations would persist for a longer period of time. Tharoor noted the remarkably peaceful nature of the protests and a likewise peaceful response by the Hong Kong police. The panelists also noted the role of Hong Kong nationalism in the movement and the role that the protests might have in forging a Hong Kong identity apart from that of mainland China, which Hung attributed to a cultural and historical rift that has continued to the present day.
Hung contended that among the people of Hong Kong exists a "strong sentiment" that "Hong Kong is dying," and that the demonstrations reflect the desire of the Hong Kong people to ensure their city's unique identity "[dies] in dignity." Tharoor likened the protests to a rearguard action, reflecting widespread acknowledgement that the fight for universal suffrage by 2017 has a slim chance of succeeding.
Meanwhile, Teng emphasized the importance of uniting different factions of society in Hong Kong.
"Hong Kong is changing, China is changing — they're both changing, every day. But in terms of how they can meet with each other, and that's really the point that we're looking at," he said.
Video: Highlights from the program (2 min., 44 sec.)