US Needs More Exchanges to Compete With China Making Inroads Worldwide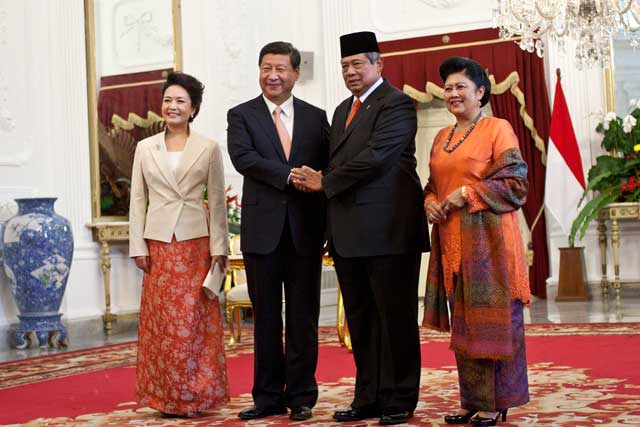 People's Republic of China President Xi Jinping (2L) and wife Peng Liyuan (L) pose with Indonesian President Susilo Bambang Yudhoyono (2R) and his wife Mrs. Ani Yudhoyono in Jakarta on Oct. 2, 2013. President Xi was in Indonesia for two days to discuss bilateral trade with the Indonesian president. (Oscar Siagian/Getty Images)
All views expressed in this article are those of the author and do not necessarily represent the views of the Asia Society.
China is starting to appear in America's rear-view mirror with one of those little warning signs: "objects may appear closer than they look." As U.S. politicians were busy haggling over legislative deals on the debt ceiling, China — who holds most of our debt — has been busy inking business deals to boldly advance its place in the global economy and build up its image as a world class player.
Take a tour of China around the world in the last few months and you find some startling inroads:
The United Kingdom: The recent Chinese economic offensive includes breaking an 18-month logjam in economic relations with Britain last month, and agreeing to invest in a new airport in Manchester, England. The Chinese investment in Britain's third busiest airport will include offices, hotels, manufacturing firms, logistics and warehouses with the potential to create some 16,000 jobs and attract major international business to the UK. Chinese firms have also recently made big investments to redevelop the Royal Albert Dock in east London and rebuild The Crystal Palace in south London.
Tourism is another arena where China is upping its game. This month the Chinese managed to talk British officials into re-structuring the visa application process for Chinese tourists to a more simplified model. (Currently, visitors can apply for a single visa to visit much of Europe — but a separate one is required to travel to the UK.) A new "super-priority" visa system would break down barriers to travel, which means more tourism. Last year 104,000 Chinese tourists visited London. That is up 28 percent from 2011 and up 100 percent since 2009.
Turkey: The selection last month by Turkey of a little-known Chinese defense firm with a long name, China Precision Machinery Export-Import Corporation, stunned defense analysts not used to seeing China score multi-billion dollar contracts for missile defense systems. According to the Stockholm Institute report on global weapons transfers, the volume of Chinese conventional weapons exports jumped by 162 percent between 2008 and 2012.
Asia: Beyond Europe, the Chinese are in high gear throughout Central Asia, with Chinese President Xi Jingping calling for a new "Silk Road" followed by signing tens of billions of dollars' worth of investment deals in Kazakhstan and Turkmenistan. The Chinese leader also visited Malaysia and Indonesia this month to promote trade and military relations. China is on a global roll. According to bank data, Chinese-registered companies have won more than 20 percent of the World Bank's international business — more than double that of any other country.
Despite all the challenges that China faces with an aging population, overextended real estate building and under-employment, the perception of Chinese economic strength is growing. In recent public opinion polls conducted by Pew, more and more people think China will eventually supplant the United States as the world's dominant superpower. Overall, the U.S. has enjoyed a stronger global image than China across nations with a median of 63 percent expressing a favorable opinion of the U.S., compared with 50 percent for China, but that could change.
For America to remain competitive with China, we need to increase educational, cultural and professional exchanges with a nation on the move. China is doing what smart nations do when they want to get ahead: sending students and scholars and practitioners to smart countries to learn more about everything.
China remains the top place of origin of international students in the U.S., making up nearly 25 percent of incoming students to American colleges. The U.S. effort to boost the number of American students and scholars going to China — with a 100,000 Strong Initiative to China — a campaign that began in 2010 — should get more national attention. American companies should be footing more of the bill for young professionals to gain business experience in China. We need more U.S.-China exchanges that focus not just on arts and culture, but business, intellectual property, and law.
There is considerable interest and room for growth in expanding student engagement in China, but funding these programs will need corporate and foundation support and more leniency on the part of the Chinese to accept incoming students. The Ford Foundation has proven a leader in this area — others need to follow suit to ensure a steady increase in education mobility to China. The international educational exchange imbalance that exists between students from other countries studying in the U.S. and U.S. students studying in other countries puts America at a disadvantage, particularly in Asia where, according to the Institute for International Education, the number of students from Asia studying in the U.S. exceeds by 800 percent the number of U.S. students studying in Asia.
Americans need to better understand the value of two-way international exchanges in both cultural and economic terms. In 2011 the U.S. received almost $5 billion from Chinese students studying in the U.S. through expenditures on living, tuition, books, fees and other education-related expenses. Study abroad is big business and it builds a cadre of young professionals who can later compete in the global marketplace. As more young Americans find opportunities to study in China, we will reap the benefits of their knowledge and insights in innovation. If we stay home, we are bound to stay limited.
China's economic agreements and aggressive marketing of itself should not be seen as a threat to America — but a challenge. To stay competitive we need our exchanges with China to go from a trickle to a flood, and we need multiple stakeholders in the public and private sectors to get on board the effort. The State Department provides a range of educational and cultural exchanges with China, and bridges partnerships between American institutions and Chinese institutions. But in an era of fiscal constraint, government, alone, cannot address the exchange demand, nor should it. We don't want to sit idly by while China builds literal and cultural bridges with Europe and Asia, and America fails to read the tea leaves. Let's commit to robust exchanges in 2014 and beyond.