In US Asia Policy, Great Success Requires Greater Ambition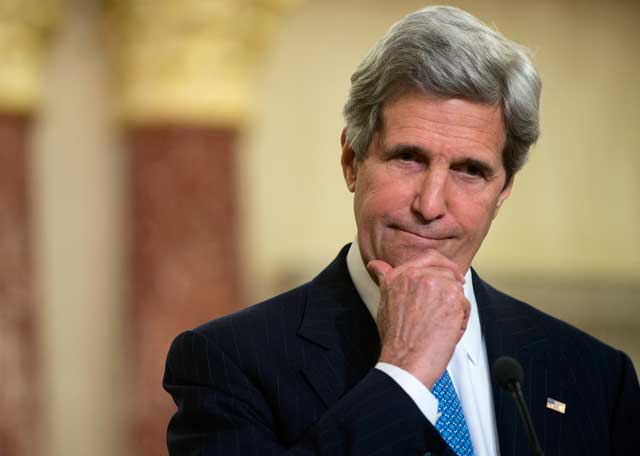 U.S. Secretary of State John Kerry speaks at a joint press conference with Yun Byung-se, South Korean Minister of Foreign Affairs and Trade, at the State Department in Washington, DC on April 2, 2013. (Saul Loeb/AFP/Getty Images)
Secretary of State John Kerry's initial moves as America's top diplomat underscore great ambitions. In his first two months, the Secretary has engaged some of U.S. foreign policy's most vexing problems, renewing the search for Middle East peace and negotiating a difficult transfer of power in Afghanistan.
U.S. policy in Asia requires equal ambition. The Secretary travels to Asia this week under the cloud of new North Korean provocations, and the State Department has said it will be a priority. But, the best analysis says North Korea's actions are meant to either build domestic support or to gain concessions from the United States and others. North Korea has no role to play in building the prosperous Asia-Pacific of the future — so allowing it to dominate discussions better advances North Korean strategy than American interests.
The United States would do well to focus instead on articulating a fresh, positive vision for the Asia-Pacific it seeks to build in the coming decades in partnership with its Asian allies and partners. The pillar of this vision should be around building an "Open Asia" by 2050, across South, Southeast and Northeast Asia. Its central tenets should include freer and fairer trade, expanding prosperity, open travel, peacefully resolved territorial and maritime disputes, growing Asian participation in global institutions and new mechanisms for senior officials to resolve disputes as they arise. North Korea must be part of the agenda, but only part.
Ambition on this level is the only strategy that can fully leverage the opportunities for the United States in Asia. Global politics and economics are changing quickly. In 2016, according to the Organization for Economic Cooperation and Development, China will have become the world's largest economy. Few U.S. troops will be in Afghanistan, but 2,500 Marines are expected to be based in Darwin, Australia. According to HSBC, the United States' three fastest-growing trade relationships will be with Vietnam, India and China. The International Monetary Fund projects that Asia will account for 44 percent of global economic growth between now and then.
Now is the time to align U.S. diplomacy with that world. A resurgent economy and military withdrawal from Afghanistan creates new opportunities for the United States in 2013. Most Asian leaders welcome a strong U.S. role in the region. Yet, initial reviews on the Obama Administration's "pivot" to Asia are that the military elements have moved faster than the diplomatic and trade aspects.
To complement defense and trade initiatives, America's diplomats will best advance U.S. interests if they not only reaffirm the current U.S. commitment to Asia, but also expand it. Diplomats and development experts can build an unprecedented connection of South Asia and Southeast Asia through a democratizing Burma and growing Bangladesh. They can recast the U.S.-China relationship by expanding engagement among senior officials and recommitting with new Chinese leaders to build on the great opportunities of deeper cooperation in the world's most important bilateral relationship.
Diplomats can work with trade officials to navigate the difficult politics throughout the region of the laudable goal of concluding a Trans-Pacific Partnership in a way that also deepens the U.S. relationship with Japan and others. And, they can continue progress over two Administrations in helping Asian regional organization transform from discussion to action-oriented bodies.
This vision is the right tool for the times. Diplomacy and development efforts can do more than U.S. defense tools to solve or mitigate security challenges from maritime boundary claims to North Korea, decrease Sino-American differences on how to establish patterns of fairer and freer trade, assist Burma in its democratization, and connect South and Southeast Asia.
A new vision also reinforces the choice North Korea must make. If the choice between prosperity and its militaristic policy weren't yet stark enough, each step toward deeper integration in Asia further isolates the North and its unacceptable policies. With every instance of new connectivity across Asia, the example of Burma's choice — to reform and reap the many benefits of integration into the international community — becomes even more compelling.
Asia is where the biggest opportunities are for the United States, and big bets ought to be placed where the greatest potential gains intersect with the best odds. Looking forward, an ambitious diplomacy in Asia is the best bet for the United States.