At Upcoming Obama-Xi Summit, Don't Expect 'Deliverables'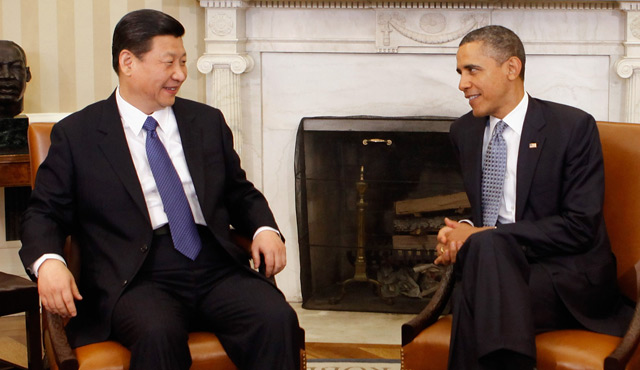 U.S. President Barack Obama (R) and then-Chinese-Vice-President Xi Jinping pose for photographs before meeting in the Oval Office at the White House February 14, 2012 in Washington, DC. (Chip Somodevilla/Getty Images)
U.S. President Barack Obama and Chinese President Xi Jinping are set to meet in an informal summit on a private estate in Southern California on June 7-8. The summit was originally supposed to take place months from now, and the Associated Press takes the earlier date as "a sign that both sides want to stem a drift in ties" sooner rather than later. Xi himself was quoted yesterday saying, "The current China-U.S. relationship is at a critical juncture." He added that the countries must "build on past successes and open up new dimensions for the future."
We reached out to Susan Shirk and James B. Steinberg — panelists in the May 29 Asia Society New York event entitled Obama and Xi Jinping: At the Summit (for which tickets are still available) — for their thoughts on the coming tete-a-tete.
James B. Steinberg
Dean of the Maxwell School, Syracuse University; Former Deputy U.S. Secretary of State; Author, Difficult Transitions: Foreign Policy Troubles at the Outset of Presidential Power
The meeting between Presidents Obama and Xi comes at a crucial moment in the evolution of U.S.-China relations. For 40 years leaders on both sides have worked to develop constructive bilateral relations in the face of significant challenges — both domestic and international — that have periodically unsettled the overall positive trajectory.
But in recent years China's dramatic economic growth, military modernization and more forceful presence on the regional and global stage have raised doubts in both China and the U.S. whether that core commitment to enhancing cooperation and managing differences constructively can be sustained. During President Obama's first term the two sides established a rich set of bilateral dialogues across the full range of issues; but these mechanisms can produce only limited results absent a deeper level of understanding at the highest level of each side's goals and intentions.
The meeting in California is an important first step in undertaking the needed dialogue, and it would be unreasonable, and even counterproductive to look for "deliverables" out of this meeting. Nor should we expect both sides to resolve all our differences. But the real test will be whether this initial step will lead the United States and China, over time, to undertake concrete steps that will turn the abstract search for "mutual strategic trust" into meaningful measures to avoid the looming danger that this relationship could develop into rivalry and even conflict.
Susan Shirk
Chair, 21st Century China Program and Ho Miu Lam Professor, School of International Relations and Pacific Studies, UC-San Diego; Asia Society Associate Fellow

It's an excellent idea for President Obama and President Xi to spend two days of quality time together at a private retreat in Southern California. Past meetings between Chinese and American presidents have been too short, formal and scripted for them to develop a genuine personal relationship and understand one another's real intentions. Vice President Joe Biden and then-Vice-President Xi connected well when they spent almost two weeks traveling together and meeting the public first in China and then in the U.S.
Now Obama and Xi will have the same opportunity to develop the rapport that can help them solve problems and manage crises during their terms. Especially in a non-democratic country like China, the leader's personal investment in good relations with the U.S. is one of the greatest diplomatic assets we can have.
We shouldn't expect any major agreements or other "deliverables" to result from this meeting. The goal of the encounter is to establish the personal relationship between the two leaders and explore ways to dispel — or at least better manage — the mutual suspicions that have recently been dragging down the relationship. Both leaders are seeking to reassure one another that their intentions are not hostile.
Identifying and discussing common concerns like climate change, terrorism, and unstable regions like the Middle East are a better start than arm wrestling over contentious bilateral issues. The presidents should also be able to find common ground in their frustrations toward the provocative behavior of North Korean leader Kim Jong Un. But the presidents shouldn't shy away from the tough issues. The value of the meeting will be increased if they can explain to one another why certain actions by the other country — for example, Chinese cyberattacks on American firms and American surveillance activities in Chinese coastal waters — are considered highly offensive.
Obama and Xi also can build empathy by discussing the daunting problems they both face at home. Obama will want to ask Xi what he expects to accomplish in the new round of economic reforms that are being drafted right now. And Xi will want to ask Obama whether he expects to ever get a budget agreement with the Congress. In explaining the political hurdles they face in their domestic initiatives, they can teach one another about the domestic political context in which they operate better than any book or intel briefing can ever do.