#TBT: Sri Lankan Dance Troupe 'Snakes' Its Way Through America in 1958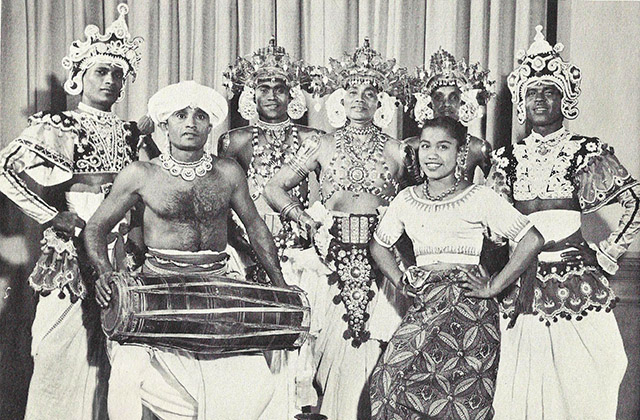 Sri Lanka's Ceylon National Dancers. (Asia Society)
Since its founding, Asia Society has regularly sought to facilitate greater engagement between East and West by sponsoring cultural performances in the United States by Asian performing artists. One of the earliest such events was in 1958, when Asia Society brought the Ceylon National Dancers (pictured above) to New York. The music and dance troupe, based in Sri Lanka (which was known by its British colonial name of Ceylon until independence in 1948), had been established in 1946 and toured widely in Asia, but this marked its first American visit. They performed their signature religious and ceremonial routines that encompassed Kandyan dances from northern Sri Lanka and fire dances from the south.
Following the success of the performance, Asia Society invited the group back as part of a series of nationwide tours, from 1961 to 1962, that traveled to high schools and universities. The project, which also included Indian sitar performer Ravi Shankar, was meant to fill demand among educators to "augment their Asian studies with live performances." According to a review of a Ceylon National Dancers performance in Nevada, one of the most audience-pleasing routines was "the dance of the cobra," in which it appeared that "the hands and arms of the dancer literally became the weaving head and body of the snake, so fluid were the movements."
Each week for "Throwback Thursday" (#TBT), we'll reach into our archives to find a photo from the organization's nearly 60-year history. Some photos will feature important moments, some will feature important people, and others still will just be photos we love. Do you have an Asia Society photo you'd like us to consider including in this series? Please email the photo and any related details to photos@theasiablog.org (we regret that we won't be able to respond directly to each inquiry).