#TBT: Iranian President Hassan Rouhani's Historic 2013 Trip to New York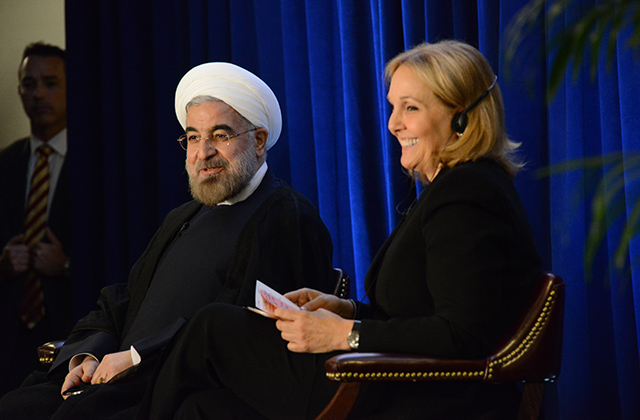 Iranian President Hassan Rouhani speaks with Asia Society President Josette Sheeran in New York on September 26, 2013. (Kenji Takigami/Asia Society)
In August 2013, Hassan Rouhani assumed the presidency of Iran after a decisive election victory. In stark contrast to his hardline predecessor Mahmoud Ahmadinejad, Rouhani was seen as a reformist moderate who had pledged to engage in dialogue and deescalate tensions with the United States. The month after becoming president, Rouhani made a historic visit to New York to take part in the United Nations General Assembly. While there, he was interviewed by Asia Society President Josette Sheeran at an event co-sponsored by Asia Society and the Council on Foreign Relations, as seen in the above photo.
Speaking on a wide range of topics, Rouhani said that under his leadership, he hoped to see greater equality for women, empty prisons, and pledged that Iran would continue to do what it could to help resolve Syria's civil war. He also expressed his desire to fast track nuclear talks with the U.S., saying "the sooner the better" on reaching a mutually acceptable deal. "During my tenure in office as president, moderation and wisdom will guide my government in making and implementing policies in every field," Rouhani said during the interview. In July 2015, a nuclear deal was ultimately reached.
Each week for "Throwback Thursday" (#TBT), we'll reach into our archives to find a photo from the organization's nearly 60-year history. Some photos will feature important moments, some will feature important people, and others still will just be photos we love. Do you have an Asia Society photo you'd like us to consider including in this series? Please email the photo and any related details to photos@theasiablog.org (we regret that we won't be able to respond directly to each inquiry).