#TBT: George W. Bush Celebrates Asia Society's 50th Anniversary in 2006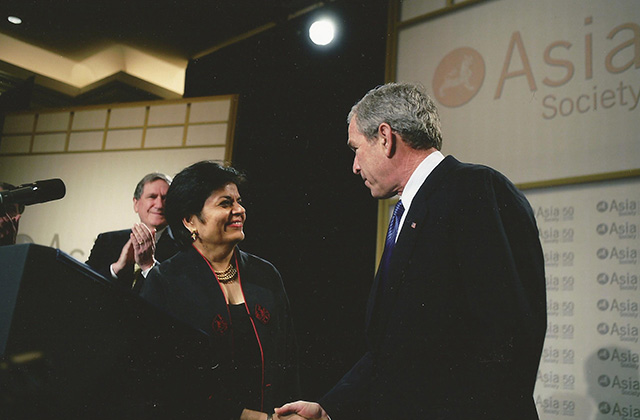 George W. Bush meets Asia Society President Vishakha Desai in 2006 as Richard C. Holbrooke looks on. (Paul Morse/White House)
On February 22, 2006, U.S. President George W. Bush gave an address at Asia Society in Washington, D.C. and celebrated the organization's 50th anniversary. With the ambassadors from India and Pakistan present, he used the occasion to speak about relations between the three countries.
"Fifty years ago, most of Asia was mired in hopeless poverty," Bush said in his remarks. "Today its economies are engines of prosperity. These changes have been dramatic, and as the Asian continent grows in freedom and opportunity, it will be a source of peace and stability and prosperity for all the world. The transformation of Asia is beginning to improve the lives of citizens in India and Pakistan, and the United States welcomes this development."
In the above photo, Bush is seen meeting then-Asia Society President Vishakha Desai as then-Chairman Richard C. Holbrooke looks on.
Each week for "Throwback Thursday" (#TBT), we'll reach into our archives to find a photo from the organization's nearly 60-year history. Some photos will feature important moments, some will feature important people, and others still will just be photos we love. Do you have an Asia Society photo you'd like us to consider including in this series? Please email the photo and any related details to photos@theasiablog.org (we regret that we won't be able to respond directly to each inquiry).