#TBT: Bill Clinton Speaks at Asia Society's Annual Dinner in 2003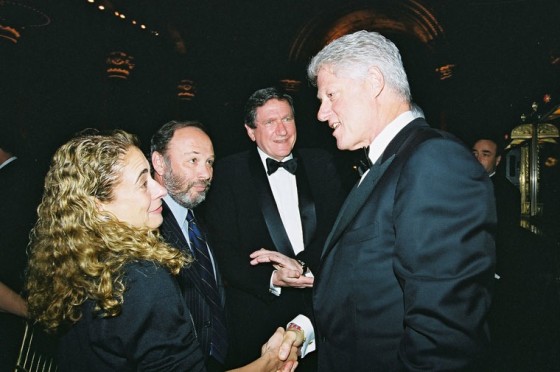 2003 Osborn Elliott Prize winner Elisabeth Rosenthal (L) with, from left, Joe Klein, former Asia Society Chairman Richard Holbrooke and President Bill Clinton. (Elsa Ruiz/Asia Society)
On May 12, 2003, former U.S. President William Jefferson Clinton gave an address at Asia Society's annual dinner in New York City, where Elisabeth Rosenthal of the The New York Times was awarded the inaugural Osborn Elliott Prize for Excellence in Journalism on Asia for her pioneering coverage of the spread of HIV in rural China. 
"No region matters more to our hopes for the future than Asia," Clinton said in his remarks. "So many of the world's people live there. So many fates and cultures meet. So much of the innovation, the upheaval, the change is occurring there. Asia may well yet hold the key to the outcome of the twenty-first century's struggle between the forces of integration and those of disintegration."
In the above photo, Clinton is seen with Elisabeth Rosenthal, Joe Klein, and then Asia Society Chairman Richard C. Holbrooke.
The 2015 Osborn Elliott Prize for Excellence in Journalism on Asia will be presented on June 3 in New York City.
Each week for "Throwback Thursday" (#TBT), we'll reach into our archives to find a photo from the organization's nearly 60-year history. Some photos will feature important moments, some will feature important people, and others still will just be photos we love. Do you have an Asia Society photo you'd like us to consider including in this series? Please email the photo and any related details to photos@theasiablog.org (we regret that we won't be able to respond directly to each inquiry).