#TBT: In 2012, An 'Explosive Opening' for Asia Society Hong Kong Center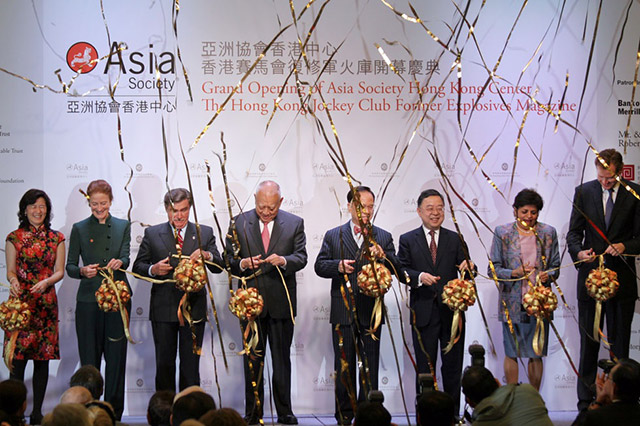 Streamers fly as a festive ribbon cutting marks the official opening of the Asia Society Hong Kong Center. (Bill Swersey)
On February 9, 2012, Asia Society Hong Kong celebrated the Grand Opening of its new home in Admiralty, at the site of the Jockey Club Former Explosives Magazine. With over 400 guests in attendance, the celebrations culminated with a countdown, golden streamers shot from two replica cannons, and a ribbon cutting.
The 3.3 acre site of the new Center houses four former British military buildings, and was originally built by the British Army in the mid-19th century for explosives and ammunition production and storage. After over a decade of work and planning, the site has been transformed into a state-of-the-art cultural, artistic, and intellectual hub, and is home to an array of programs including lectures, performances, film screenings, and exhibitions.
Each week for "Throwback Thursday" (#TBT), we'll reach into our archives to find a photo from the organization's nearly 60-year history. Some photos will feature important moments, some will feature important people, and others still will just be photos we love. Do you have an Asia Society photo you'd like us to consider including in this series? Please email the photo and any related details to photos@theasiablog.org (we regret that we won't be able to respond directly to each inquiry).