#TBT: In 2007, 'Kinsmen' Redefine Jazz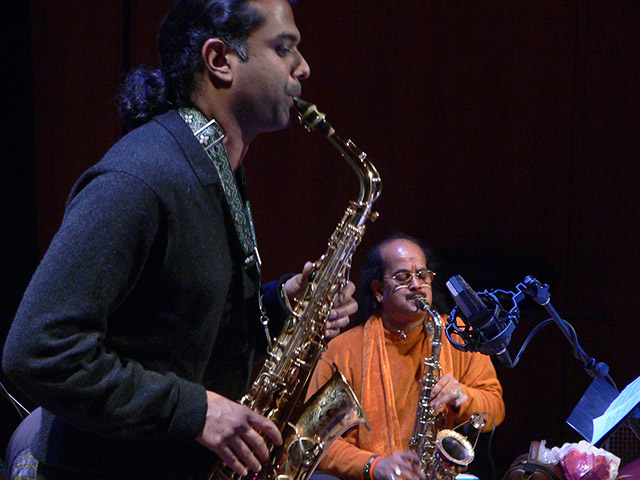 Rudresh Mahanthappa (L) and Kadri Gopalnath perform at Asia Society in New York in November 2007. (La Frances Hui/Asia Society)
In November 2007, Kadri Gopalnath, known as the "Emperor of Saxophone" in India, and renowned Indian American jazz musician Rudresh Mahanthappa teamed up for a national tour called Kinsmen/Svajanam conceived by Mahanthappa and commissioned by Asia Society. In an interview, Mahanthappa said that the title "comes from the fact that, here we are both playing saxophone, but we're coming from different backgrounds. We're from different generations — he's South Asian, I'm South Asian-American, but somehow we have this point of relationship beyond just the fact that we play the same instrument."
Gopalnath specialized in a form of Indian classical "Carnatic" music that evolved from ancient Hindu traditions. Mahanthappa, although brought up on a base of American jazz, was later influenced by Indian artists like Gopalnath, which led him to fuse a myriad of traditional and contemporary influences. "As a joke, my brother gave me a CD [by Gopalnath] called Saxophone Indian Style," Mahanthappa recounted. "I couldn't believe he was playing Carnatic music on a truly Western instrument." 
For the 2007 tour, the two alto saxophonists were backed up by ensembles from their respective backgrounds, but Mahanthappa said the matchup went beyond "slamming together" a South Indian trio with a jazz quartet. Rather, it was about each musician equally relating to jazz and Indian music. "If I had to call it something, maybe I would call it hybrid music," Mahanthappa said. "Maybe I would call it Indian-American music. I would certainly not call it fusion, which I call the 'F-word.'"  
In the above photo, Mahanthappa and Gopalnath play at Asia Society in New York to kick off the tour. In the below video, see Mahanthappa's interview and clips of the ensemble's performance.
Each week for "Throwback Thursday" (#TBT), we'll reach into our archives to find a photo from the organization's nearly 60-year history. Some photos will feature important moments, some will feature important people, and others still will just be photos we love. Do you have an Asia Society photo you'd like us to consider including in this series? Please email the photo and any related details to photos@theasiablog.org (we regret that we won't be able to respond directly to each inquiry).