#TBT: In 2005, George H. W. Bush and Bill Clinton Lead Post-Tsunami Relief Efforts at Asia Society Summit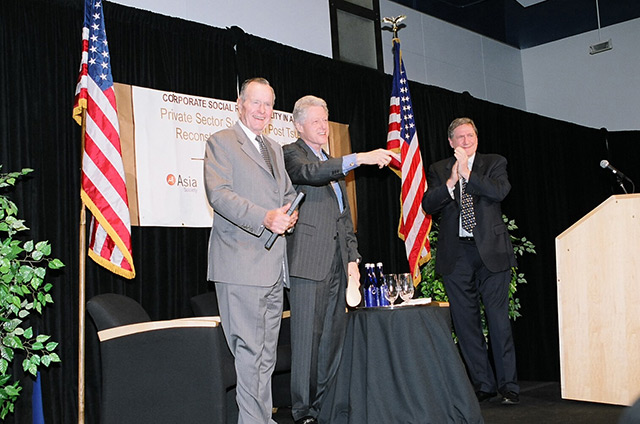 Presidents George H.W. Bush and Bill Clinton with Richard C. Holbrooke at the Asia Society Washington Center-sponsored Tsunami Private Sector Summit in Washington, DC, in 2005. (Asia Society)
On May 12, 2005, former United States presidents George H. W. Bush and Bill Clinton delivered keynote addresses at the Asia Society-organized Private Sector Summit on Post-Tsunami Reconstruction and Rehabilitation in Washington, D.C. The two former presidents served as the Co-Chairs of U.S. Private Sector Tsunami Relief, an effort to raise private funding for the victims of the devastating 2004 Indian Ocean earthquake and tsunami.
Over 300 participants attended the summit, which provided an opportunity for corporate and NGO professionals to collaborate with representatives from the affected countries on rehabilitation and reconstruction efforts.  
Each week for "Throwback Thursday" (#TBT), we'll reach into our archives to find a photo from the organization's nearly 60-year history. Some photos will feature important moments, some will feature important people, and others still will just be photos we love. Do you have an Asia Society photo you'd like us to consider including in this series? Please email the photo and any related details to photos@theasiablog.org (we regret that we won't be able to respond directly to each inquiry).