#TBT: In 1988, South Korea's President Talks Democracy and Detente at Asia Society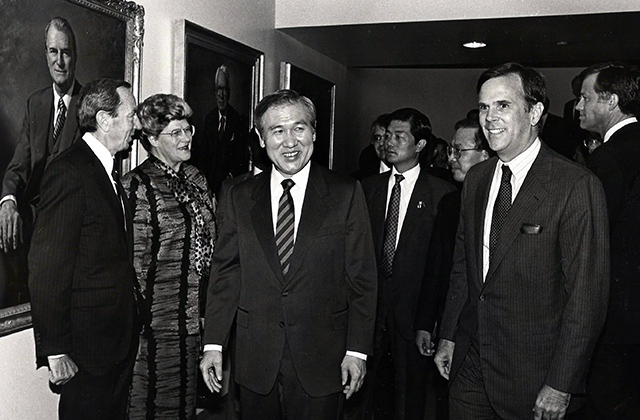 South Korean President Roh Tae Woo (L) and Marshall Bouton at an Asia Society luncheon in 1988. (Marcia Weinstein/Asia Society)
In October 1988, South Korean President Roh Tae Woo was the guest of honor at a luncheon in New York co-hosted by Asia Society and the Council on Foreign Relations, where he described his country's moves toward political openness and pledged to seek better ties with North Korea and other socialist nations. The previous year, on the heels of a newly enacted constitution, South Korea had held its first truly free and fair presidential election, and Roh had narrowly won on a platform of furthering democratic reforms. 
The same day that he addressed Asia Society, Roh acheived another first: becoming his country's first leader to address the United Nations General Assembly. At the time, neither North Korea nor South Korea were members of the UN, serving as mere observers due to the still-unresolved Korean War and mutual opposition toward one another's inclusion. As part of a compromise between Western and Communist nations in the UN, representatives from both the North and South were allowed to address the general assembly for the first time in 1988. In his remarks, Roh reiterated his hope of easing tensions on the Korean penninsula and signing a nonaggression pact, saying that "the world of confrontation and conflict is giving way to a world of detente, a trend that is taking place right here at the United Nations."
Two years later, under Roh's presidency, South Korea did ultimately sign a nonaggression pact with the North and both countries were admitted as full members to the UN. In the above photo, Roh is pictured at the Asia Society luncheon with the organization's then-Vice President for Program, Planning, and External Affairs, Marshall Bouton.
Each week for "Throwback Thursday" (#TBT), we'll reach into our archives to find a photo from the organization's nearly 60-year history. Some photos will feature important moments, some will feature important people, and others still will just be photos we love. Do you have an Asia Society photo you'd like us to consider including in this series? Please email the photo and any related details to photos@theasiablog.org (we regret that we won't be able to respond directly to each inquiry).