TBT: In 1977, Talking U.S.-China Relations on the Today Show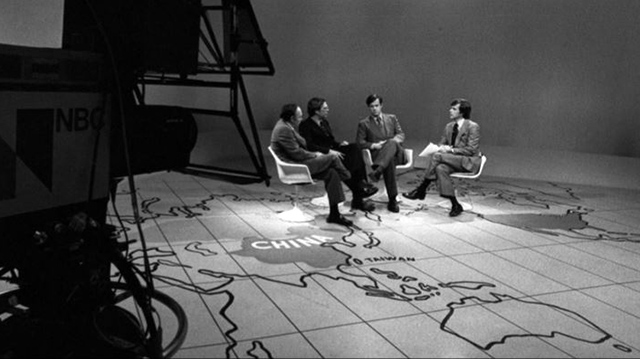 (L to R) Stanley Karnow, Winston Lord, and Robert B. Oxnam discuss the state of U.S.-China relations on the Today Show with host Tom Brokaw in 1977. (Dan Sterbling)
In 1975, Asia Society began a public education initiative called the China Council, which brought together scholars, journalists, business people, and former government officials to better educate Americans about China and help the media improve their coverage. Robert B. Oxnam, who was director of the China Council and later Asia Society's president, said in his memoir that the council was established to counteract "the long history of China lobbies (right-wing in the McCarthy tradition of 1950s and 1960s and then left-wing among 1970s neo-Maoists)." He recalled doing everything from editing books on U.S.-China relations to fielding phone calls from newsman Tom Brokaw about how to pronounce Deng Xiaoping. Almost overnight, the council became a critical resource for the press when Chairman Mao Zedong died in 1976, leaving behind a power struggle and the beginnings of a profound political shift.
In the above photo from 1977 (L to R), journalist and historian Stanley Karnow, then-President of the Council on Foreign Relations and later U.S. Ambassador to China Winston Lord, and Robert B. Oxnam discuss the state of U.S.-China relations on the Today Show with host Tom Brokaw.
Each week for "Throwback Thursday" (#TBT), we'll reach into our archives to find a photo from the organization's nearly 60-year history. Some photos will feature important moments, some will feature important people, and others still will just be photos we love. Do you have an Asia Society photo you'd like us to consider including in this series? Please email the photo and any related details to photos@theasiablog.org (we regret that we won't be able to respond directly to each inquiry).