The State of Chinese Cinema Today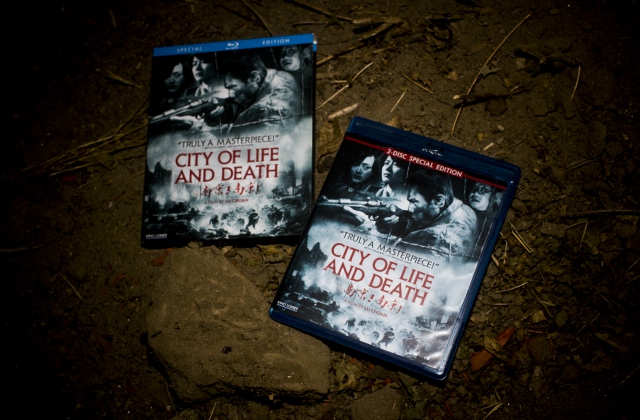 Lu Chuan, the director of City of Life and Death, will be honored at Asia Society's U.S.-China Film Summit on November 2, 2016. (Dennis Amith/Flickr)
Asia Society's seventh annual U.S.-China Film Summit kicked off Tuesday afternoon in Los Angeles. The summit, which brings together directors, actors, and film insiders from both sides of the Pacific, includes panel discussions centering on the two countries' cinematic relationship. On Tuesday, the summit concludes with a gala celebration of three individuals: James Wang, vice chairman and chief executive officer of Huayi Brothers Media, Melissa Cobb, head of studio and chief creative officer of Oriental DreamWorks, and Lu Chuan, an award-winning Chinese filmmaker.
To get a sense of the big issues in Chinese cinema today, Asia Blog caught up with Asia Society's own Jonathan Landreth, the managing editor of ChinaFile and founding editor of China Film Insider. Landreth is moderating a discussion with Lu Chuan during Tuesday's summit.
What are you most looking forward to seeing at this year's summit? What are some of the highlights?
I'm very excited to hear from Alibaba Pictures President Zhang Wei right on the heels of the announcement of a giant new entertainment fund and am curious to hear how that company — so readily tied into a huge online consumer base — plans to make and market movies that might travel. Alibaba, after all, is run by a guy who has helped raise China's business profile by simply being an English speaker who feels comfortable at Davos, Beverly Hills, and Silicon Valley. If anybody understands how to reach consumers it's Jack Ma.

Jack Ma, the CEO of China's Alibaba, accepts an Asia Society Asia Game Changer award in 2014.
Will his business acumen be freed up to make freewheeling stories that have universal appeal, or will he, too, only be allowed to invest in Hollywood pictures (e.g. Mission Impossible IV)? Or will he back Zhang Wei and co. in pushing the envelope by making contemporary films about modern Chinese life that the rest of the world would find entertaining?<
After big growth numbers in 2015, box office receipts in China fell significantly this year. What do you think accounts for the drop? What do you expect to happen in the future?
To be fair, receipts didn't fall so much as their rate of growth slowed. Yes, there was one month earlier this year that was lower than last year, but on the whole, the market is still growing faster than most other markets on earth. The slowing in growth came with a balancing out between supply and demand. China has built tens of thousands of movie screens in a very short period of time. Many are in multiplexes that anchor brand-new shopping malls in second and third-tier cities.
As the broader economy slows, Chinese people who had begun to exercise a growing moviegoing habit might be dialing that back and returning to cheaper and more easily accessible forms of entertainment — streaming, gaming, eating out. After all, movie tickets in China often are nearly as expensive as they are in big-city America, where average annual income is still considerably higher.
One of the honorees at this year's summit is the Chinese director Lu Chuan. What about his work makes him extraordinary?
From Kekexili, his first film — about antelope poachers on the Tibetan plateau —through City of Life and Death, Lu has exhibited a brave instinct for edgy storytelling that pushes the envelope in terms of what's acceptable to China's censors. Kekexili addressed environmental destruction in an open and brutal way before it was fully fashionable in China and City of Life and Death showed an invading Japanese soldier — a figure of national hatred in China — with a compassion never before been seen on the big screen in the country.
I'm really looking forward to his attempt at making a film version of the Peter Hessler memoir River Town — another brave choice as it's a film about what an American Peace Corps volunteer learns from his Chinese students and what he has to teach them, too. At a time when the Chinese Communist Party is frowning on foreign influence in education, Lu has an opportunity to remind moviegoers of an earlier time of optimism in the late 1990s.

The author and journalist Peter Hessler describes how humor can be shared by different cultures at an appearance at Asia Society in 2013.
Do you feel optimistic about the U.S.-China film relationship? Why or why not?
I am optimistic about these two filmmaking industries' ability to learn from one another in the service of consumers of filmed entertainment. After all, people who make movies are dreamers skilled at sharing dreams in a way that people will pay to see them. The films Hollywood and, increasingly, China makes earn a lot of money and bring a lot of joy and perspective to hundreds of millions of moviegoers. China's willingness and ability to spend big on Hollywood talent and skill to improve their movies is exciting.
The big question is what effects each moviemaking culture will have on the other, especially as one operates with transparency and a ratings system that puts the power of choice in the hands of the consumer while the other is state-governed and does not operate in a climate that encourages free expression of dreams and stories.