From Standing Committee to Standing Trial: Understanding Bo Xilai's Fall From Grace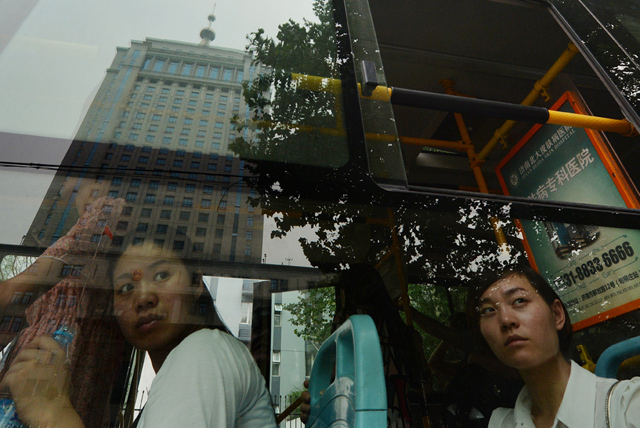 Commuters look at the Intermediate People's Court — where Bo Xilai was indicted and his case is expected to be heard — reflected in a bus window in Jinan, Shandong province on July 25, 2013. China's once high-flying communist politician Bo Xilai was indicted on July 25 for bribery and abuse of power, state media said, following a scandal that exposed deep divisions at the highest levels of government. (Mark Ralston/AFP/Getty Images)
In 2010, Bo Xilai was named by TIME as one of the world's 100 Most Influential People. But it wasn't until he arrived in Chongqing in 2007 when the former Dalian mayor and Liaoning provincial governor was able to significantly leverage his position as municipality party chief to rise to national and international prominence.
As Chongqing party chief, Bo prioritized his war on organized corruption and crime in the city and pioneered the "Chongqing model" — a governing social and economic model aimed at increasing state control and resurrecting Mao-era "red culture" and socialist values in Chongqing. The crime-busting, proactive party chief was destined to be tapped the newest member of the elite Politburo Standing Committee — the highest echelon of leadership in the Chinese Communist Party. That dream quickly vanished before his eyes.
Bo Xilai, stripped of all power, now prepares to stand trial on charges of abuse of power, corruption, and bribery as the infamous Wang Lijun incident now culminates in an Intermediate People's Court in Jinan, Shandong Province. What should we expect ahead of China's biggest trial in 40 years?
ChinaFile's latest conversation brings in prominent legal experts who weigh in on the meaning, the expectation, and the stakes of the upcoming Bo Xilai trial.
Jerome Cohen, longtime New York University Law School professor, comments:
The most interesting thing to watch regarding the charges will be the breadth attached to the "abuse of power" claim. Will it be restricted to Bo's role in the coverup of the murder or will it go beyond that late stage in the Heywood affair and deal with the preliminaries? I assume it will not include Bo's criminal use of the judicial system to unfairly accuse, detain, torture, convict and execute many enemies, opponents and obstacles to his desires, although I would love to be proved wrong on this.
Andrew Nathan, professor of political science at Columbia University, adds:
When I asked Chinese friends why the trial was being delayed so long, they said it was because Bo was refusing to admit he had done anything that all the other leaders didn't also do. Without his cooperation, the trial could not go forward. There may also have been disagreement among the leaders about how harshly to treat him. Apparently this multi-sided negotiation has now been settled, and from the tiny bit of information I've seen so far what strikes me is the relatively anodyne nature of the charges — corruption and abuse of power, the same thing that every other fallen politician is charged for these days.
Read the entire ChinaFile conversation on Bo Xilai's trial here.