Some Asia Society Friends Make Shortlist for South Asia's Biggest Literary Prize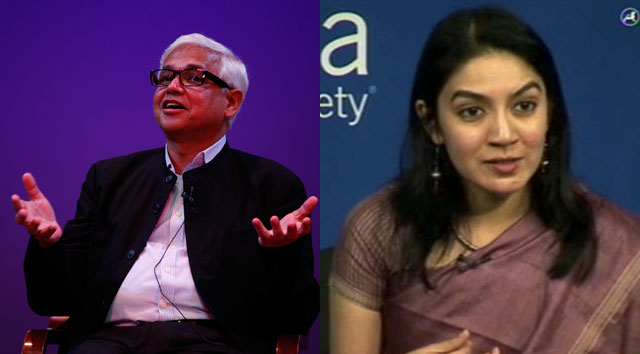 Novelists Amitav Ghosh (L) and Tahmima Anam (R), shown here in their Fall 2011 appearances at Asia Society New York, are two of the writers short-listed for this year's DSC Prize for South Asian Literature.
On January 25, 2013 the winner of the third annual DSC Prize for South Asian Literature will be announced at the Jaipur Literature Festival. The DSC Prize, sponsored by the Indian construction company DSC Limited, seeks to promote the work of writers of any ethnicity or nationality dedicated to examining the culture, politics, and history of South Asia (DSC Limited also sponsors the festival, though the prize and festival operate independently of one another). 
The shortlist for the 2013 competition — consisting of Jamil Ahmad (The Wandering Falcon), Tahmima Anam (The Good Muslim), Amitav Ghosh (River of Smoke), Mohammed Hanif (Our Lady of Alice Bhatti), Uday Prakash (The Walls of Delhi), and Jeet Thayil (Narcopolis) — reflects a group of writers whose popularity is global and certainly not limited to South Asia alone. 
The DSC jury has the arduous task of streamlining its list of nominees to the six books they believe exemplify the best in what South Asian literature has to offer. "We were looking for works which are thematically fresh, stylistically innovative and are a definitive contribution to the novel as a genre," explained K. Satchidanandan, a renowned Indian poet and critic and the jury chair for this year's prize. "The choice was not easy as we had 16 outstanding works to choose from, but we were unanimous in our final choice." The winner will receive a $50,000 prize courtesy of DSC Limited as well as substantial media coverage and promotion of the winning book.
Founded in 2006, the annual Jaipur Literature Festival has attracted a variety of academic and literary celebrities over the past several years, ranging from Alexander McCall Smith and Martin Amis to Tarun J. Tejpal and Vikram Seth. "It's the greatest literary show on earth!" bellows the sound-bite from Tina Brown on the Festival's main webpage. Just last year, Oprah Winfrey presented an award at the Festival as a part of her country-wide tour of India, while Salman Rushdie had to pull out at the last minute because sources warned him of an assassination attempt. 
Asia Society has recently showcased three of this year's DSC Prize short-list authors in public programs. Mohammed Hanif participated in Asia Society India Centre's panel discussion on urban influences and literature at last year's Jaipur Festival, and both Tahmima Anam and Amitav Ghosh spoke at Asia Society New York last fall. In her September 13, 2011 talk, Anam decried what she called a "culture of censorship" affecting writers across South Asia (2 min., 2 sec.):
On November 3 of last year, meanwhile, Ghosh's discussion on River of Smoke led him to speculate on parallels between 19th-century wars on opium and present day wars for oil (4 min., 36 sec).