Six Questions for Violinist Anne Akiko Meyers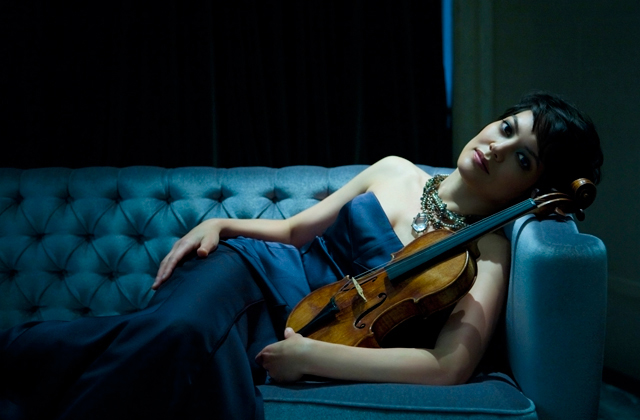 Anne Akiko Meyers (Lisa-Marie Mazzucco)
Anne Akiko Meyers is primarily known for two things — the extraordinary skill in which she plays the violin, and the extraordinary nature of the instrument she plays. In 2012, an anonymous donor gave Meyers the Vieuxtemps Guarneri del Gesu, a violin made in the early 18th century that was originally listed for sale at $18 million. The match of violin and violinist is no coincidence: Two years later, Meyers was the top-selling traditional classical instrumental soloist on the Billboard charts. 
Born in San Diego to a Japanese mother and American father, Meyers began playing the violin at age four and, by 11, was accomplished enough to appear on Johnny Carson's Tonight Show. As a professional, she has released 34 albums and has played with the world's best-regarded orchestras. 

Every May for Asian Pacific American Heritage Month, Asia Blog interviews noteworthy Asian Americans from a diverse set of backgrounds. View the complete Q&A archive
Asia Blog recently caught up with Meyers to discuss her prized violin, the future of classical music in the streaming era, and the importance of a great lunch. The interview has been edited slightly for clarity.
What makes the violin you play so extraordinary?
I perform exclusively on the Ex-Vieuxtemps Guarneri del Gesu, dated 1741. I can sculpt the sound and it has a power like none other. It is also in triple mint condition, owing its incredibly powerful sound to its super health. The instrument belonged to one of the most famous violinists in history, Henry Vieuxtemps, who was a 19th-century Belgian composer and violinist who largely created the Russian violin school of playing.
He was so in love with this violin, he wanted to be buried with it — there is a picture from the day he died in 1881 where the violin was carried on a pillow behind his dead body. To know this history and open the case every day and see one of the rarest violins coveted by many violinists throughout history is quite a humbling experience.
I am lucky to have performed on many Stradivari and del Gesu instruments which were loaned to me throughout my career. There is really nothing like playing on a great instrument.
How does the new popularity of music streaming affect the popularity of classical music? To what extent do classical musicians need to adapt?
Music streaming is a very vital part of being able to share my many albums with audiences around the world. I think streaming is helping create a wider audience for classical music. Look at how many classical music videos on YouTube have millions of views from all over the world, including one that I recently did on the Violin Channel. We were receiving questions from all over the world that was viewed by thousands within minutes.
I feel very fortunate to have recorded many interesting concept albums that can be found online, in stores, or streaming in people's cars. This kind of accessibility helps all artists' visibility and is a very valuable tool for building a fan base.
Do you have a favorite violin piece that you like to perform? Who is your favorite composer?
I love quite a diverse repertoire and play everything from Bach, Beethoven, and Vivaldi to "Somewhere Over the Rainbow" or "When You Wish Upon a Star" and jazz and experimental music. I am in awe of composers and how they create beautiful stories and places one can return to over and over.
What is your routine before a performance? Do you follow any superstitions?
As I normally have a dress rehearsal in the morning before the performance, I like to eat a great lunch — hopefully, a giant pasta dish — and fill myself with carbohydrates. After that, I try and take a nap, work out at the gym, and then chow down on a banana or performance bar before hitting the stage.
By the time the concert is over, it is usually very late and difficult to find a place that's still open to eat but hopefully, I can find a nice glass of wine to relax!
Which contemporary violinists do you most admire?
Some of my favorites include Regina Carter, Gidon Kremer, and Leila Josefowicz. Carter is a beautiful jazz violinist, Kremer has worked with many living composers and his programs are always interesting and diverse, and Josefowicz performs extraordinarily difficult repertoires from living composers by memory. I don't know how she does it.
When you look ahead to the next five, 10, or 20 years of your career, what do you hope to accomplish?
I want to continue commissioning great composers and arrangers of today and tomorrow and have their music live on forever. I find it incredibly rewarding to perform new music and create programs that feature music that I have worked with the composer to bring to life. I would like to continue recording new and more traditional music that can reach a diverse audience.
I also like to develop new audiences by performing community outreach. Seeing young faces in the concert hall is very inspiring and critical to the future of classical music.