Seven Prominent Journalists Discuss Deteriorating Press Freedom in India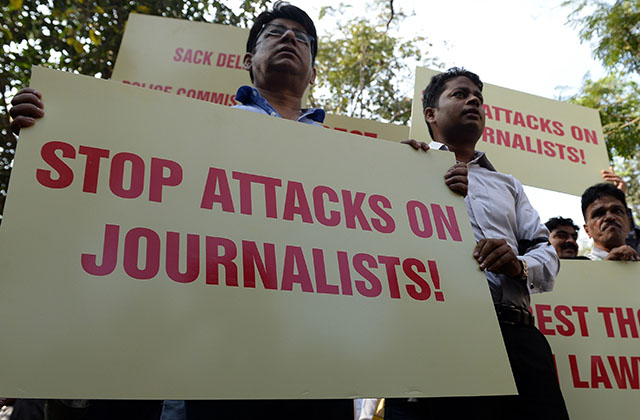 On February 17, 2016, Indian journalists shout slogans during a protest to condemn an assault on fellow media workers by lawyers at a court in New Delhi. (Indranil Mukherjee/AFP/Getty Images)
In July, India's Outlook magazine published an in-depth investigation exposing how an influential Hindu organization illegally trafficked 31 young girls in order to "Hinduise" them. Members of India's governing Bharatiya Janata Party (BJP) responded by filing a criminal complaint against the magazine and reporter Neha Dixit based on a colonial-era law against promoting "disharmony or feelings of enmity" between different ethnic and religious groups.
The New York-based Committee to Protect Journalists noted that this was just the latest instance of the law's invocation in recent years to "silence journalists, writers, and academics." Last month, the organization also highlighted a separate issue with a report on 27 Indian reporters who have been murdered "with complete impunity" since 1992, noting that small-town reporters and those covering corruption are especially vulnerable.
Organizations like Reporters Without Borders have noted that many issues adversely affecting the media have increased with the emergence of the BJP and Prime Minister Narendra Modi, who swept to power in the country's 2014 elections. In its annual World Press Freedom Index this year, the organization ranked India 133rd out of 180 countries in press freedom, citing attacks on journalists and interference in sensitive regions like Kashmir. "Prime Minister Narendra Modi seems indifferent to these threats and problems, and there is no mechanism for protecting journalists," it stated. "Instead, in a desire to increase control of media coverage, Modi envisages opening a journalism university run by former propaganda ministry officials."
To better understand how the media landscape has evolved in recent years, Asia Blog reached out to seven Indian journalists of different backgrounds with the question: "Is press freedom deteriorating in India?" Here's what they had to say.

Neha Dixit
Independent journalist who writes on gender, politics, and social justice in South Asia.
This July, I published a three-month-long painstaking investigation "Operation Babylift" for Outlook magazine. It was an exposé on how three Hindu nationalist organizations had flouted national and international child rights to illegally transfer 31 tribal girls as young as three from Northeast India to indoctrinate them ideologically in 2015. I accessed several government documents that had termed the incident as "child trafficking" and orders that had asked these nationalist outfits to restore the girls immediately. On the ground, the parents informed me that they had handed over their girls on the promise of education for them, but they have not been able to establish contact with their children for over a year.
The representatives of the nationalist organizations told me that they had taken the girls to save "Hindus from Christian culture." When I met the girls in Punjab and Gujarat, the Indian states where the girls were brought, I found that instead of being admitted into a formal education system, they were being trained in Hindutva, an ideology that propagates the idea that India should be Hindu nation. The current ruling party in India, BJP, subscribes to this ideology. After thorough corroboration, the watertight story was published, widely read, and circulated.
Within a week, we were informed through media reports that a criminal case was filed against me, the Outlook editor, and [the magazine's] publisher by the assistant solicitor general of the Guwahati High Court and members of Bhartiya Janta Party, the ruling party in Assam, and the Centre for "inciting communal hatred among communities." The complaint had selectively quoted a paragraph from the concluding section of the story.
In the past, I have reported on incidents of child trafficking by Islamic seminaries and Maoists groups in Indian conflict zones. Close to 250 children were rescued after my report. I have received national and international awards for these reports.
The difference in reactions between the two stories and the above story raises a few questions. Is the Indian state curbing freedom of the press in order to remain unaccountable? Is it defining journalistic duty as submissiveness to political regimes and its ideology, showing little regard for constitutional rights of the marginalized tribal people? Is it giving its affiliates a free hand to surpass Indian and international laws to meet their agenda by silencing the press?
In such a situation, two debates are warranted. One, why did the government, instead of investigating the grave violations of child rights in Assam, register the case against the media? Are the democratic rights of tribal young girls from marginalized backgrounds such a low priority of the current government? Two, why did the complainants not question the veracity of the story by countering facts with facts and instead registered a criminal case of communal hatred? The criminal case was a used as a tool to change the discourse from the misgivings and grave violations of the Hindu nationalist organizations to freedom of press.

Rajdeep Sardesai
Consulting editor at the India Today group, author of 2014: The Election That Changed India, former managing editor of the NDTV network, and founding editor-in-chief of IBN 18 network.
I was 10 years old in 1975 when Indira Gandhi declared an Emergency, suspended fundamental rights, censored newspapers, and jailed journalists. Today in 2016 there is no emergency — but press freedom is at the crossroads. Journalists are more protected but also more vulnerable, the press is freer but also more controlled. We have more news channels, newspapers, and digital outlets than we've ever had in independent India, but also perhaps fewer voices that are ready to stand up to any form of intimidation. A few months ago, journalists came together to stage a protest march in the national capital when reporters covering the JNU [Jawaharlal Nehru University] case were beaten up by lawyers. It was a welcome show of solidarity, but one must ask: would there be a similar show of unity if a journalist in a small town is killed or attacked? Or does the Delhi-based journalist have privileges that someone in a remote corner of India will never have?
The attempt to muzzle the press now comes in various forms. More corporates with strong political connections than ever before have now entered newsrooms. Why is it, for example, that the Aam Aadmi party was blacked out by a major news network ahead of the 2015 Delhi elections? Did anyone protest against this blatant affront to any notion of an independent media? In almost every state, a political party or a powerful local politician owns a section of the media: the editor-proprietor-politician is now a familiar calling card for peddling local influence. In some instances, like in Tamil Nadu where the two major regional parties own news channels, the political affiliations are obvious. But even more worrisome is the state of play in Punjab, where the entire local cable network is controlled by the ruling Akali Dal. Any story against the government means that a channel risks being switched off. Sadly, there has once again been little protest against this blatant attempt at content management.
Has the rise of the Narendra Modi government contributed to this lessening of free speech in the media? It isn't as if the deeper malaise within the media didn't exist before May 2014. Congress governments have also unashamedly used their power, including cutting off advertising support, to control information. What has perhaps changed is a conscious attempt to target the dissenters as "anti-national," thereby adding a new, more noxious edge to an already polarized public debate. By seeking to cut off government access and running malevolent campaigns against so-called "anti-national" journalists, the aim is clear: create a "them" versus "us" atmosphere that reduces the space for an open and robust dialogue in the media.
If there is hope, it lies in the rise of the digital media that is giving an opportunity to new voices — bloggers, citizen journalists, young media professionals — to raise issues that may otherwise be untouched. Editors can be sacked, news organizations taken over, and advisories sent to owners, but in the digital world, there is theoretically less space for authoritarian tendencies. We have many putative Indira Gandhis in this country who would like to muzzle the press completely, but a technology-driven content universe is ensuring that 2016 is mercifully not 1975.
Divya Trivedi
Journalist at Frontline magazine of The Hindu Group
Though instances of corporate houses and the government suing journalists to suppress information or stifle freedom of expression are not unheard of, it is ironic when news organizations that are supposed to uphold "truth" intimidate fellow news gatherers with similar motives. Moreover, when journalists are attacked from within the community and very few journalists stand up in support for fear of appearing "troublesome" or jeopardizing future employment prospects, it is disheartening.
In April last year, Nagaraju Koppula, 34, one of the few Dalits [belonging to the bottommost rung of the Indian caste system] employed in an English-language paper lost his life to cancer. He was misdiagnosed with tuberculosis and falsely treated for an illness he didn't have for several months before it was found that he was suffering from lung cancer in the fourth stage. His was a classic case of how people from marginalized communities in India have to fight against odds at every stage: born in an impoverished family, he sold ice and worked as a construction laborer to fund his studies and pursue higher education. As a lowly paid reporter with The New Indian Express in Hyderabad, he became the sole earning member of his family and managed to make a mark. In a profession that has an abysmal record in minority representation, it was a feat for him as a Madiga [a sub-caste within Dalits of Andhra Pradesh & Telangana] to join English-language journalism. But when he fell ill, all systems of society failed him. He received no medical assistance or adequate leave from the employer, nor was he given the government mandated Provident Fund.
It was a shame as journalists to see a colleague being treated so, and when the Delhi Union of Journalists tried to raise some of these issues in a condolence meeting, the employer sent them a defamation notice, threatening to take stern legal action. No compensation was paid to his dependents after his death, despite several interventions by some journalists to do so, at least on humanitarian grounds if nothing else. It was shocking that instead of at least setting up an inquiry or reaching out to the bereaved family, the organization resorted to harassment tactics.
Nagaraju's case highlighted the many subtle and direct methods of discrimination still prevalent in Indian newsrooms. Upper caste males are 8 percent of the country but they constitute 71 percent of national media positions, making the newsrooms a bastion of privilege. There is not a single Dalit or Adivasi among the 315 decision makers in media. In that sense, the press in India can never truly be free until the newsrooms become more inclusive.
Paranjoy Guha Thakurta
Documentary filmmaker and editor at Economic and Political Weekly
Is media freedom deteriorating in India? The short answer: Yes. Why? Those in positions of power and authority in India (as well as in many countries of the world) prefer a pliant media. This is to be expected. But certain regimes more than others are relatively more tolerant towards dissenting voices. Narendra Modi became Prime Minister of India in May 2014. Since then, he has never addressed a press conference where he has been open to fielding questions from any and every journalist. He has granted a few "exclusive" interviews, but invariably only to those who have "voluntarily" refrained from asking him tough questions. During his tenure as chief minister of the western Indian state of Gujarat, Modi once abruptly stopped the recording of an interview with Karan Thapar, who wanted to ask him "difficult" questions about his alleged culpability in the anti-Muslim communal riots that had taken place in 2002.
Modi's predecessor Manmohan Singh addressed quite a few press conferences during the time he was prime minister between 2004 and 2014, even after his political opponents had accused him of being complicit in instances of big-ticket corruption. Unlike Singh, his "boss," the President of the Indian National Congress Sonia Gandhi (who also heads the Congress-led United Progressive Alliance coalition) has been quite shy of the media and granted few interviews — which also go to hand-picked sympathetic journalists.
Modi belongs to the right-wing, Hindu nationalist Bharatiya Janata Party. Certain supporters of the BJP have not been averse to verbally and physically attacking their detractors, including those in the media who they perceive to be their critics. One government minister who was former Chief of the Indian Army (General V.K. Singh) has frequently described journalists as "presstitutes" and his words have not been condemned by his seniors in the government. Journalists have been roughed up by lawyers owing allegiance to the ruling regime in the national capital, Delhi. The situation is far worse for journalists who work in small towns and remote areas. Some have died under unusual circumstances.
It is not as if all journalists in India are clean and incorruptible. At least two prominent television journalists (Sudhir Chaudhary and Samir Ahluwalia) recently spent time behind bars on charges of blackmail and extortion. "Paid news" is a widespread phenomenon. Even as one section of the media has become corrupt and even criminalized, there is another section which is continuing to hold truth to power, exposing abuse of authority, and ensuring greater transparency in public life. For honest and dedicated individuals in the Indian media, journalism has become an increasingly risky profession.

Pramit Pal Chaudhuri
Foreign editor of the Hindustan Times
The freedom of the media in India has been a derivative of the balance of power between the executive, the judiciary, and the media.
The media was weakest in the period up to the 1980s, a time when [the industry] was economically dependent on government for advertising and finance. Economic liberalization in 1991 allowed the largest media houses to become financially independent. The judiciary also became more autonomous when it ended executive control of court appointments in 1998.
The print and television industry has undergone a massive expansion from the 1990s to the present day. There are over 100,000 registered newspapers and magazines today and over 100 24-hour news channels, almost all privately-held. Today, the largest media houses like those that own the Times of India or my own paper, the Hindustan Times, are in a position to resist government or corporate pressure simply because of their size. The Times of India group earns about a billion dollars per year, has cash reserves of $500 million, and a legion of lawyers at its disposal.
The environment has not changed so much for smaller media organizations with small revenue bases. They are vulnerable to government pressure, whether central or state, and think twice of even taking on a large corporation. Regional newspapers, right at the end of the ladder, are often at the mercy of local politicians and businessmen who often also control the police as well. Unfortunately, these are often at the forefront of investigative or activist journalism and this suffers accordingly.
This state of affairs has not changed much in the past two decades. As the CPJ's figures show, the annual number of journalists killed in India since 1992 for whom motives have been determined (42 total, three of them from the Hindustan Times stable) has remained largely the same — if anything, the average has declined from the 1990s. This despite (or because of) an annual industry growth of 6 percent for over 20 years running.
Censorship is more difficult than it was in the 1980s, with officialdom turning to abstruse legal methods such as the colonial era Sedition Acts — or wait for a hostile magazine or channel to make a factual blunder. Again, the largest media houses easily tackle these challenges. At any given moment such houses will be handling 100 to 200 legal notices, but these barely impinge on editorial functions. One reason is that their lawyers can count on a judiciary generally inclined to support freedom of expression — or refer complaints to the industry-controlled Press Council of India. Small media outlets, again, have to dig deeper to tackle such attacks.
Indian media presently faces an unusually strong executive thanks to the electoral mandate enjoyed by the Narendra Modi government. Modi has also not hidden his dislike for the elite English media. He has preferred to punish media outlets by denying them access, though his aides increasingly admit this has been self-defeating. However, official harassment of media and civil society in general has been less than when there has been a strong Congress government in power. The last orchestrated crackdown on the Indian media was by the Congress government of Rajiv Gandhi in the 1980s over an arms bribery case — nothing the Modi government has done has come even close. There has been an uptick in state government action, irrespective of which party is in power, and that reflects the growing importance of the vernacular, non-English media in India today.
The balance of power may shift against Indian media in the near future. One reason is that social media and web-based journalism has eroded mainstream media's importance — and profits. Another potential threat lies in ongoing moves to reintroduce some executive say in judicial appointments.
Rakesh Kalshian
Freelance journalist and former reporter for Outlook magazine
I cut my teeth in journalism in the '90s, a momentous time when India decided to open its doors to global capital. Until then, reports of witch-hunting against journalists were few and far between, barring, of course, the dark and shameful aberration of 1975 when Indira Gandhi declared a state of emergency and took away freedom of the press. This is not to say that the state was not guilty of overreach or corruption earlier. It was just that the media radar was not large enough for it to be an effective watchdog.
Liberalization led to a media mushroom that increasingly took on the might of the state-corporation nexus, which has a much greater stake now in avoiding and suppressing bad press. This was also the time when the jackboots of industrialization were treading on the rights of ordinary citizens more than ever before. The anti-dam Narmada Bachao Andolan [social movement] in the '90s, which the state tried its best to crush, became the high point of the state's increasing estrangement from civil society. Anyone critical of state policy — be it on terrorism, the environment, or human rights — was branded as anti-development and anti-national.
The current prejudice against a watchdog media should be seen against this backdrop. In the last decade, the state, big corporations, and right-wing groups have misused archaic, colonial laws on defamation and sedition to cow down dissenters, especially journalists. Courts have slapped huge fines on journalists charged with writing defamatory articles/books on big corporations (notably, Reliance, Sahara, and Infosys), while activists and journalists in small towns have had to pay with death for their muckraking.
Arguably, there are signs suggesting this bigotry has grown in scale and intensity in the wake of the present right-wing government's rise to power with its straitjacketed definition of nationalism. Increasing control of the media by big business houses, self-censorship by small newspapers to appease state and big capital alike, and a general fear of religious and political [subjects] have further imperiled free and fair reporting. Worse still, the Apex court recently struck down a petition challenging the law against defamation, discouraging reporters from taking on big fish. Ironically, however, last year the same court annulled a controversial law that prescribed punishment for any objectionable message transmitted via electrons. In other words, I can sully anyone's reputation on social media with impunity, but if I were to write an article exposing sleaze, it would be deemed libelous and hence punishable by law.
Frankly, journalists today work under a climate of fear, real or perceived. For a start, laws relating to defamation and sedition must be repealed if India has to improve upon its deplorable ranking of 133rd in the World Press Freedom Index. Enforcing rule of law to protect journalists from harm by vested interests would the next step, but that would require both political will and social reform. 

Murali Krishnan
India correspondent for Deutsche Welle and contributor to RFI, RTHK, and BBC.
In an age of public relations puffery and celebrity profiling, the space for hardnosed journalism, dissent, and debate has rapidly shrunk in India's mainstream media. For a country that used to pride itself on a vibrant press, celebrate its heterogeneity to expose wrongdoing, corruption, and corporate malfeasance, the exact opposite is happening. At least now.
The sine qua non of a free press is to openly critique the government, to candidly discuss the manner in which the leaders of our nation conduct themselves, and [to scrutinize] how institutions work. If not for freedom of speech, democracy would not exist.
Having been a journalist for nearly 30 years, both in print and radio, my job is to question and doubt. More importantly, it is to question authority. But in the last few years, especially with the advent of a right-wing Hindu nationalist BJP in power and its disturbing proximity to proprietors, editors, and pliant journalists in favorable positions in the media, there is a new culture that has spawned.
What's increasingly happening is a media culture that seems to crawl rather than bend in a 24x7 news cycle that India has adopted. Several media owners, who owe their allegiance to the powers that be or who want their business interests furthered, have started putting pressure on journalists to curb reporting or change editorial direction. This, in my reckoning, is worse than the curtailment of press freedom.
The results are obvious. Many prominent journalists have either been removed from their jobs or forced to quit. The list is exhaustive since the advent of the BJP, but perhaps the editor of Outlook magazine who was sacked unceremoniously last month is a case in point.
Barely a month after the right-wing BJP came into power in 2014, at least 18 people were arrested and questioned by the police in various states of India for "unpleasant and provocative" posts on social media sites against Prime Minister Narendra Modi. Many were surprised by the spate of arrests, as Modi himself has been a fierce proponent of dissent. Ironically, in 2012, he joined a protest against the earlier government's move to block certain "hate" pages and Twitter accounts by turning his display picture to black.
Free speech practitioners and media activists fear a bigger and more organized attempt from the government to rein in freedom of speech. Media censorship is not new in India. In the past, writers, academics, and artists have also come under attack from politicians and religious groups, and various films, theater plays, books, and paintings have also been banned. Harassment has not been limited to just social networking sites.
So are Modi's politics emboldening the hardliners? And is this why, at times, there has been a blackout of "uncomfortable news"? There have been several incidents in the last two years leading many to believe that the extremist Hindu groups are becoming stronger in India. Since Modi's victory in general elections, the fanatic groups that once had very little say in Indian society have become emboldened. Forced conversions of Muslims and Christians to Hinduism have also been on the rise. Now, they are demanding bans on certain books and beef eating.
Some good and intrepid journalists who have sought to highlight the strong-arm tactics of the fringe groups have been shunted from media organizations to plow their own paths. It is disturbing — especially while covering conflict zones like Kashmir or Chhattisgarh hit by a Maoist insurgency. The crackdown on journalists is to ensure that such news does not get national and international attention and discredit the name of the government.
Journalists in some regions of the state have repeatedly reported regular threats, intimidation, and harassment by security forces.