Sanjita Pradhan on Working With Rural Refugees and Rebuking President Trump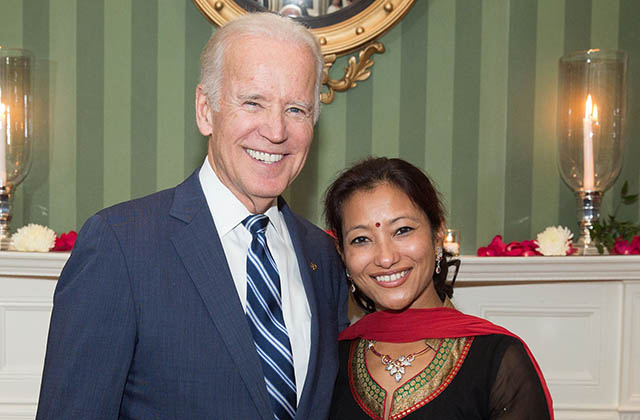 Sanjita Pradhan poses with Vice President Joe Biden. (Sanjita Pradhan)
After struggling to find her footing while immigrating to the United States from Nepal in 2006, Sanjita Pradhan began to appreciate how much more difficult it is for refugees with little support or understanding of American culture. Starting with an entry-level position at a call center, she ultimately found a career as a resettlement director for Catholic Charities, where she helped refugees who'd made it to Iowa. Later, she served as executive officer at the Office of Asian and Pacific Islander Affairs in the Iowa Department of Human Rights.
In 2015, she was appointed by President Barack Obama to the President's Advisory Commission on Asian Americans and Pacific Islanders. But this past March, she and nine other members of the commission issued a high-profile public resignation via an open letter repudiating President Donald Trump's stance on immigrants.
In an interview with Asia Blog as part of our Asian Pacific American Heritage Month interview series, Pradhan described her work with refugees, the challenges they face in rural America, and what prompted her to resign from the commission.
Can you describe your immigration experience?
Nepal had been undergoing this huge internal political turmoil — we had Maoist issues and a civil war for more than 10 years with a very unstable government. We were going through strikes and closures every other day. My husband's brother lived in the U.S. and they have a child whose age is pretty similar to ours. I always felt like their child was going to a better school and getting better opportunities than ours was. So we made the big decision to move — to invest in our kids' future no matter how scary it was.
I got the opportunity to come to the U.S. thorough the Diversity Immigrant Visa lottery system. Part of me was excited to explore the new world, but part of me was very scared of leaving a fairly secure job and what I already knew. I figured I would have to start from scratch in terms of finding jobs — that nobody would really know my credentials and skills and that I'd really have to start at the bottom. In many ways that fear did come true.
Through the Diversity Immigrant Visa, we didn't have any government support, unlike refugees and asylum seekers. So we were completely on our own. We were lucky to be able to stay with my brother-in-law's family for four months while we got on our feet. I initially worked in an entry-level call center position hoping my skills would be recognized and I could move up the ladder.
How did you get into work with refugees?
I was very intrigued by the work that organizations were doing in refugee resettlement, so I started volunteering. I was thinking to myself, "Wow, I came here with a Master's degree, English language skills, knowledge about the culture, and had family to help me, and I still struggled. How are these refugees without any of that going to make it?"
I bought groceries for refugee families, cleaned dirty apartments so they could come in and have a home, I drove people around in a 16-passenger van, and really got my hands dirty. I eventually got hired at Lutheran Services of Iowa and kept moving up in different roles, and after two-and-a-half years, I was the director of the resettlement program at Catholic Charities.
I worked with refugees from Eritrea, Sudan, Iraq, Nepal, Bhutan, Somalia, and Afghanistan, among other backgrounds. Those I had the most expertise with were ethnically Nepali refugees from Bhutan who went through refugee camps after the ethnic cleansing in the 1990s. Around 2008, many began to be resettled in the United States, but some were in the camps for as long as 17 years before that. The process of relocation takes anywhere from two to three years because they have to go through a rigorous process of medical screening, background checks, and things like that.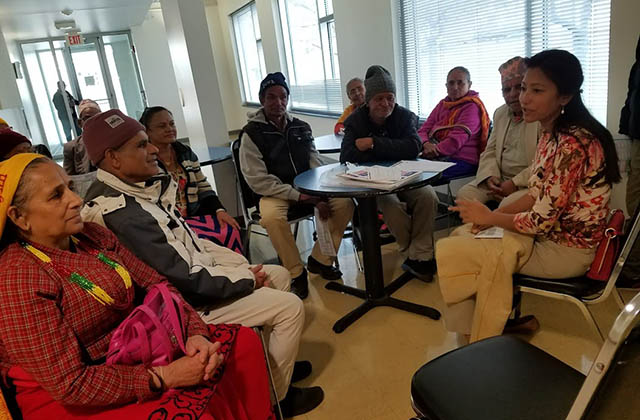 Sanjita Pradhan works with a group of Asian Americans on how to register to vote and participate in the political process. (Sanjita Pradhan)
What challenges do refugees in Iowa and the Midwest face compared to bigger cities?
There are 99 counties in Iowa and only a handful are urban and diverse, so I think people are still getting used to seeing different kinds of people who speak different languages. One of the big issues I see is that there aren't enough social services, non-profit organizations, or advocacy organizations compared to bigger cities, where there are many resources for immigrants to go for help. So it takes people longer to become established and get the help they need, to get into the right jobs, to learn the language, and go from refugee status to green card to citizenship.
What kind of work do these refugees usually end up doing?
Those who come in with no English ability — which is a lot of them — usually get employed in the meat plants we have around Iowa. So you see a concentration of refugees in towns with meat plants. Sometimes they get stuck with that job for life.
If they have a little more English then they're sometimes employed in janitorial jobs, restaurants, or housekeeping. If they have a little more, some work in retail stores, but only a small fraction end up doing professional career-oriented jobs. Most of the immigrants who come with higher education end up going to bigger cities. Some communities are doing a better job than others at accommodating these refugees in terms of service, education, and healthcare.
Is discrimination a big issue with the refugees you've worked with?
In my job at the Office of Asian and Pacific Islander Affairs at the Iowa Department of Human Rights, a lot of people would report to me different kinds of discrimination they were facing. A lot of workers in meat plants complained that they had supervisors who discriminated against the new refugee workers. Some of the African refugees are given the hardest jobs, like on the kill floor. There were some working in janitorial services who mentioned that all those who get hired through refugee services are only given $9 an hour, but hires from other sources are given $10.
Refugee resettlement work is really one of the most rewarding jobs I've ever done, but also one of the most challenging. At first, I was happy even when I could find folks jobs at the meat plants. I've seen the other side of the world and seen how they lived, so even being able to work at a meat plant seemed like a better option. But as time went on I saw all the issues within these industries like discrimination and other things, so I started to doubt my philosophy of "having a job at the meat plant is better than not having a job at all."
Do you see any impact on the refugees you work with stemming from the current political atmosphere?
We know that there is a lot of fear in our community right now. Refugees are afraid to travel, and they don't travel even if they have a very urgent situation, like someone getting sick back home. There were a lot of refugees seeking citizenship right after the election, so there's heightening demand for citizenship paperwork now. There are many things happening in high schools, like students chanting "build a wall" or "go home."
How did joining the President's Advisory Commission on Asian Americans and Pacific Islanders come about?
I started having lots of questions about federal refugee resettlement programs, which didn't seem to be reforming. Until 2013, the per capita grant that the government gave to resettlement agencies was only $425 per person. So with that $425, a resettlement agency would have to provide housing, food, and all kinds of support to a refugee for at least a month or so until they found a job. That's just unsustainable.
In 2013 that was bumped up to $1,125, so agencies had a little more money to work with. But while working on the ground I was thinking, how do people who make all these rules at the highest level know what's happening at the ground level? How do they get feedback to make appropriate changes? Because nearly everyone who hears that resettlement agencies can only provide a refugee with support for 30 to 90 days thinks that's ridiculous, but it's been like that for a long time.
During my work at the Office of Asian and Pacific Islander Affairs, as I researched other communities doing similar work and resources in the field, I was happy to stumble on the White House Initiative on Asian Americans and Pacific Islanders and was ecstatic to find there was such a thing. I followed their work, subscribed to newsletters, participated in webinars, etc. until one day I was able to host a roundtable with them here in Iowa. This was the very first time something like that had happened in Iowa and it was pretty exciting. As I continued my work with them, I learned about the commission, thought it would be a great opportunity to represent Iowa on the national scale and bring national resources to Iowa, so I applied and surprisingly got accepted after a few rounds of interviews.
What kind of work were you able to do with the commission?
It was a great learning process for me to be connected to a national group doing great work on topics like DACA and DAPA, the Affordable Care Act, making sure Asian Americans' needs are met and that language needs and language services are available.
We also did a lot to advocate data disaggregation at the highest level because so there's so much disparity in the Asian population — especially regarding English ability and economic status. Chinese immigrants, for example, are very different from Burmese. If you come on an H1-B [skilled worker visa] or a different kind of green card as opposed to coming as a refugee, your needs are going to be very different. Identifying just as "Asian American" would never allow service providers to cater to different communities appropriately.
One of the biggest contributions I feel like I was able to make, since I was the first and only Nepalese American on the commission, was to bridge the gap between this community and the federal government. Nepalese-Americans are a newer group in the U.S., so they're still isolated and we don't see a lot of them in mainstream anything — business, entrepreneurship, politics, etc.
Why did you and nine other members of the commission decide to resign through the open letter to President Trump?
None of us had expected the result of the election. We were planning for the next administration and how to continue the really great work we started when President Obama was in office. We knew if Hillary Clinton was in office she would champion and continue this work. So the election came as a big shock to us. Six of the commissioners resigned immediately. They did not want to be associated with the Trump Administration in any way, shape, or form.
For a lot of us, the question was, "who are we serving?" We're not really serving the president; we're serving our communities. So we had to try to save all of this great work that's been done and not be defeated right away. We wrote a letter to President Trump. We knew his administration wouldn't have an appetite for all of the work we did during the Obama Administration. So we strategically planned to only discuss a few topics, trade being one of them. We wanted to give that opportunity — to at least have a dialogue.
We never got a response. It was a chaotic transition, so there were probably many reasons we did not hear back. But once the first Muslim travel ban [wherein Trump issued an executive order barring nationals from seven Muslim-majority countries from entering the U.S.] was put into place, all of us knew right then and there that that was the time for us to move on and that we had to make a statement. The Muslim ban and many other policies of this administration are diametrically opposite to our goals, principles, and values.
We know that in every transition, commissions like these don't get attention until five or six months in, but we didn't see any positive things on the horizon that were going to happen. There was just one thing after another and after another that was detrimental to our communities and against the values and principles that we stand for.