Rodrigo Duterte, China, and the United States: Explained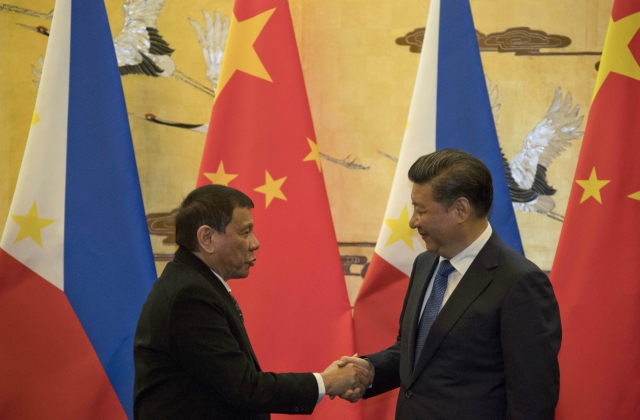 Philippine President Rodrigo Duterte (L) and Chinese President Xi Jinping (R) shakes hands after a signing ceremony on October 20, 2016 in Beijing, China. (Ng Han Guan-Pool/Getty Images)
As the American public is fully engrossed in the nearly-completed presidential campaign, the man referred to as the Philippines' answer to Donald Trump — President Rodrigo Duterte — embarked on a trip to China with 200 Philippine businessmen. The trip proved fruitful for the new leader: Duterte agreed to $24 billion in investment deals, including much-needed investments in Filipino infrastructure as well as cheap loans. But the trip was notable for other reasons, too, most notably Duterte's strong comments about the United States.
In a speech to Chinese and Filipino businessmen, Duterte announced his "separation" from the United States and then added that "America has lost."
"Maybe I will also go to Russia to talk to [President Vladimir] Putin and tell him that there are three of us against the world — China, Philippines, and Russia," he said.
Needless to say, Duterte's remarks about the United States triggered a flurry of concern that the Philippine-American relationship, one of the strongest that the U.S. has in Asia, may suddenly be on shaky ground. But before we declare a major geopolitical shift in Asia-Pacific relations, it's worth taking a step back. What exactly is going on with the Philippines, China, and the United States?
Let's begin with an examination of Duterte, the brash new Philippine president:
Who is Rodrigo Duterte? Why is he controversial?
Prior to his victory in May's presidential election, the 71-year-old Duterte was little-known outside of the Philippines. But he's hardly a political novice. Trained as a lawyer, Duterte served as the mayor of Davao City, one of the country's largest metropolises, for 22 years. There he earned a reputation for his tough, uncompromising crackdown on crime — but also for a common touch that endeared him to many constituents.
Since assuming the presidency, Duterte has attracted widespread criticism for a series of remarks, including vulgar criticism of Barack Obama, invoking the Holocaust to defend a drug crackdown, and a deeply offensive comment about the rape and murder of an Australian missionary in Davao in 1989.
His policy pronouncements have drawn criticism as well. A confirmed teetotaler, Duterte vowed to bar drinking and smoking in the Philippines and to reinstate the death penalty. In an aggressive assault on drug traffickers, Duterte has advocated citizens kill drug dealers themselves; in the first two months of his presidency, more than 2,000 Filipinos have died in the country's drug wars.
After Obama raised concerns over the drug-related killings in the Philippines, Duterte called the American president a "son of a whore,"leading Obama to cancel a planned meeting with Duterte at the sidelines of a summit in September. (Duterte said he didn't mean for it to be taken personally, but has reportedly harbored a long-simmering resentment toward the U.S.). But until this week, there was no indication that the president's colorful rhetoric would translate into a significant geopolitical shift.
Why has Duterte embraced China?
Despite their geographic proximity and cultural ties, China and the Philippines have not always enjoyed good relations. This has been especially true in recent years when the two countries have engaged in a dispute over sovereignty issues in the South China Sea.
Duterte's predecessor, Benigno Aquino, took a relatively tough line against China, refusing to conduct bilateral talks over islands claimed by both countries. In 2013, the Philippines filed a case with an international tribunal in The Hague, Netherlands, after China seized a reef on land claimed by Manila. The tribunal ruled in the Philippines' favor in July of this year, causing Beijing to react with disdain and fury.
Despite the legally binding nature of the tribunal's decision, Duterte signaled in Beijing that he's willing to put this issue aside in order to focus on other aspects of the bilateral relationship. This includes financial considerations: The $24 billion package agreed to at the summit includes significant Chinese investments in Philippine infrastructure, providing the Filipino president with a tangible gain from his visit.
According to Jaime FlorCruz, a veteran Filipino journalist based in China, Duterte's dalliance with China is rooted in pragmatism.
"Duterte said the Philippines cannot match China in war," said FlorCruz. "He also doubts if the U.S. will actually support the Philippines in case a war over the South China Sea occurs. So he says it's better to talk, not fight, with China. "
For China, the financial considerations are a small price to pay for improved ties with the Philippines. "Beijing officials see a welcome opening with Duterte's pivot to China," FlorCruz added. "They see a chance to peel the Philippines away from America's sphere of influence."
Where does that leave the United States?
As for the United States, Duterte's openness to relatively warm bilateral talks with Beijing over the South China Sea could prove to be a more serious headache. The Washington-Manila relationship is a linchpin in the American "pivot to Asia," perhaps President Obama's signature foreign policy initiative, and the United States has sought to strengthen alliances with other countries as a way to check China's strength in the region.

David Firestein tells Asia Society Texas that there's "no way" competing territorial claims in the South China Sea can be settled to the satisfaction of all claimants.
Nevertheless, no matter what Duterte has said or done, the fundamental relationship between the two countries remains deeply entrenched. Explains Walter Lohman in The National Interest:
The U.S. is, thus, the Philippines security guarantor, as well as its principal foreign arms supplier. It has been deeply involved in advising the restructuring, reform, and supply of the Armed Force of the Philippines since 1999, and maintains a special office in the U.S. embassy called the Joint US Military Advisory Group (JUSMAG) to ease all the interactions required of the military alliance.

This summary doesn't even begin to touch on our shared history and people-to-people ties. The Philippines, a former colony of the U.S. and host of American bases during the Cold War, is a top source of legal immigration to the U.S. and, according to polling, the most pro-American country in Asia.

This enormous network of ties, constituencies, and dispositions can't be wound down in anything but a very long term. This is not to say that the Philippines could not make a decision to do so, but a Philippines president who attempts to move too quickly, i.e. within the time frame of his six years in office, will destabilize the country and likely suffer politically for all his trouble.
Still, Duterte's rhetoric has caused much consternation in both countries. Filipino lawmakers expressed ambivalence (or worse) about the president's diplomatic overtures, while former Foreign Secretary Albert del Rosario went even further.
Philippines' ex-Foreign Secretary Albert Del Rosario on Duterte/China: "What is unfolding before us must be considered a national tragedy." pic.twitter.com/jO5YyeqHzw

— David Feith (@DavidFeith) October 21, 2016