Required Reading: 2012 Bernard Schwartz Book Award Finalists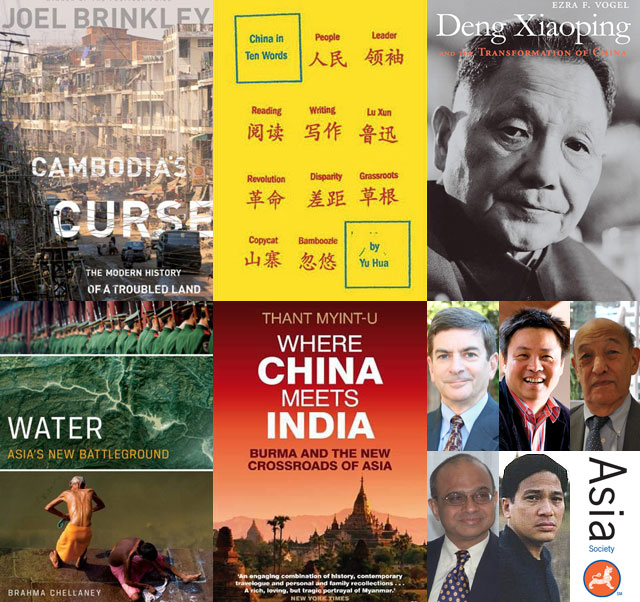 Recognized for their outstanding contributions to the understanding of contemporary Asia, five nonfiction books have been chosen as the finalists for the 2012 Asia Society Bernard Schwartz Book Award. The finalists were selected from nearly 90 titles submitted by U.S.- and Asia-based publishers for books published in 2011.
"It is now an accepted premise that Asia — with more than half of the world's population, along with half of world trade and half the global economy — will play a central role in shaping the future of our world," said Suzanne DiMaggio, Vice President of Asia Society's Global Policy Programs. "The five finalists for the 2012 Bernard Schwartz Book Award each, in different ways, shed light on important trends, challenges, and opportunities taking place in Asia. They are required reading for all who want to better understand this dynamic region."
Following is a brief overview of this year's finalists.
Thirty years after reporting on the fall of the Khmer Rouge, Joel Brinkley returned to find the Cambodian people still among "the most abused in the world."
Brinkley's exhaustive examination of Cambodia's checkered past takes into account the geographic, social, political, economic, and cultural causes of calamity and bring to light the problems of the Khmer today. Cambodia lost nearly a quarter of its population, (1.7 million by conservative estimates) between 1975 and 1979 and about half of the country lives with Post-Traumatic Stress Disorder — an affliction some say is being passed on to the next generation, darkening the entire nation's personality.
Framed by ten phrases common in the Chinese vernacular — "people," "leader," "reading," "writing," "Lu Xun", "disparity," "revolution," "grassroots," "copycat," and "bamboozle" — China in Ten Words reveals as never before the world's most populous yet oft-misunderstood nation. Yu Hua tells the story of the Chinese experience over the last half-century, through personal stories and astute analysis that sharply illuminate the country's meteoric economic and social transformation.
Characterized by Yu Hua's trademark wit, insight, and courage, China in Ten Words is a refreshingly candid vision of the "Chinese miracle" and all its consequences, from the singularly invaluable perspective of a writer living in China today.
Perhaps no one in the 20th century had a greater long-term impact on world history than Deng Xiaoping, and no scholar of contemporary East Asian history and culture is better equipped than Ezra Vogel to disentangle the many contradictions embodied in the life and legacy of China's boldest strategist.