Report Excerpts: 'Strengthening US-China Relations, One Student at a Time'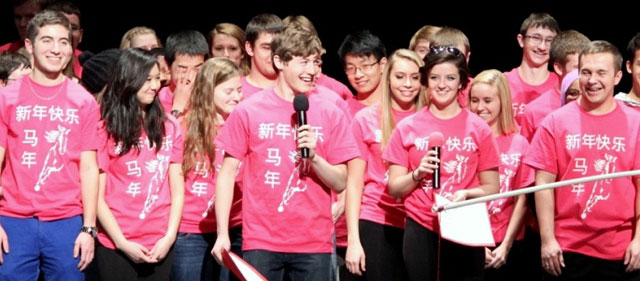 Students from one of Asia Society's Confucius Classrooms at Kennedy High School in Cedar Rapids, Iowa on January 31, 2014. (Asia Society Partnership for Global Learning)
At a launch in Washington DC on September 30, 2014, the 100,000 Strong Foundation, in partnership with Asia Society and Johns Hopkins University School of Advanced International Studies (SAIS), presented a new report: Strengthening U.S.-China Relations, One Student at a Time — Perspectives from Leaders in the Field.
The report features a series of essays authored by a range of prominent leaders active in U.S.-China relations, and underscores why we must invest in today's students — our next generation of leaders — to ensure they have the necessary skills to manage one of the world's most consequential relationships.
Following are excerpts from the report.
---
From the introduction by Carola McGiffert, President of the 100,000 Strong Foundation
The U.S.-China relationship stands at a critical juncture. Long marked by competition and contention, today the relationship is being tested in new ways. With China's growing economic and military strength come new fears about Beijing's true goals. With the U.S. pivot toward Asia come new Chinese concerns about Washington's true intentions. "Strategic mistrust" — now a cliché in think-tank circles — remains very much the predominant theme in the U.S.-China narrative. This is dangerous, not only because mistrust can lead to miscommunication, miscalculation, and even conflict, but also because we need this relationship to work — for America's own economic and strategic interests as well as to ensure global stability. Every global crisis will require the United States and China to work together toward resolution; every new challenge will necessitate collaboration.
Those crises abound. As I write this, the deadly Ebola virus continues to ravage West Africa; climate change inflicts record droughts and storms on the Western U.S.; Middle East conflicts are exploding; and poor nations keep getting poorer, while developed nations keep getting older. How will the world's two most powerful nations address these and future challenges? Will we be able to work together decades from now on the many issues we're sure to face? How we manage this relationship today will have long-term impact.
To ensure a robust relationship, America's leaders and workforce must be China fluent. Regardless of economic or personal background, regardless of the professional paths we choose, all Americans should understand China. We need a deeper bench of well-trained Americans who are negotiating and cooperating with their Chinese peers. This is a national imperative, one that our two governments have recognized and endorsed. Our choice is clear: We must invest in our young people to ensure that they — our future leaders — have the skills to guarantee the ongoing success of the most important bilateral relationship in the world. This report is about charting the future of that critical relationship. These authors are pioneers in their fields. They know that understanding China, as Blackstone CEO Stephen A. Schwarzman has said, "is no longer an elective; it is a requirement." 
From "Opportunity and Responsibility on a Global Scale: The Imperative of U.S.-China Cooperation on Food," by Josette Sheeran, President of Asia Society
It would truly inspire the world if the presidents of the United States and China would unite to tackle the challenge of food waste. This would send a powerful signal that despite many differences between the world's two largest economies, they can unite to benefit the global commons — the areas where all nations are mutually dependent. When it comes to food, we are, indeed, all in it together. This will only be possible when the leaders of our two nations share greater mutual understanding, a goal that Asia Society and initiatives like the 100,000 Strong Foundation are working toward. . . .
The real excitement and imperative is this: the U.S. and China have the potential to move beyond "getting to know each other" dialogues and begin a conversation on "joining together for the global good." Newly dependent on good relations between these two countries, the world needs to see our nations taking full responsibility for their global leadership position on peace and prosperity issues. The act of the U.S. and China joining hands toward global food security could mark a new beginning for two great powers. Success in one zone, such as food, could also build confidence and momentum for success in other zones, such as world health. We must redouble our efforts to nurture these mechanisms — institutional infrastructure and human capacity — through official, business, and, ultimately, people-to-people exchanges aimed at getting real things done for the benefit of China, the U.S., and all of humankind.
Download the full report here.