In Remote Myanmar, Orville Schell Finds a 'Fascinating and Contradictory Land'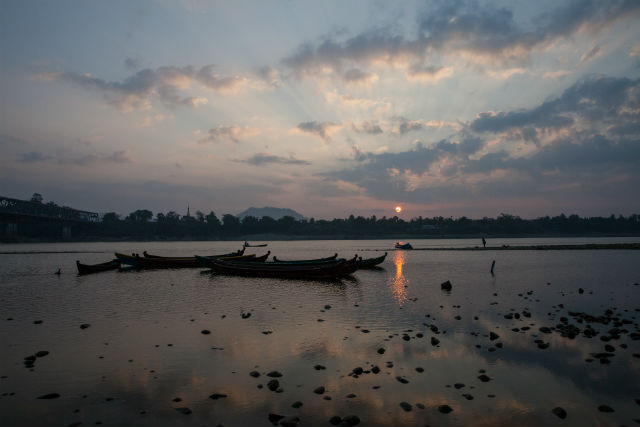 A fisherman at sunset on the Irrawaddy River in northern Myanmar on December 28, 2013. (Diana Markosian/Getty Images)
A trip to Myanmar unveils "a land of contradictions" for Orville Schell, Arthur Ross Director of the Center on U.S.-China Relations at the Asia Society.
In a contribution published yesterday in the New York Times Travel section, Schell chronicles his visit to Putao, the remote northernmost region of Myanmar. Putao is home to the country's share of the Greater Himalayas, as well as one of "the last large and mostly undisturbed ecosystems in Asia."
Schell contrasts the unspoiled nature of the Putao region with the commercial exploitation of natural landscapes in much of developed Asia. However, he fears the environmental impact Myanmar's increasingly open economy may have on the region.
Schell writes:
"Now that Myanmar is finally 'opening up,' foreign investment is flooding in, and tourism is burgeoning, we are left to worry about how long it will be before our own rapacious, Promethean instinct to exploit, develop and enrich becomes the undoing of even these last out-of-the-way and hard-to-reach backwaters of the world."
The piece goes on to relate some Putao's recent history, such as when an American missionary fleeing China in 1949 resettled there with his parishioners, and also describes some of the political complications inherent in the Myanmar's opening to higher-end Western tourism.
Schell's article directly precedes Myanmar's Moment, Asia Society New York's season of programming dedicated to that country that is centered around the Asia Society Museum exhibition Buddhist Art of Myanmar, opening February 10.