Rare Buddhist Art From Myanmar, Coming Soon to a Museum Near You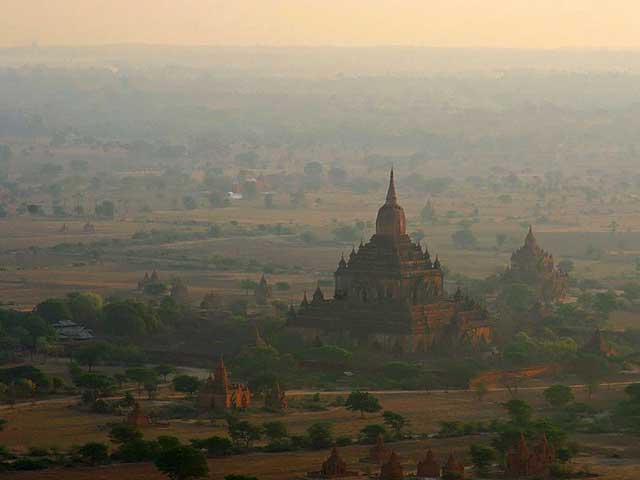 Sunrise in Bagan, Myanmar, home to thousands of temples, pagodas and monasteries built from the 9th to 13th centuries CE. (jmhullot/Flickr)
Asia Society Museum Director Melissa Chiu made the news this past weekend in a New York Times report from Myanmar on the "coming out" of that country's relatively little-seen early Buddhist art.
Writing from Bagan, Myanmar, Times correspondent Jane Perlez describes how Chiu and a small group of American museum curators have been exploring Myanmar's "neglected museums and dusty storerooms" in preparation for a 2015 Asia Society Museum exhibition of Myanmar's Buddhist art.
As Chiu explains to the Times:
The show will be a coming out for Burma …. The country has been closed off for so many years, we hope the show will assume a bigger significance, and shed new light on material not seen before.
The article, "Opening a Door to the Burmese Past, and the Present, Too," gives a colorful account of the curatorial team's travels from Yangon, Myanmar's former capital, to its current one, Napidyaw, to Bagan, a onetime royal seat on the banks of the Irrawaddy River where thousands of temples, monasteries and pagodas were built between the 9th and 13th centuries CE.
The Times also offers tantalizing descriptions of several of the pieces being considered for the exhibition, ranging from "gold-painted sphinxlike creatures" found in a rundown library to an exquisite bronze casting in the shape of a lotus flower and a 1,500-year-old bronze Buddha uncovered by a rice farmer plowing his fields in 2005.
Approximately 70 objects will be featured in the exhibition, three quarters of them from Myanmar and the remainder from U.S. museum collections. In exchange for access to the pieces, Asia Society Museum will help train Myanmar's under-resourced museum employees in conservation techniques.
Click here to read the complete New York Times article.
On Wednesday, September 25, Asia Society New York will play host to a high-level roundtable discussion concerning the roadmap for Myanmar's future, including the country's current investment climate and long-term infrastructure goals. Portions of this event will be open to the public. Stay tuned for details.