Private Schools, on the Rise in China, Are Now in Beijing's 'Crosshairs'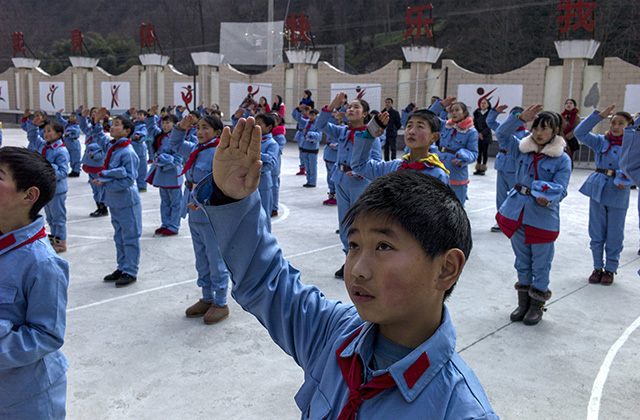 January 21, 2015, children dressed in uniform sing after raising the national flag at the Beichuan Red army elementary school. (Fred Dufour/AFP/Getty Images)

The Center for Global Education at Asia Society is working to close the opportunity gap and prepare all students for employability and citizenship in a global era. Learn more
Chinese Education Minister Yuan Guiren has been issuing dire warnings about the threat of foreign ideas on China's college campuses, calling for a ban on textbooks that promote "Western values" and forbidding criticism of the Communist Party's leadership in the classroom. Getting less attention, however, is how forthcoming reforms to the country's private schools present another battlefield for ideological control in China's education system.
Private schools in China are often established to give students alternative curriculums or set up by businesses to educate the children of their employees, and their numbers are growing. In 2004, students who studied at private elementary schools in China numbered 3.2 million in total, representing 2.9 percent of all Chinese elementary students. By 2012, those numbers had grown to 5.9 million and 6.2 percent respectively. The number of students studying at private high schools and middle schools similarly grew by 27 and 43 percent respectively during the same time period. These growing numbers have allowed many education organizations to expand and thrive. One of the larger Chinese-owned chains, which offers a Canadian-style curriculum, now has 30 schools across the country.
Though some private schools that are for-profit have unscrupulous owners, "civil" non-profit schools, whether run as social enterprises or as complete non-profits, are generally well run and attract top teachers and principals, since they educate the urban elite. These schools are becoming very popular with urban parents, as many offer a Western-style education that differs markedly from the Chinese public school emphasis on rote memorization of the content tested on the gaokao college entrance exam.
For example, the Beijing-based social enterprise Keystone Academy is modeled on a New England boarding school and says it uses the same curriculum as the Sidwell Friends School, where several U.S. presidents including Barack Obama have sent their children to study. Keystone was set up by private investors and charges fees of up to $38,000 a year — about six times the per-capita income in China. Wang Zhize, the head of another private school in Beijing, recently reflected the independent attitude many schools like his are taking when he wrote: "Chinese education must cast off the shackles of traditional education concepts. Whether it is public or private education, both receive selection and evaluation from society."
It's precisely this independent attitude that appears to be putting some types of private schools in the crosshairs of government regulators. These include the private schools that are so-called civil schools, which are permitted by law to pay a return to investors. And that is why businesses and investors may set them up.
These schools are overseen by two agencies: the Ministry of Education and the Ministry of Civil Affairs (MCA). The latter regulates all non-commercial institutions (minban fei qiye danwei), and thus all the civil private schools, and is currently trying to create a new nationwide legal regime for them. This is tied to the overall "small government" administrative reforms currently underway in China with the general oversight of the State Commission on Public Sector Reform (SCOPSR). The cooperation between SCOPSR and MCA on most reforms has been relatively smooth, but the issue of educating the country's youth is a politically sensitive one. According to my sources in the Ministry of Civil Affairs, over the past year, the status of civil private schools has created a contentious debate within the government.
SCOPSR appears to want all civil private schools reincorporated into the public education system, which would give the government and the Communist Party more control over them. This effort appears directly linked to various attempts to harness greater intellectual purity in China, as presaged by Document 9 — a Communist Party document leaked in 2013 that named seven "unmentionable" Western ideas that should not be promoted in China. This was later echoed by Education Minister Yuan's calls for ideological purity in universities.
However, the Ministry of Civil Affairs does not want to give a large chunk of its authority back to the Ministry of Education, and it sees the conversion of civil private schools to public institutions as a step backwards, which it undoubtedly would be. Much of private schools' appeal is that they are relatively autonomous and give educational alternatives that weren't available to families previously. They also relieve pressure on the public school system by providing students with an education financed by private capital.
One group of private schools left somewhat in limbo will be those set up at the local level to educate the young children of migrant workers. Many of these have already suffered greatly because of fierce state and local opposition to them. These schools were never publicly financed and are usually illegal. As such, they cannot be "reincorporated" into the public system. This begs the question of where these schools will fall in SCOPSR's drive for a more ideologically consistent system of education for the youngest members of Chinese society.
Whether the retrograde conversion of civil private schools to public institutions will ultimately happen remains to be seen, but there can be little doubt at the end of the day that SCOPSR will win the battle. It is a powerful institution that reports directly to the State Council and the Communist Party. The Ministry of Civil Affairs, on the other hand, is a mere line ministry with significantly less authority. In the battle for the minds of young Chinese, the progressives are greatly outgunned.