Pollution Has Residents Breathless in Beijing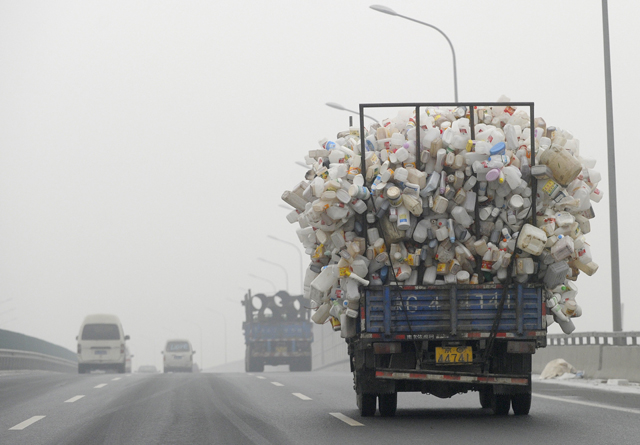 A truck containing used plastic bottles travels along a highway covered in haze in Beijing on December 5, 2011. (Liu Jin/AFP/Getty Images)
Air pollution in Beijing is nothing new. But this week international media has been reporting that the thick smog hanging over China's capital actually appears to be getting worse, and the increasingly hazardous amounts of air pollutants are responsible for disrupting public life and generating a lot of political and media controversy due to the difference in reported pollution levels by Chinese officials and the U.S. Embassy in Beijing.
In preparation for the 2008 Olympics, China made a great effort to clean up the chronically polluted air in Beijing. But those days are long gone — over the past few days parts of highways have been closed and hundreds of flights have been grounded at the city's Capital International Airport due to smog-related visibility problems.
Meanwhile, over the past two years, Chinese authorities have consistently reported good or excellent air quality more than 80 percent of the time. However, data from air pollution monitors atop the U.S. Embassy in China show otherwise. The embassy reports on the air quality through hourly updates via a Twitter feed — @BeijingAir — and, while Twitter is blocked in China, the information is also available through unblocked microblogging sites and mobile apps.
Stephen Q. Andrews, a Beijing-based environmental consultant, writes that some of the discrepancy between the U.S. Embassy and the Chinese official data is due to the omission of fine particles and ozone from the public reporting by the Beijing government. "The average annual fine particle concentration of approximately 100 micrograms per cubic meter for the past two years is nearly three times higher than the proposed annual standard of 35 micrograms per cubic meter," writes Andrews. "These levels are similar to published measurements for Beijing in 2000 and 10 times higher than the World Health Organization guidelines of 10 micrograms per cubic meter. In comparison, annual average fine particulate concentrations in America's most polluted city, Los Angeles, were at 15 micrograms per cubic meter in 2010."
According to a leaked diplomatic cable, Chinese authorities complained to the United States "on behalf of the Beijing Environmental Protection Bureau (EPB) and the Chinese Ministry of Environmental Protection (MEP), saying that making this data (which in their view 'conflicts' with 'official' data posted by the Beijing EPB) available to the general public through an Embassy-operated Twitter site has caused 'confusion' and undesirable 'social consequences' among the Chinese public." The U.S. Embassy has not stopped publishing the air quality data, and due to growing public pressure the Chinese government has announced that they will start to include fine particles and ozone in their publicly reported data by 2016.
Michael Zhao, Managing Editor and Producer of Asia Society's China Green project — which has studied the topic in detail — notes that, "Beijing's air pollution isn't just one city's problem. What people don't pay attention to is the fact that the same pollution hangs over much of northern China, covering a number of provinces. And we certainly easily forget the worse days before the Olympics. The reality is, even though China has invested billions of dollars cleaning up the sky for the Olympics — and I've indeed seen improvement of the air quality there — there's no way to believe that Beijing is rid of an air quality problem. Living there for a long period of time is a guaranteed roller coaster of beautiful days and bad days for sure."
The New York Times' Edward Wong filed this video report from smoggy Beijing: