Photo: Obama, in Bali, Reconsiders Position on Colorful Shirts Issue
Veteran observers of the Asia Pacific scene were heartened no end this past weekend when U.S. President Barack Obama appeared at the East Asia Summit in Bali, Indonesia looking resplendent in an embroidered Indonesian dress shirt.
Obama wore the shirt, a stylish dark green number with orange accents, to an official state dinner in Nusa Dua on Friday, November 18. He was joined by Indonesian President Susilo Bambang Yudhoyono and other Asia Pacific leaders, all clad in traditional Indonesian dress shirts.
Only a week earlier, Obama broke with years of tradition when he said attendees at the 2011 Asia-Pacific Economic Cooperation (APEC) summit in Honolulu wouldn't be required to wear traditional shirts for the Summit's main group photo. As the President told the Washington Post about that decision, "I had looked at pictures of some of the previous APEC meetings and some of the garb that had appeared previously, and I thought this may be a tradition that we might want to break."
Obama is the first American president to attend the East Asia Summit. Acknowledging the historic nature of his presence there, he was quoted by ABC News as saying, "This is another example of how the United States is refocusing on the Asia Pacific, and engaging more deeply in regional organizations, so we can meet our common challenges together."
For now, it's instructive to see that when the need arises, America's commitment to the region still involves colorful menswear.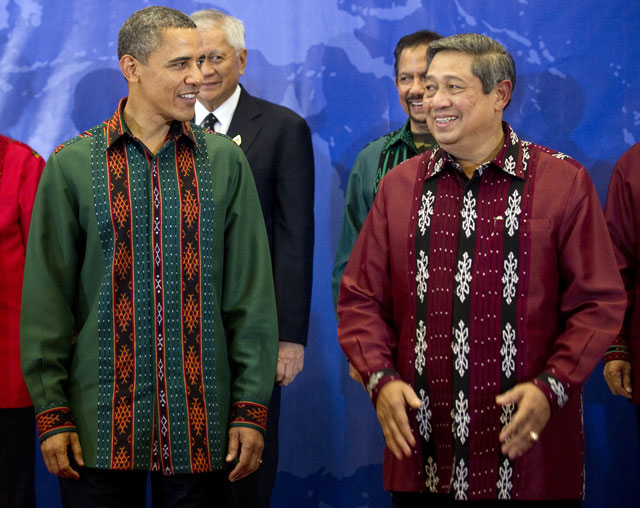 U.S. President Barack Obama (L) and Indonesian President Susilo Bambang Yudhoyono (C) wearing Indonesian traditional clothes attend the gala dinner during the East Asia Summit in Indonesia's resort island of Bali on Nov. 18, 2011. (Jim Watson/AFP/Getty Images)