Photo of the Day: Li Na, China's 'Golden Flower,' Breaks Barriers Her Own Way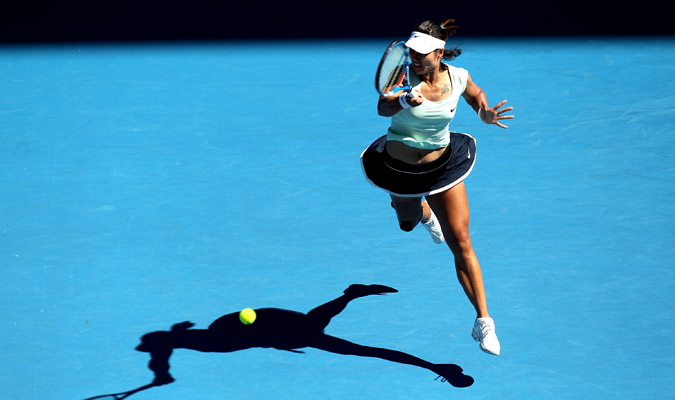 Li Na of China plays a forehand in her semifinal match against Caroline Wozniacki of Denmark during day eleven of the 2011 Australian Open on January 27, 2011 in Melbourne, Australia. (Mark Kolbe/Getty Images)
Li Na of China became the first Asian woman to reach a Grand Slam singles final when she took on Belgian third seed Kim Clijsters at the Australian Open on Saturday. Ulitmately Li was unable to overcome Clijsters, but this in no way detracted from the historic nature of her achievement. The Chinese star was contending with an enormous amount of pressure; for instance, before the match analysts were predicting that Saturday's event could be the most-watched tennis match of all time as a result of Li's participation.
Li, a ninth seed, has already joined the ranks of China's national sports heroes like basketball idol Yao Ming and champion hurdler Liu Xiang. Compared to badminton and table tennis, though, tennis is a relatively unpopular sport in China. About 12 million people, or just one percent of the population, play tennis regularly, although the state will undoubtedly move to raise the sport's profile. Already Li, the world No 7, has outperformed what the Chinese call the "Golden Flowers," a young generation of women tennis players who have brought fame to China. 
The 28-year-old, who has a red rose over a love heart tattooed on her chest, is known for her humor and honesty. Unwilling to be shackled by the Chinese sports system, she has done things her own way from the beginning, preferring her own coach to officialdom's choice.
After making it to the finals, Li told the New York Times, "Good for me, good for my team, maybe good for China tennis; I'm not sure, maybe." When asked on-court what motivates her she said, "Prize money." Laughter erupted in the arena as Li captivated audiences world over.