Photo of the Day: To the Barricades in India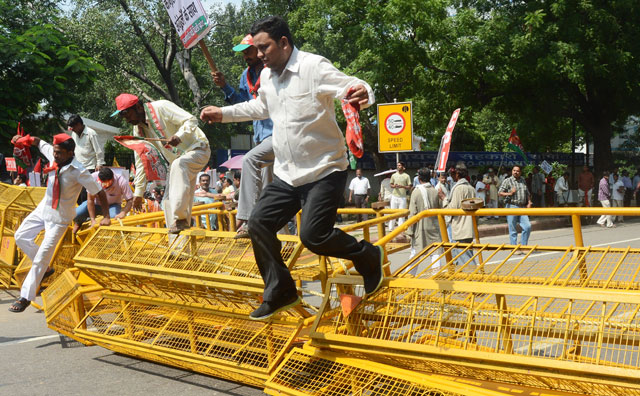 Supporters from India's opposition parties jump police barricades during a nationwide strike in New Delhi on September 20, 2012. (Raveendran/AFP/Getty Images)
Several of India's urban centers were roiled by a general strike on Thursday after opposition parties and trade unions called on shopkeepers, traders and laborers in India to block railway lines and close markets in protest against reforms introduced by Prime Minister Manmohan Singh last week that are intended to revive the slowing Indian economy. These include: a rise in diesel fuel prices, which are traditionally highly subsidized, and passage of a bill allowing foreign retail giants like Walmart and Tesco into the country.
India's financial capital, Mumbai, was said to be largely unaffected by the strike (possibly because of the Ganesh Chathuri festival currently underway there), but train service in Kolkata and much of the rest of West Bengal was disrupted by shutdowns.
Want to see your images in our Photo of the Day posts? Use Flickr and tag your photos "asiasociety" or simply email your best shots from Asia to photos@theasiablog.org. Be sure to include where and when the photo was taken. We look forward to seeing — and publishing — your submissions!